Are you aware that Sign-up Bonus apps can help you make money online quickly and easily? Many apps quickly give a $20 sign-up bonus in different categories like Bank bonuses, Cashback apps, and investing or trading.
And the exciting thing is you don't need to be an expert to know these apps completely or any investing or trading to make this happen. 
We did research and listed the following apps that offer a $20 sign-up bonus. Please read the entire qualifying criteria to get the bonus. Let's get started.
Recommended Guide: $10 sign-up bonus app and $50 Sign up bonus
Instant $20 Sign Up Bonus Apps/Website
We have mentioned different categories like Banks, Investment, Cash Back Apps, and Crypto promotion apps that offer sign-up bonuses.
With an easy sign up process you can make $100 a day with these apps. Not only $20, you can make $1000 fast with this money making apps.
$20 Sign Up Bonus from Banks
Earn sign up bonus to open an bank account. Here are the banks that pay $20 sign up bonus and as for extra rewards try banks with immediate sign up bonus.
1. Tellus App: $20 SIgn Up Bonus
Tellus is a financial company that helps you to build your wealth with the ultimate mobile property management assistant. It offers a high-yield cash management account where the interest is paid daily.
Get a $20 Tellus sign-up bonus when you open an account and make a $200 investment within 45 days of account opening. Also, you can share your Tellus referral code to invite friends and earn $20.
Qualifying criteria (As printed on site):
Use the current Tellus app member's referral link to sign up.
Minimum deposit of $200 within 45 days of account opening and maintain the deposit amount for 31 days.
Tellus app is available on the web, play store, and apple store.
2. Stash App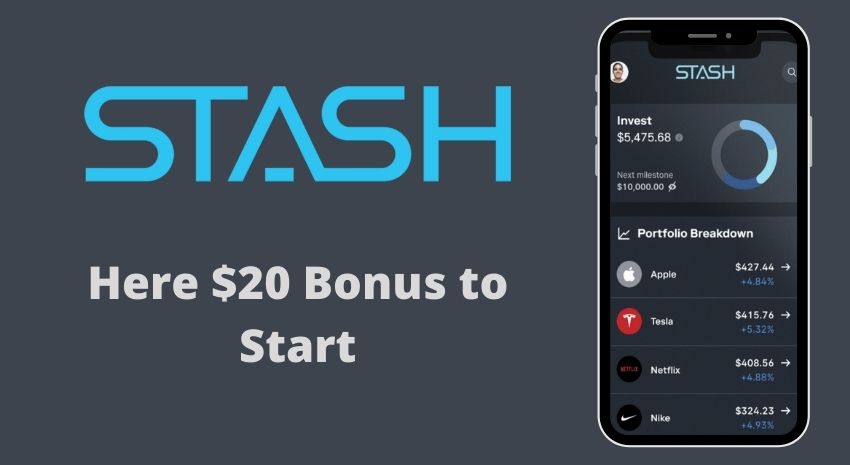 Stash is a personal finance app that simplifies your finances by bringing together both banking and investing in one place for free. With Stash, you can open an investment account for just $5.
Qualifying criteria (As printed on-site):
Stash offers a $20 sign-up bonus to new users when they join the current member referral link and make an initial deposit of $0.01.
You can double this reward to join the Stash referral promotion and earn $20 for every referral.
You can check out the best investment apps of 2022 to make your financial journey more rewarding. Stash is a budgeting and investing app that works the same as Acorns and M1 finance.
3. Klarna App
Klarna shopping app is the best way to shop and discover the stuff you like. Klarna app's buy now, pay later feature allows to breakdown the cost of your purchase from any online store into three smaller, interest-free payments.
Qualifying criteria (As printed on-site):
Sign up for the Klarna app and get a $20 amazon gift card as a welcome bonus.
Make at least one online purchase on the Klarna app and claim the reward.
Bonus will be transferd into your Klarna account with in 1-2 business days.
Invite your friends on the klarna app and earn a $200 klarna referral bonus. Shop and discover with buy now, pay laters apps of 2022 without any impact on your credit score.
$20 Sign Up Bonus from Cashback apps
4. TopCashback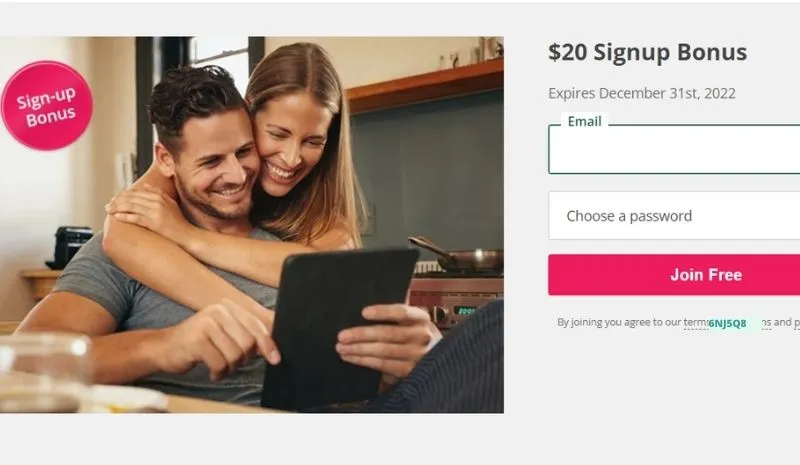 Another app with $20 sign up bonus is TopCashback.
TopCashback is a cashback site similar to MaxRebates and RebatesMe that rewards you cash back on your shopping. With over 4,000+ stores, TopCashback is leading the chart, and you can shop anything from your favorite brands.
Qualifying criteria (As printed on-site):
In order to earn the Topcashback welcome bonus, you need to sign up via this link and make a minimum of $10 cashback from your shopping.
Remember the $20 bonus is valid only when you sign up via this standard link offer is something different.
Cashback apps are now an easy option to earn money. You can save nearly on everything. Get and explore the best cash back apps of 2022 for the maximum cash back on your daily purchases.
5. Ibotta
Ibotta is a cashback app that allows you to earn money by submitting your receipts, watching videos, completing offers and more. You can also earn money by referring friends (which is a huge bonus). The best part? There are no strings attached!
Qualifying criteria (As printed on-site):
When you sign up with Ibotta and make your first purchase through their app, they will give you $20 in exchange for using their service.
The only catch is that it has to be a grocery or drug store purchase, but other than that, there are no restrictions on what kind of products or brands qualify for the rewards program.
The best part about this app is that there are no limits on how much money you can earn per day or month, so if you love earning rewards from doing simple tasks such as checking out at the grocery store, then definitely give it a shot!
More apps like ibotta are Fetch rewards, and Checkout51 that give cash back for scannig receipts.
6. Hodlnaut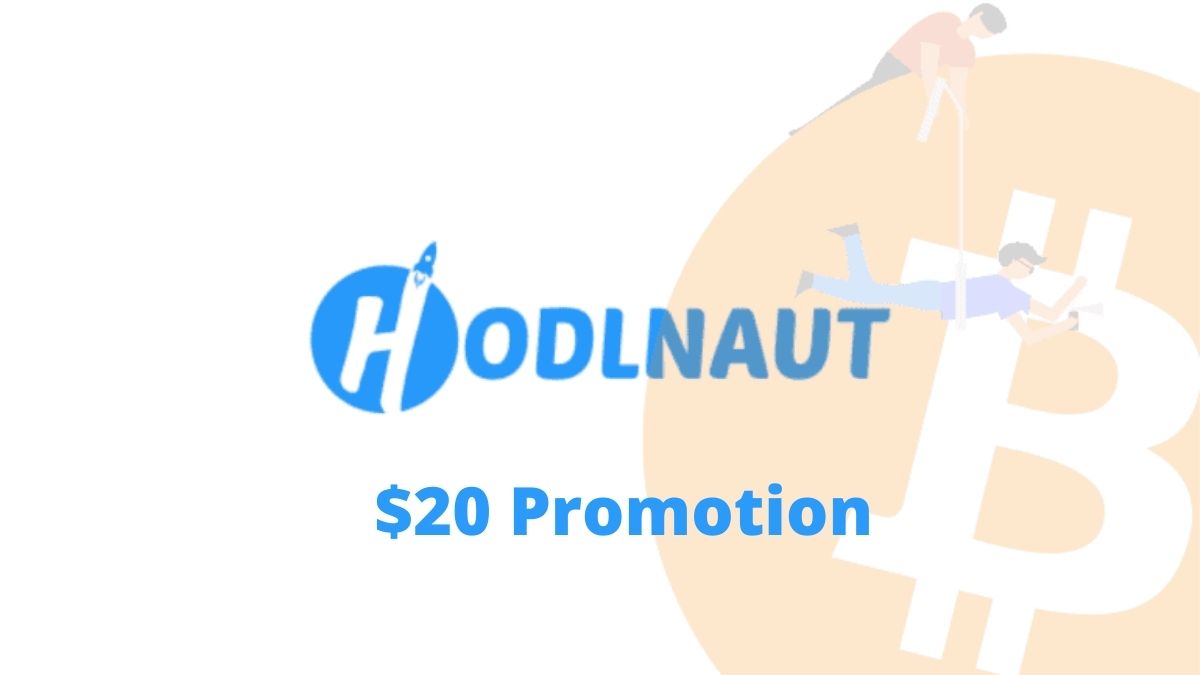 If you're ready to make a move in crypto investment, Hodlnaut is the app that you need. Hodlnaut is the biggest crypto lending and borrowing platform that aims to help people grow their digital assets.
Qualifying criteria (As printed on-site):
New users who sign up for Hodlnaut will get a $20 sign-up bonus if they make a $1000 deposit in a week and maintain the deposit balance for 31 days.
Hodlnaut's welcome bonus amount always change so be sure to check out before opening an account.
If you feel $1000 is a high deposit amount to qualify for $20, then check the best crypto promotion apps of 2022 that pay a welcome bonus and referral.
7. Makara
Makara crypto promotion offers a $20 crypto sign-up bonus to new investors, and a referral program also available. 
Makara is an automated investment platform for cryptocurrencies. With a world-renowned and patented technology, Makara provides personalized AI-powered trading recommendations and puts an end to manual traders' decisions, emotions, and interpretation of charts.
Qualifying criteria (As printed on-site):
Open a Makara crypto account via a referral link and complete the verification.
Fund your Makara account with $50 and maintain the same amount for the next 6 months to claim the bonus.
You can earn up to $1000 in Makara to invite your friends to join.
8. Rakuten
If you do lots of online shopping, you must have encountered Rakuten. It is a top shopping cash back app which rewards are high as their welcome bonus and other offers.
Rakuten welcome bonus keep changing, and different links offer different rewards. Shop online through Rakuten and earn a $20 sign up bonus.
Rakuten Qualifying criteria (As printed on-site):
9. Spruce money
To get your $20 bonus:
Open your new Spruce accounts prior to Sept. 30, 2022.
Have at least $200 in qualifying direct deposits to your Spruce Spending Account within 45 days of account opening.
Conclusion 
Hopefully, this list of apps that pay $20 sign up bonus will help you find an app of your choice. If you have any questions or comments, please leave them below in the comments section, and I will be happy to answer them.