Are you a beginner in investing and looking for good investment apps which has all features, learning tutorials, focus returns on investment, and work all the time? Then you are in the right place because we are discussing here all the best investment apps for beginners in multiple categories.
Whether you're a beginner, veteran, or seasoned investor, but Investing app has a very important role, and you need to choose wisely. It should be easy to use and long-lasting. The investing apps should give you more control over your finances and help you stay on top of your spending, savings, and credit card debt self-tracking and budgeting.
Investment need money and for that read how to make money online as beginner. So let's get started with the top 11 investment apps for beginners. 
Top Best Investing Apps for beginners
Nowadays, many investment apps out there offer many investment tools, Feature low fees, and claim to be the best investment apps for beginners to use, but how do you choose? We have made a selection of investment apps of 2022 that includes low fees, easy to use, investment tools, better customer support, commission fee trading, and that give much space to rookie investors to invest, whether in stocks or cryptocurrencies.
Read how we made over $1000 in a month just from referrals and sign up.
Taking this into account, here are some of the best investment apps for Beginners in 2022:
Acorns
M1 Finance
Stash
TD Ameritrade
Webull
Moomoo
Public.com
Vanguard
Fidelity
Wealthfront
Acorns
Acorns is basically just a Robo advisor investment app. It is incredibly easy to use and will get you started with investing quickly. You literally don't have to know anything about investing or stocks or the stock market and how they work in order to begin investing successfully with Acorns.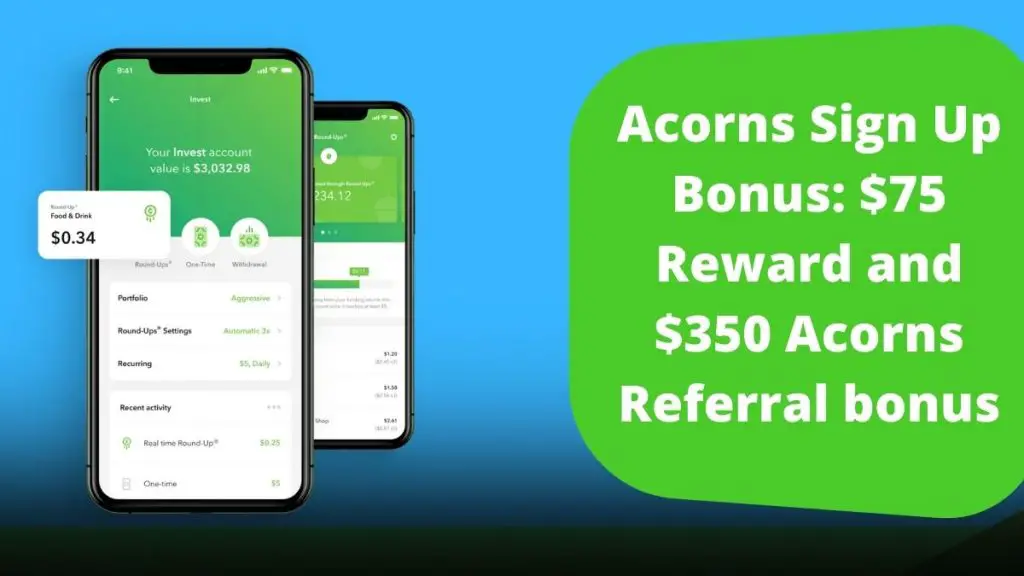 Acorns will guide you to complete the entire process of setting up your investment portfolio, and then once your portfolio is set up, it'll start investing for you automatically in the back end of your life.
Acorns Features:
Acorns Trading Fee:
Personal Plan: $3 Per Month.
Family Plan: $5 Per Month
Why Acorn app is good for beginners:  
You can trade in fractional shares, 
Learning Tutorial
Good Sign up bonus under Acorns promotion where you can earn $75 Acorns sign-up bonus to start your ideal investment journey. You can also earn an Acorns referral bonus of $75 for every successful referral who joins via your link.
Acorns Customer support: their customer service is fantastic, and they offer you 24*7 customer support.
Before Sign Up for Acorns read our full review of Acorns to get some ideas and why this app is on top of our Best investments apps.
M1 Finance:
M1 Finance is an automated investing app for beginners to invest, borrow and do commission-free trading. M1 Finance offers a Robo advisor alongside borrowing and investing to make it easy for beginner investors. They also have a credit card, so you can earn 10% cash back on shopping at your favorite stores.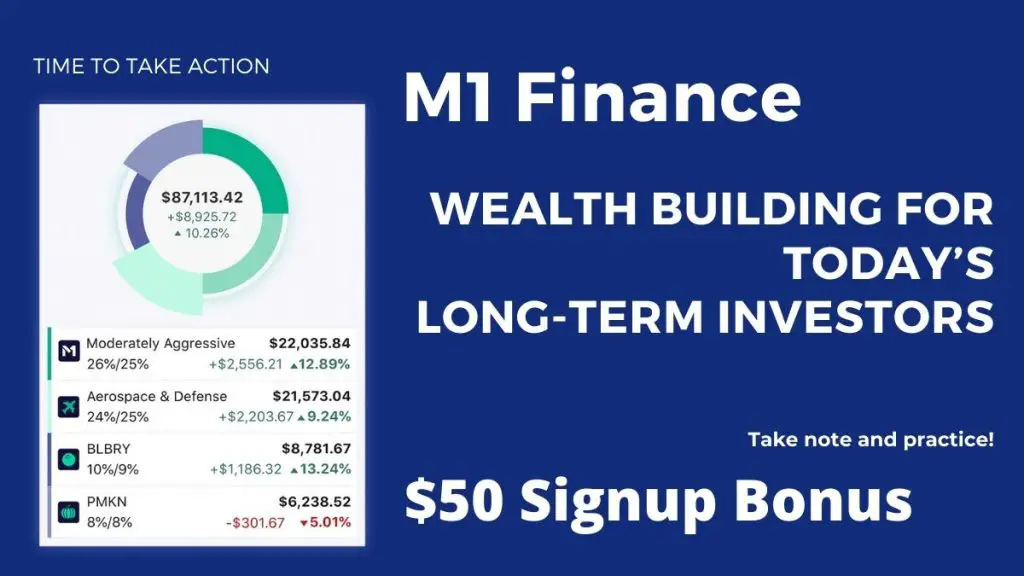 M1 Finance Features: 
M1 Spend
The Owners Rewards Card
M1's Smart Transfers
M1 Finance Trading Fee:
M1 Finance offers commission-free trading, which you can set up on a custom transfer schedule. Unlike the other apps on the list, M1 finance does require a $100 minimum investment, and there is also a 25 minimum on automatic trades.
Customer support:
It has 24*7 Customer service with the best agents.
M1 Finance Promotion:
M1 Finance sign-up bonus is $100 when you open a new account with a referral link.
You can also share your referral link to earn a $75 M1 finance referral bonus.
Stash
Stash gets you started with just 5 bucks, it lets you set up automated investing, and it offers a roundup feature similar to acorns. When you use a Stash debit card, Stash can also build a customized smart portfolio for you based on your own risk tolerance. They will rebalance it quarterly, and another cool feature is their stock back program instead of giving you cash back when you use the stash debit card, it gives you fractional shares of a company's stock stash and also offers a dividend reinvestment plan the dividends that your investment earns gets put into your cash account.
Features:
 buy fractional shares of both stocks and ETFs.
Roundups. 
Portfolio.
Trading Fees:
Tier 1: $1
Tier 2: $2
Tier 3: $3
Customer Support:  
Offers 24*7 customer support.
TD Ameritrade
TD Ameritrade is a stockbroker app that offers an E-trading platform to trade financial assets, including common stocks, preferred stocks, futures contracts, exchange-traded funds, mutual funds, fixed income investments, margin lending, and cash management services and its best choice for beginners.
Features: 
Advanced investing Feature
Interactive Voice Response (IVR) Phone System:
Trading Fees:
Customer support: 24*7 Live customer service.
Webull
Webull is a free stock investing app that offers 12 free stocks to new users and 6 stocks when you invite new friends to Webull. It is regulated by Webull Financial LLC, a brokerage company. Has headquartered in New york. Webull offers low-cost trade without sacrificing advanced trading tools, but it may not be the best brokerage for beginners or hands-off investors.
Features:
Trade Cryptos 24/7
Zero Commissions
Trading fee:
Customer support:
Offers top Class Customers service.
Moomoo
Moomoo is a trading platform that was founded in 2018 and regulated by the US Securities and Exchange Commission (SEC), headquartered In Singapore, and it is safe to trade with Moomoo because it is regulated by top-tier financial authorities. Moomoo trading fees are 0$ in almost all cases. It also offers a great fee structure that is transparent and easy to understand.
Features: 
Free stocks, ETFs, and options
Fast and easy account opening
Quality analytical tools
Trading Fees: $0 per trade
Public.com
Public.com next up, we got the public offers you the standard Feature of an investing app, but with features that allow you to peek into other people's portfolios, it caters to its users with commission-free trades with instant access to funds. 
The public also offers social components that make it even more inviting. With this, you can follow other investors, ask questions, share innovative ideas and experienced investors who want to earn money on cash, and have access to commission-free trading.
Features: 
Cryptocurrency trading available for 25 coins and tokens
Offers fractional share investing for as little as $1
Trading Fees:
no maintenance fees, no minimum investments
Customer Support:
 Have 24*7 customer support.
Vanguard: 
Vanguard is highly reputed in the fund industry for its low costs and investor-first approach. But some of you may not know that it also runs a brokerage service that's a solid choice for new investors looking to primarily practice a buy and hold strategy in stocks. Thousands of practice funds are available without any commissions or transaction fees, allowing more of your money to be invested in stocks and increasing your final return. 
Features: 
3,200+ NTF mutual funds
Low-cost funds
High minimums for mutual funds
Trading Fees:
Customer Support:
Monday-Friday 8 a.m.-8 p.m. ET, email support
Fidelity:
Over the past few years, Fidelity has become a significant force in online brokerage. With excellent research, useful tools, and extensive educational resources, it has consistently provided investors with high value. A company's key objective is to lower costs for investors, and this is reflected in the company's continuous platform improvements.
Features: 
Low costs
Excellent trade executions
Robust research and asset screeners
Rich educational offerings
Trading Fees:
$0 for stock/ETF trades, $0 plus $0.65/contract for options trade
Customer support: offers 24*7 customer support.
Wealthfront
Wealthfront is an investment training app perfect for beginners hoping to learn about investing. New Users can trade in stocks and cryptocurrency. The app's purpose is to provide more comfort with trading and choosing stocks. The added social component makes the process more fun and allows you to discuss your options with experts. Many beginners find Wealthfront to be a great app for learning without actually worrying about the risks of making a wrong investment without experience.
Features: 
Trading Fees:
0.25% for most accounts, no trading commission, minimum commission, or transfer fee.
Customer support:
Offers Support only Mon-Friday.
Criteria for choosing investment apps for beginners
Conclusion:
Ultimately the choice is going to be up to you to decide which of these brokers is going to fit your specific needs and your investing style and your lifestyle, okay, so that's all we have got for you guys in this review.
So we have reviewed the top 10 best investment apps for Beginners in 2022. We hope this review will help you to choose the best brokerage and will help you with your investing journey.
Interested in getting cash back on every purchase? Then you must love our 23 Best Cash Back Apps For 2022 review.