Do you own a website or business in the niche of hand-made or vintage products like jewelry, Art and more? then give a try to Etsy Affiliate Program. Etsy is an online store and marketplace active since 2005, where user can add their old and self-crafted items for sale.
Etsy affiliate program offers up to a 2%-4% commission rate for qualifying sales. New sellers and website owners can participate and earn a commission through product promotion. It also has a long cookie duration that makes it easy for you to convert more revenue.
Joining Etsy Affiliate Program is very easy and anyone can promote Etsy products without having a website. So, if you're ready to join click on the link and Join Etsy Affiliate Program.
Also if you're struggling to sell your old stuff online then check out Mercari and OfferUp to get an Instant $20 Sign up bonus.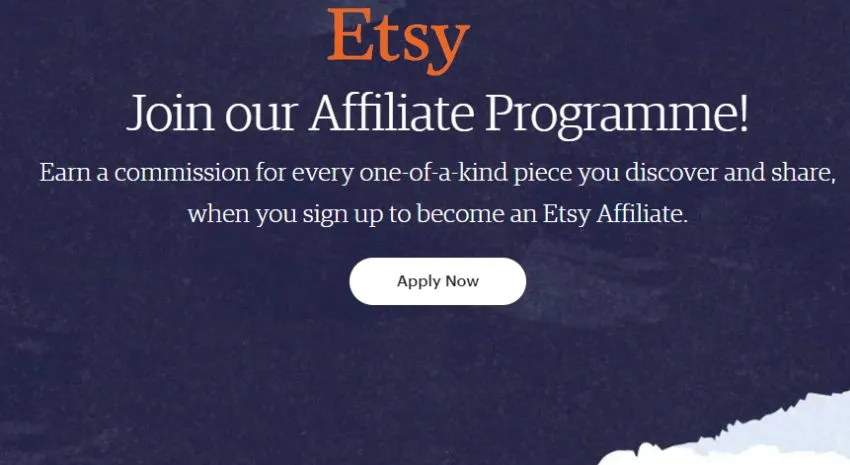 So, keep reading if you have a business that caters to the Etsy products theme. In this article, you get a detailed guide on what is this program, how to join it, and whether or not it is suitable for you.
Etsy Affiliate Program: An Overview
Before jumping into the details, let's take an overview of everything you need to know about the Etsy Affiliate Program. 
Commission rates: 2% to 4%
Payment schedule options: Fortnightly or Monthly
Payment threshold: $20
Cookie duration: 30 days
Now, if you already don't know, let's see what this program is about.
What is Etsy Affiliate Program?
Etsy is an online marketplace with an annual revenue of 2.3 billion. It's a significant player in the handmade and vintage markets and offers a wide range of products. 
As an affiliate partner, you'll receive unique links to promote Etsy listings. Whenever a shopper clicks on one of your links and makes a purchase, you'll earn a commission on the sale. 
To participate in the Etsy affiliate program, you need to get your website approved by Etsy, and once approved, you can start sharing your affiliate links to earn commissions.
Don't forget to earn with Kohl's Affiliate Program.
How Doe Etsy Affiliate Program Work?
Etsy has a handy system to keep track of referrals. It uses unique affiliate links and cookies. Here's how it works:
You log in to your account and use the dashboard to generate unique affiliate links for the Etsy listings you want to promote.
Once you've got your links, you can share them on your website, blog, or social media channels. 
If someone clicks on one of your links, Etsy will create a cookie with your affiliate information.
And when they purchase on Etsy after clicking on your link, Etsy will check their device for cookies to see if they were referred by you. If one of your affiliate cookies is found, you'll get a commission for the sale. 
The best part? The affiliate program on Etsy is free to join. But, as with most payment processing systems, there are some fees involved.
Every time you cash out your earnings, Etsy Payments will charge a small base fee of $0.25, plus a 3% processing fee. 
Etsy Affiliate Program Requirements
So, if you're liking it so far and planning to join the Etsy Affiliate Program, here are the requirements that you need to know.
Age requirement: You must be at least 18 years old to join.
Website or blog required: You need to have a website or blog to apply.
Prohibited websites: You cannot apply if you have a price-comparison website, an ad network, or a cashback website.
Content quality: Etsy may deny your application if your site has low-quality content or uses keyword stuffing.
How to Join Etsy Affiliate Program?
If you've decided to join the Etsy affiliate program, here are the steps you'll need to follow:
Fill out an application on the Awin network website. You have to provide your name, email address, and the URL of your website or blog.
Wait for Etsy to review your site or blog. They will consider your existing content and decide whether or not to approve your application.
Once your application is approved, log into your affiliate dashboard. From there, you can generate affiliate links to promote Etsy products.
If you also have an Etsy store, you have to disclose this relationship by emailing the Etsy affiliate team.
And if you already operate a store on Etsy, you can still become an affiliate. But you won't earn commissions on any items purchased from your store, which is a fair condition. Also, see the Walmart affiliate program to see which suits your business.
What Products Can You Promote?
Etsy mainly focuses on two key areas: handmade crafts and vintage items. But there's a lot more variety on offer than you might initially think.
Primary Categories
These are the primary product categories that you'll have to work with:
Jewellery & Accessories
Clothing & Shoes
Home & Living
Wedding & Party
Toys & Entertainment
Craft Supplies & Tools
Art & Collectibles
Vintage
Subcategories
And each primary category has several subcategories. For example, within the 'Craft Supplies & Tools' category, there's an 'Electronics & Circuits' subcategory, where crafters can buy and sell their tools. The 'Vintage' category also has subcategories, such as vintage cameras.
Promoting Your Store
How Much Can You Make With Etsy Affiliate Program?
As an Etsy affiliate, your earnings can depend on multiple factors. Here are some important things that you can keep in mind.
The older your blog or website is the higher your chances of earning. 
The amount of traffic can significantly affect your earnings. So, try to bring in more traffic.
With Etsy Affiliate Program, you can earn anywhere from $11,000 to six-figure per year. But it all depends on how much effort you put in and what strategies you use to promote the product.
How to Increase Your Earnings?
To maximize your earnings as an Etsy affiliate, you should find a profitable niche, build your audience, and identify effective channels to connect with potential buyers. 
By putting in the effort and dedicating yourself to your affiliate marketing business, you can build a successful online presence and earn a lucrative income promoting Etsy products.
Etsy Affiliate Program Commission
There are three basic ways to commissions through the Etsy Affiliate Program.
Standard Publisher Referral
A standard publisher referral involves sharing an affiliate link through your blog or website. If a user clicks on this link and makes a purchase, you'll earn a commission of 4% on the item's price. Keep in mind that this commission does not include the tax and shipping costs.
User-Generated Content Referral
Etsy has strict rules about promoting affiliate links on social media, but you can share links on Instagram, Pinterest, and YouTube if you meet certain conditions. If you generate a sale through these channels, you'll earn a commission of 2%.
Free Listings
Etsy also offers the opportunity to earn free product listings by referring a new seller to the platform. You can earn 40 free listings by sharing your referral link with a friend who opens an Etsy store. This option does not even require you to join the affiliate marketing program.
Etsy Affiliate Program: Pros & Cons
Now, let's weigh the pros and cons of the Etsy Affiliate Program to help you decide if it is suitable for you to join.
Pros
4% commission rate
Supports small businesses
30-day cookie duration
Offers marketing tools and creatives
Strong upward growth (IPO)
Cons
Payment takes longer than expected (Net 60 instead of Net 30)
Low affiliate commission rate
Requires a $5 refundable application fee 
Conclusion
Etsy is a reputable platform that is trusted by shoppers, and its vast product selection is a significant advantage. It is an ideal marketplace for finding unique and personalized items that are hard to find elsewhere. 
The Etsy affiliate program has some drawbacks, but it is still a worthwhile program to join. If your content caters to a niche that is interested in handmade products, vintage finds, and other distinctive purchases, we highly recommend joining the Etsy affiliate program.