Kohl's is one of the best shopping destinations for Americans to find the best apparel, accessories, and other items but do you know about the Kohl's Affiliate program? With Kohl's Affiliate program content creators can earn commission by sharing Target products.
In this article, we'll go through everything you need to know about Kohl's affiliate program. You'll learn how to register for this program with little tips and tricks to help you make the most out of it.
Kohl's Affiliate Program: An Overview
Here's a quick glance at everything you need to know about Kohl's affiliate program.
It's free for everyone to join
It allows commissionable pickup orders for free
The company sends a monthly newsletter with offers and info on sale events
You can earn a 3% baseline commission
The company keeps giving offers to promote such as free shipping, 35% LTO, etc.
It has a whole affiliate team with experienced people.
You can also take advantage of the Walmart Affiliate Program
What is Kohl's?
Kohl's is one of the largest departmental stores companies by retail sales in the states (as of 2013) You'll find all the amazing products from big and well-known brands across the world. And the best part is that you can save a bunch with Kohl's.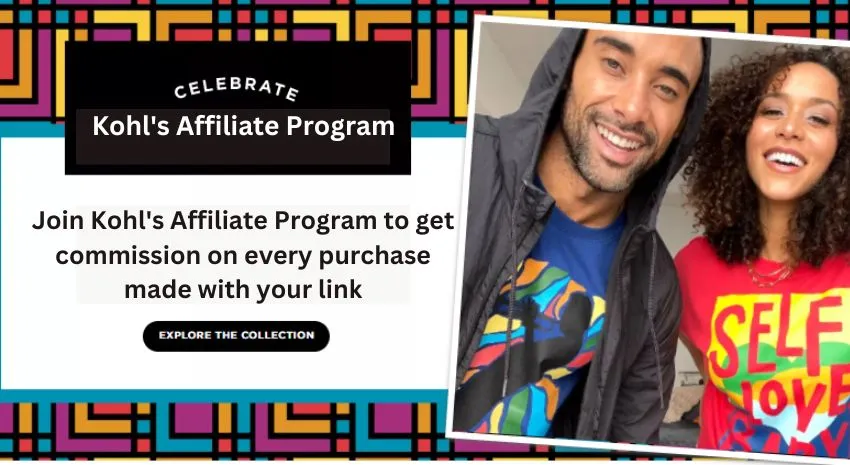 It has everything you need for yourself, your kids, home including shoes, apparel, accessories, kitchen products, and more.
Kohl's Affiliate Program (February 2023)
Kohl's affiliate program is just like any other affiliate program with some special features. If you are looking for a niche program, then this is right for you. It is a well-established affiliate program that runs through Impact Radius (a network that allows you to make commissions).
But Kohl's Affiliate program offers more than just earning from commissions. It gives you other benefits like commissionable online orders, Kohl's cash, free store pickup orders, and even 35% LTO.
Also, learn about Target's Affiliate Program to earn more commission.
How Does the Kohl's Affiliate Program Work?
Kohl's Affiliate program works in a simple way. When you join the program, the team reviews your application and if you are eligible, they approve your application. Then you can add backlinks, hyperlinks, and ads on your website to attract visitors to Kohl's platform and earn a commission. 
After earning the commission, you can claim it weekly or monthly. It depends on you – however you like it. You can enjoy your commission and Kohl's team gets their potential customers. 
How to Sign-up for the Kohl's Affiliate Program?
Impact Radius is a company that manages Kohl's affiliate program. Both companies have partnered to provide the best affiliate program. So, to register with this program, you have to do it through Impact Radius. Here's how you can do it. 
Find the register option on the Impact Radius website.
All you have to do is fill out a simple form. 
This form will allow you to promote many brands including Kohl's. You can also use different tools which will allow you to create and promote Kohl's marketing links. 
Kohl's Affiliate Program Campaigns
Kohl's affiliate program is not much different than any other program but it does have its own unique campaign rules. This is an important thing to consider before deciding which affiliate program is the most suitable for you. Follow these steps while making the decision:
Check accepted countries for Kohl's affiliate program(each platform has different market targets)
Look for traffic sources accepted by Kohkl's(which platforms you can use for affiliate business)
Check Kohl's cookie duration(see how long a cookie lasts from a click)
Finally, check Kohl's content policy(read about their policy on religious, political, and explicit content)
Kohl's Commissions: How Much Do You Earn?
After learning about the program, the nest arises: how much can you earn from it? This is actually one of the most important questions before deciding which affiliate program is the best for you. Kohl's affiliate program gives single-tier commissions(which are basically the commissions on sales). And this commission is fixed. 
This is just an overview of the commissions by Kohl's affiliate program. For more information, you can visit their site or contact Kohl's Affiliates.
Tips and Tricks for Kohl's Affiliate Program
Kohl's offers a wide range of items from personal care products to room decor items. Here's a list of tips and tricks that you can use to get the most commission out of Kohl's affiliate program.
Create unique and interesting product reviews with a theme
Write for a wide audience and engage them
Optimize keywords for high-search ranking
Use relevant and high-quality images and colors on the website
Provide helpful information about the product
Select popular and high-demand products for review
Test and improve articles through analysis and feedback
Create solid content with full knowledge of product features
Use backlinks, hyperlinks, and referral points
Offer discounts or coupons to attract customers.
Use all these tricks on your website to earn the most out of this program.
Why Should You Join Kohl's Affiliate Program?
Still unsure about it? Here's a list of reasons why Kohl's Affiliate Program is worth working with:
Provides competitive commission rate
Gives commission on BOPIS orders
Has regular updates on sales and offers
Allows access to banners, creative, and text links
Offers unique promo codes and exclusive offers for affiliates
Gives free standard shipping on orders over $75 every day.
Conclusion
Overall, Kohl's affiliate program is a decent option to consider while looking for different programs for your business. But like any other business, it is important to consider all aspects before making any solid decision. So, we would recommend you follow the guideline given in this article and do your own research as well.