If you are looking for an affiliate program with a good profit percentage and weekly payouts, then the MaxBounty affiliate program is the right choice for you to evolve your earning potential.
MaxBounty has an affiliate program where you can promote hundreds of Cost-Per-Action (CPA) campaigns and earn high commissions. It provides the best rated in the industry and currently hosts more than 100+ offers.
In this article, we'll discuss a detailed review of the MaxBounty Affiliate Program. You'll learn what the platform is about, how to join, payments, and whether or not you should use it. Let's get started!
MaxBounty Affiliate Program: Overview
Before digging into the details of the Maxrewards Affiliate program, let's take an overview of everything you need to know about the platform.
Year established: 2004
Number of merchants: 200+
Types of offers:

CPA (Cost Per Action)
CPL (Cost Per Lead)
CPS (Cost Per Sale)
Have a look at Target's affiliate program to see which one is better.
What is MaxBounty?
MaxBounty is an affiliate marketing platform that caters to both affiliates and publishers. Their services are designed to help advertisers achieve their marketing goals with custom-made solutions. And publishers can benefit from using MaxBounty by increasing their sales, generating new leads, getting more app installs, and taking advantage of other promotional opportunities.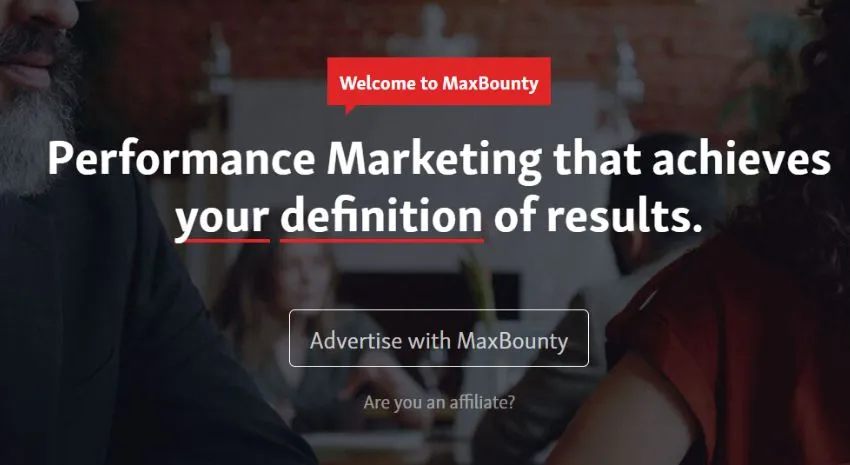 MaxBounty boasts an impressive list of partners that includes major companies such as Norton, Alibaba, Apple, Microsoft, and GoDaddy, among others.
As an affiliate of MaxBounty, you can choose from a wide range of offers to promote and earn a commission on every sale that is made through your affiliate link. With its extensive network of advertisers and publishers, MaxBounty provides a seamless and effective way for businesses to connect with their target audience and for affiliates to monetize their traffic.
MaxBounty Affiliate Program: A Review
While MaxBounty Affiliate Program is a pretty good opportunity for affiliates to earn money, it may have some drawbacks. Let's take a look at some of the reasons why you should consider joining, as well as some drawbacks to be aware of.
MaxBounty Affiliate Sign Up Process
Joining MaxBounty affiliate program is really simple and easy. You just need to follow the below steps (shown in images) to get approved.
First Step: Visit this link to go MaxBounty Sign Up page.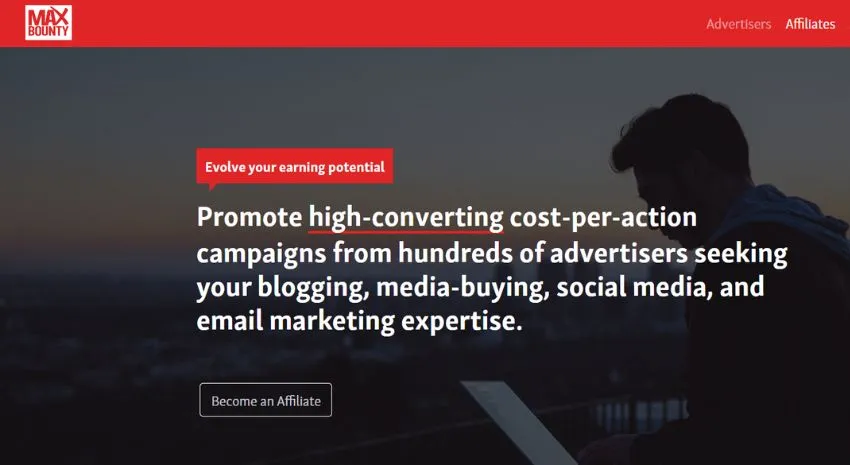 Step2: Enter your name email company name and password.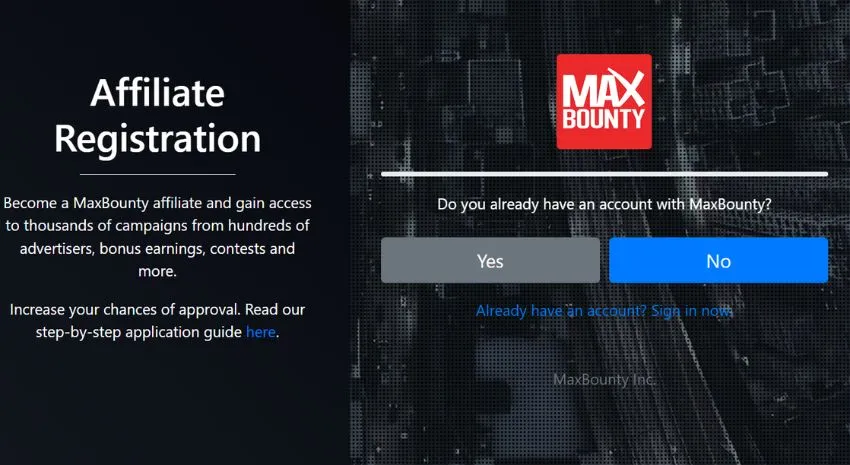 In the next step verify your mobile number and other details.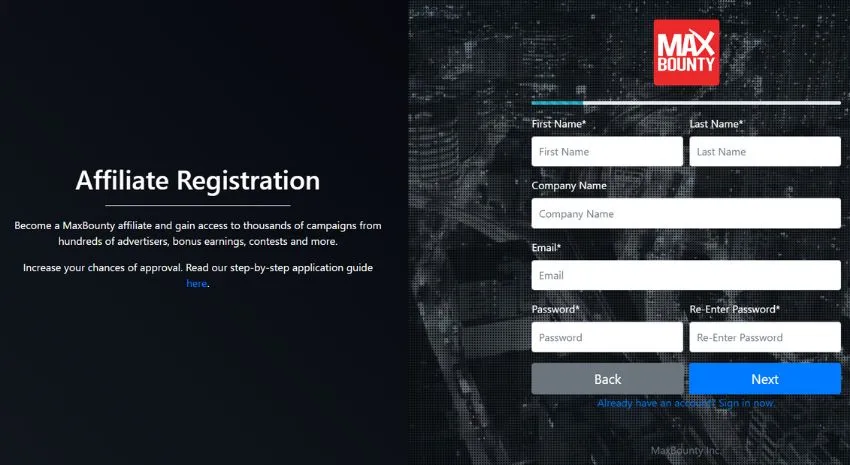 Step 4: MaxBounty will walk through you full process to sign up.
Note: Keep in mind that MaxBounty does not allow you to share your account with others. In any case, your account can be canceled anytime.
Why should you join MaxBounty Affiliate Program?
There are plenty of great reasons to join the MaxBounty affiliate program, and here are just a few of them:
You'll have access to over 2000 active marketing campaigns to promote.
The commission tracking and reporting dashboard is well-designed and user-friendly, making it easy to keep track of your earnings.
You'll be paid on a weekly basis via your preferred payment method, which means you won't have to wait long to receive your hard-earned commissions.
With a dedicated affiliate manager on hand to offer support and guidance, you'll have all the help you need to succeed.
If you perform well, you may even be eligible for bonuses and other incentives.
The program is open to affiliates from all over the world, making it a truly international opportunity.
Why should you not join the Maxrewards Affiliate Program?
MaxBounty is a legitimate business, but there are some potential drawbacks to be aware of:
The joining process can be lengthy and you need to be careful about the details.
Also, you need to be careful when working with the company to avoid making any mistakes that could lead to account closure.
Don't forget to explore Kohl's Affiliate Program. This might turn out to be suitable for you.
How to Find Affiliate Programs with MaxBounty?
Now, if you are planning to join, let's learn the steps to find affiliate programs with MaxBounty:
Log in to your MaxBounty dashboard and click on the "Browse" option in the left-hand menu.
Choose from the various tabs, including "New Campaigns," "Top Campaigns," "Trending Campaigns," "Suggested Campaigns," "Recently Viewed Campaigns," "Campaigns You've Just Been Approved For," or "Campaigns You've Bookmarked."
Use the "Search" function to find CPA, CPL, or CPS offers by campaign name, type of traffic, primary categories and sub-categories, or programs you're approved to run.
Select between "Pay per Lead" and RevShare CPA options.
Apply to promote individual advertisers and receive your first payment from MaxBounty before promoting CPA offers.
How to Create Affiliate Links with MaxBounty?
After completing all the steps and finding your offers, it's time to build an affiliate link. Here are the simplest steps to follow:
Log in to your MaxBounty dashboard and navigate to the affiliate program you want to promote.
Click on the "Build tracking link."
Choose the type of traffic you'll send to the link, the type of creative you want, and the landing page you want to use.
Set up sub-IDs and your tracking pixel if necessary.
Create your affiliate link.
That's it! Your link has been created. 
MaxBounty Affiliate Program: Commissions
Now, let's move to the interesting part – the commissions. Let me explain how the MaxBounty Affiliate Program commissions work. 
With MaxBounty, you can monetize your website or audience by running cost-per-action campaigns through your Instagram pages and accounts. This platform offers hundreds of marketing offers from MaxBounty advertisers that you can choose from based on your audience. 
The commission models for these offers may vary, but you can earn money through CPA, CPS, CPL, and CPI models. 
MaxBounty Affiliate Program: Payment 
MaxBounty Affiliate Program offers an attractive payment plan for you. The program pays its affiliates on a weekly basis, which is a great advantage if you are looking for a steady source of income. The payment is based on the commissions earned by the affiliates in the past week. 
Moreover, it is open to affiliates from all over the world, so you can easily join and choose campaigns that fit your Instagram account or page's niche. MaxBounty also provides its affiliates with various payment options, such as check, e-check, Payoneer, Wise, and direct deposit.
This flexibility is definitely appreciated by Instagram influencers who want to monetize their content. 
MaxBounty Affiliate Program: Support
When it comes to MaxBounty's support system, it could definitely use some improvement. Unfortunately, they don't have a dedicated support forum or knowledge base for their affiliates to access. 
The closest thing you can get to support is through your assigned affiliate manager, but even then, some problems might not get resolved. The FAQ page they offer isn't comprehensive enough to cover most of the questions affiliates may have. And honestly, it's a shame that their support system doesn't match up to the other great aspects of the platform.
MaxBounty Affiliate Program: Pros and Cons
Finally, let's weigh all the pros and cons of the MaxBounty Affiliate Program to help you decide if it is suitable for you.
| | |
| --- | --- |
| Pros: | Cons: |
| Brand-name corporations offering CPS offers | Poorly set up FAQ page |
| Many CPA opportunities to explore | Slow account approval |
| Excellent search capability | Quick to eliminate accounts |
| Up to 50% of profits | No help desk support system |
| Weekly payouts available | |
Conclusion
Overall, MaxBounty Affiliate is a good opportunity to start your journey. If you are a publisher or an affiliate looking for a platform with a good profit percentage and more CPA opportunities, then you should give MaxBounty Affiliate Program a try. But their support system might give you a difficult time. So, be sure to weigh all the good and bad things before making your decision.