If you regularly use rideshares apps like Uber and Lyft to travel, then there is an app that helps you to save money on your rides. Freebird Rides is a reward app that saves some money on your every rides with Uber and Lyft. New users will also earn a $5 Freebird rides sign up bonus.
Get a $5 Freebird sign up bonus when you use our referral code "ROFR" to join and book your first ride. For every ride, you will get rewards point in return to use, and you can refer a friend to earn Freebird referral bonus.
In this article, you will find all the Freebird rides promotions and steps to claim Freebird sign up bonus.
Freebird Sign Up Bonus 2023: $5 Reward On First Ride
As a new user on Freebird you will get a $5 sign up bonus reward to open an account and book your rides. You can use the latest Freebird referral code to sign up and get bonus credited to your account.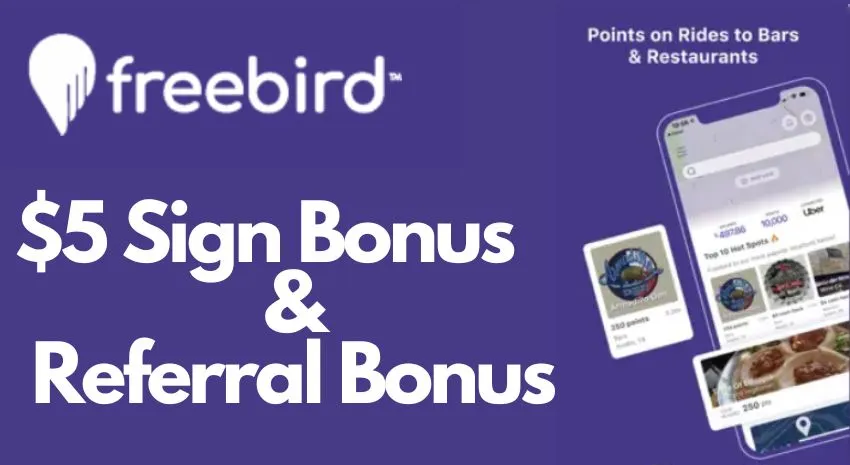 Want to double your rewards? Try $10 bonus and $20 sign up bonus apps to earn more money.
How To Claim Freebird $5 Sign up Bonus?
Download the Freebird app via this referral link. (Available on both iOS & Android).
Fill out the details, such as name and e-mail, to open an account.
Once an account is opened, connect the Freebird app with Uber and Lyft.
As soon as you book your first ride, a $5 bonus reward will be added to your account.
You can use the reward points on shopping or the next rides.
What is Freebird?
Freebird is more about cashback and rewards apps. Freebird offers you cashback and rewards points on your rides with Uber or Lyft, plus you can go out and explore your local restaurants to earn more cashback.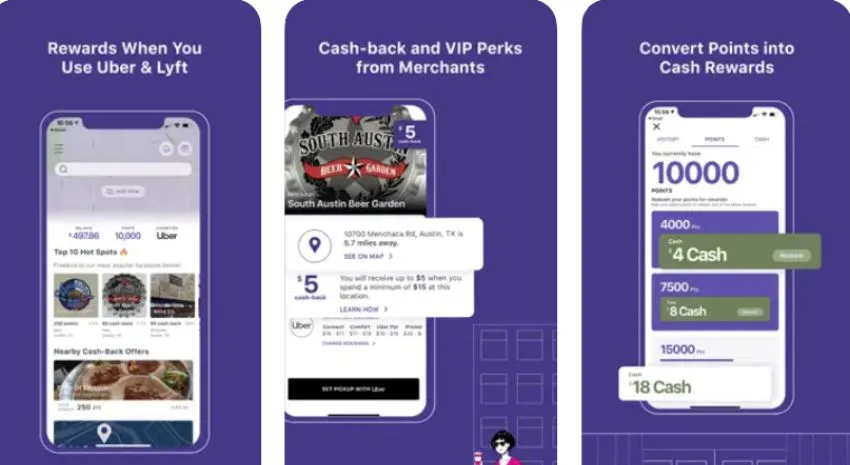 Freebird makes it easy to book rides and also helps you to save money. Freebird is free to use, and all you need to do is connect your card and Uber account with Freebird to earn more.
Freecash Referral Bonus: Get $5, Give $5
When you invite a friend on Freebird with your personalized promo code, you will earn a $5 referral bonus. Bonus will be added once a referred person joins via your referral code and book their first ride.
How do I refer friends on Freebird App?
To invite a friend on Freebird, follow the below steps.
Login to your Freebird account in the app.
Navigate to My account>refer friends and copy your code.
Share your Freebird referral code with your friends and on Social media.
Get a $5 referral bonus for each person who Enters your referral code and Takes their first Freebird ride.
You both will earn a $5 Freebird referral bonus. And there is no limit on referrals; you can share as much as you want.
Freebird Features
Freebird rewards you more than Uber and Lyft on your rides, plus you can go to partnered Freebird bars and restaurants to earn more.
Here are the few Freebird rides features that make your ride more rewarding:
Rewards on Ride: Book a ride with Freebird rides app and get cash back or points in return. You can use earned points on your next rides.
Convert Points into Rewards: The rewards you earn on Freebird while riding can be redeemed into cash back or amazing perks.
Restaurant and Bar Cashback: Open your Freebird app and go to partner restaurants to get paid. Once you go there, pay with your linked card and get cashback. 
Apart from Freebird, RebatesMe also offers cash back on shopping, and new users will get a $40 RebatesMe sign up bonus.
Conclusion
Freebird is a new way to save money on your future rides, and it offers many rewards for going to registered hubs. As a business owner, you can also list your restaurant or bar on Freebird to get more customers.
Download the Freebird app and get a $10 Freebird sign up bonus.