Want to earn cashback on every dollar you spend on shopping? MyPoints does precisely for you. MyPoints is a cashback site and app that lets you earn rewards and cash back when you shop. 
Get a $10 MyPoints sign up bonus when you use our referral link to open an account and spend $20 within 30 days of account opening. Plus, you can earn extra points to refer a friend on MyPoints. For each referral, you will get a 750 points referral bonus.
MyPoints offers you cash back rewards and many more ways to earn, like Taking surveys, playing fun games, and cashback. It works the same as Ibotta, Swagbucks, and Maxrebates. 

In this article, You will find all MyPoints promotions and steps to claim MyPoints sign up bonus.
What is MyPoints?
MyPoints is a reward program that gives points to the user for shopping, taking surveys, and playing games. With MyPoints, you can shop at more than 1900+ retailers and get cash back in the form of points. Earned points can be redeemed into Gift cards and perks.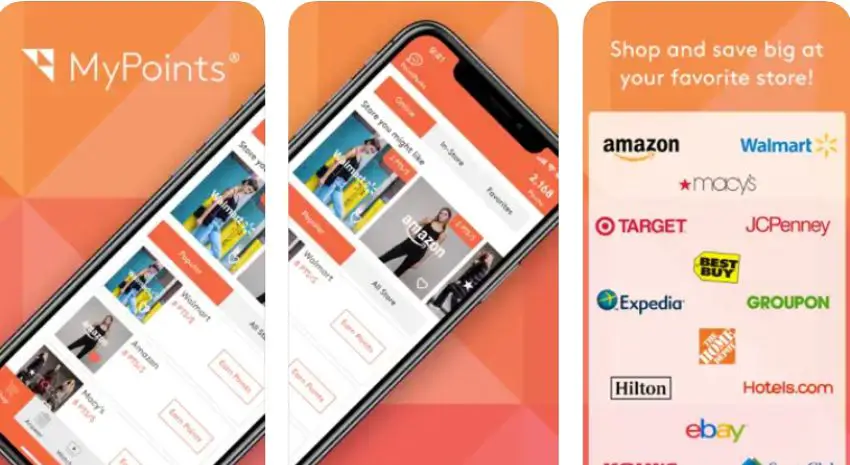 MyPoints is a one-way road to find coupons for your favorite stores and rewards toward your online store. MyPoints is one of the best cash back apps for those who love to shop online. And MyPoints mobile app makes it easier.
If you think $10 bonus is low then claim $40 RebatesMe sign up bonus and $30 Upromise sign up bonus.
MyPoints Sign Up Bonus 2023: Get $10
Sign up using the Mypoints referral code "ROFERE", and you will get a $10 MyPoints sign up bonus once you earn 10 points. A Bonus will be added to your account within 10 days.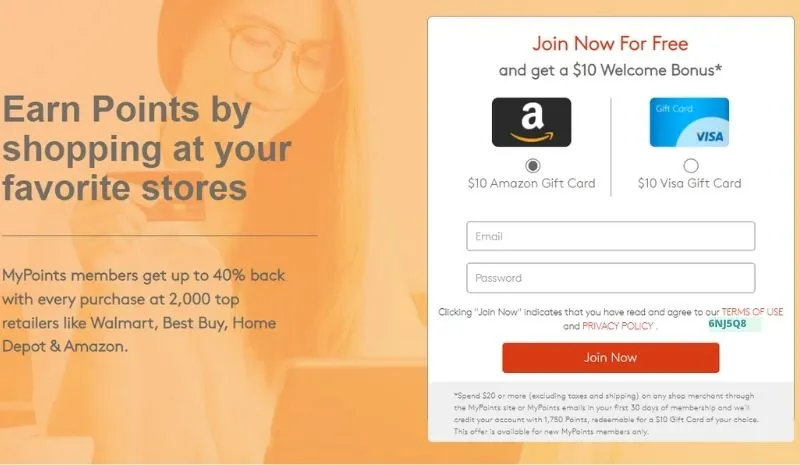 If you think $10 sign up bonus is low, then you can check out apps with cash sign up bonuses where we mention $50 sign up bonus apps and a $100 sign up bonus.
How to Claim $10 MyPoints sign up Bonus?
Click above the button to open an account.
Enter your name and email to verify the account status.
Use MyPoints coupon and start shopping at your favorite stores.
Once you earn 10 points in MyPoints, then bonus will be added to your account.
You can use the bonus on your next purchases or cash out in your linked account.
MyPoints Referral Bonus (750 Points): Give $10, Get 750 Points 
Once you have an account in MyPoints, you can join their referral program and earn 700 points as a MyPoints referral bonus. Share your MyPoints referral code and invite your friends to earn more.
Steps To Claim MyPoints Referral Bonus
It's easy to refer someone to MyPoints. Copy your link from the referral tab and share it with your friends. Follow the below steps.
Login to your MyPoints accounts in the app or browser.
Go to My account and click on refer a friends tab.
You will see an option to invite friends via mail or message.
Copy your code or link and share it with your friends.
Your friends will receive a message to join via your link.
Once your friends join and spend $20 within 30 days, you will receive 750 points. Your referral will also earn a $10 MyPoints sign up bonus.
MyPoints promo code and Cashback
Here is the latest MyPoints promo code that you can use to earn cash back on shopping.
MyPoints promo code $10 – ROFERS
MyPoints New User promo code – ROFERS
MyPoints Existing User Promo Code – ROFERS
MyPoints December 2022 Promo Code – ROFERS
MyPoints January 2023 Promo Code – ROFERT
MyPoints Referral Code – ROFERE
MyPoints Features
MyPoints features help you to find the perfect deals for you and save money on your shopping.
Here are Some MyPoints features:
Cashback Points on Shopping – Whenever you shop with MyPoints you will earn some cash back points in return that you can use to redeem gift cards.
Take Surveys To Earn Points: Participate in surveys available on MyPoints to maximize your earnings.
Playing Fun Games: If you're in your free time, then you can play fun games on MyPoints mobile app and win points. All games are easy to play, which makes it easy for you to earn more.
Refer a Friend: Invite your friends via your MyPoints referral code, and you'll get 300 points for every referral.
Conclusion
MyPoints is a great way to earn rewards and save money while shopping online. With a variety of rewards to choose from, including cash back, gift cards, and travel rewards, MyPoints has something for everyone.
MyPoints have something for everyone, and new users will earn a $10 MyPoints sign up bonus.