There are hundreds of apps and websites that suggest your daily exercise routine and workout sessions, but what if you can earn money or gift cards for doing exercise and staying fit at the same time. To make it easy for you, introduce a cash back app called CashWalk that rewards you with free gift cards and cash back for walking.
CashWalk will keep you motivated for your daily morning walk and earn you points at the same time. CashWalk promotions will reward you points for every step you take, and you can convert them into gift cards.
Now, if you are ready to start earning from running, use this CashWalk app referral link to sign up and start.
Converted CashWalk points can be redeemed for popular gift card apps like Amazon, Google Play Store, Walmart, eBay, Sephora, and many more. Not only CashWalk points for running, but if you sign-up for CashWalk via referral link, you will get 500 Steppoints as a bonus.
For our readers, we mentioned all CashWalk promotions and current offers that CashWalk app offers, so they don't have to search around. Also, if you want to earn an Amazon gift card and cash back on your shopping, read 23 best cash back apps of the USA.
CashWalk Promotions Get Cash Back and Referral Rewards
CashWalk promotions include a sign-up bonus, cash back, gift cards, and a referral program. You can use points from these promotions and convert them into Gift cards from top stores like Amazon, Walmart, eBay, and More.
Here, you can earn maximum Stepcoins from the current CahWalk promotion:
CashWalk sign-up bonus will give 500 Stepcoin points to register on the app. Use the below button to sign up.
CashWalk referral bonus will give you 100 StepCoins to invite your friend and help them to stay fit while earning rewards.
You earn one Stepcoin for every 100 steps, and the conversion rate is 10,000 Stepcoins per $1.
Well, it will take some time to convert your steps into gift cards because a minimum of $5 you can convert, and for payout, the limit is $25.
If you think it will take much time, then read how to make $1000 fast via cash back apps promotion and sign-up bonuses. Apps like Upromise promotion, RebatesMe, and Maxrebates are available that will give you maximum cash back, plus sign-up and referral bonus also available.
Cashwalk Sign Up Bonus: 500 Stepcoins Reward
For walking, CashWalk (cashwalklabs.io) rewards you with free gift cards. With a 500-Stepcoin CashWalk Sign-Up bonus, you'll get a head start (referral link required). The app is free to download and register.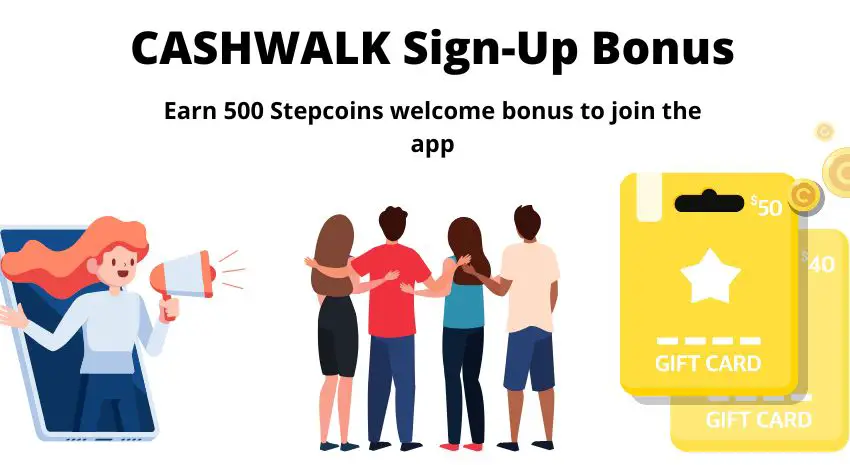 Steps to Claim 500 Stepcoin CashWalk Sign-up Bonus
Download the CashWalk app available on both ANroid and iOS.
Click on The above Button and Create a Cashwalk Account.
Now Click on the Start Run And Complete Your First Challenge
Done, you will Get Your Bonus Within 24 hours
More sign-up bonus apps you may wish to try: Bright Money Sign Up Bonus, $150 Nexo Sign Up Bonus, Upromise Sign Up Bonus, Neighbor Sign Up Bonus.
CashWalk Referral Promotion: 500 Stepcoins to Invite 
Currently, CashWalk Rewards is offering 500 Stepcoin as a Referral bonus. If you make a successful referral, then you will earn 500 Stepcoins as a bonus. Share your CashWalk referral link/code "AFCJ54" and invite your friends. For more info, read the following instructions to claim your referral bonus.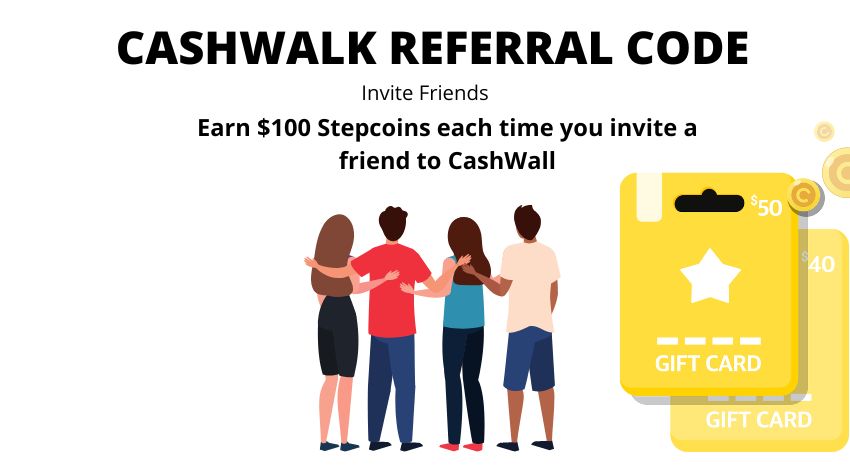 How to Claim 500 CashWalk Referral Bonus?
All you have to do is download the Cashwalk app from Google Play. 
After that, you'll need to create a new account. 
You will get an invite friends option. Copy your Cashewalk referral code and share it with your friends. 
Once they sign up to CashWalk from your referral link
You will receive your prize in StepCoins rather than cash.
Avail the top referral promotion app to earn up to $30-$50 referral bonus:-Stash Referral Promotion, Plynk Referral Offer, Strike Referral Bonus, Airtime Rewards Promotion and Voyager Referral Code Earn $40
How Do You Earn Coins on CashWalk App?
CashWalk app will give you rewards, and the payout process is legit, but the rewarding process is a bit late. You can follow the CashWalk promotions and steps to earn fast and maximum Stepscoins on the app.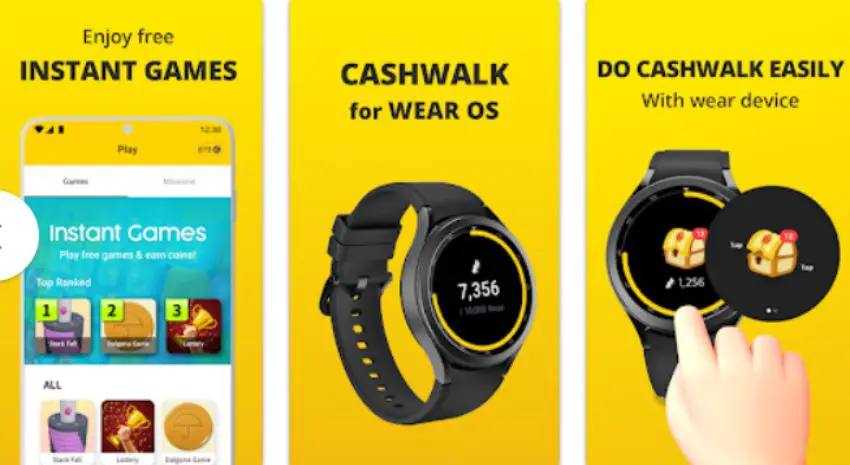 Earn Coins by Walking

Cash Walking detects and counts your steps using the accelerometer (sensor) on your device. It works both indoors and outdoors because it does not rely on GPS.
The program will run in the background of your phone, counting your steps as you walk around. Then, by pressing the "Exchange Coins" option, you may convert your steps to coins.

Earn Cash and Coin Bubbles

You'll see cash and coin bubbles around your step count from time to time. When you tap the bubble, you'll be prompted to view a video before receiving your prize.

Daily Check-in Bonuses

Check-in seven days in a row to receive the following coin rewards: 200 (day one), 400 (day two), 600 (day three), 1000 (day four), 2000 (day five), 5000 (day six), and 8000 (day seven) (day 7).

Lucky Spin

You can play the Lucky Wheel on app for a chance to win more cash and coins.
It states you can win $1,000 on the dashboard, but the only prizes I see on the wheel are coins and the following cash amounts: $0.01, $0.07, $0.35, $0.7, and $2.1.
Scratch Cards
You can try your luck with 60 scratchers per day. You will win a particular quantity of cash or coins if you match the three symbols on the card. After scratching three cards, you'll get a notice telling you that you need to view a brief film in order to acquire another scratcher.
As you can see, while collecting your prizes, Cash Walking will force you to watch a lot of advertisements. That is how the company gets money, and it is rumored that the revenue is split among users.
What is CashWalk?
CashWalk rewards is a pedometer app for your phone that counts how many steps you take. This app's main goal is to let you do just that. Sweatcoin, another programme that offers the same type of earning potential, is very comparable to this one.
And yes, it is a legitimate software since it does exactly what it claims to do: it allows you to make money by walking. The app's creators created it to encourage people to exercise by providing incentives. That is, at least, what their website suggests.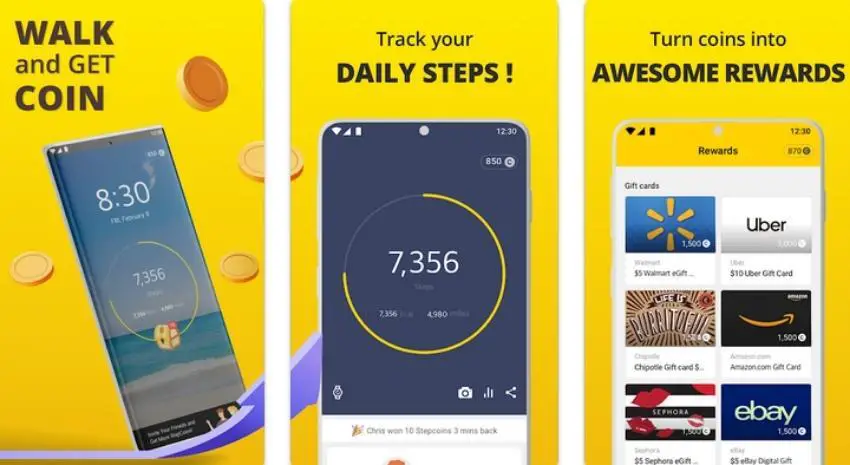 Cashwalk, like most exercise applications same as Swaetcoin, offers users information about their exercise habits; however, Cashwalk encourages individuals to walk by offering them incentives to earn money without exerting any effort if they download the program.
Is CashWalk Rewards Legit? Does It Pay? 
At first appearance, the CashWalk Rewards app appears to be a fantastic way to earn some additional cash while exercising or simply going about your daily routine. It feels like passive money, aside from the tiresome process of watching videos!
You're probably wondering: Is CashWalk Rewards Legit Or Not? Well, Let me inform you. It's a completely Legit Site and actually pays you real money!
However, there are any delays! You will not get Payment in 1 day. It even takes 2-3 days to get Payment.
CashWalk Rewards Feature:
Step Counter for CashWalk (Pedometer)
A beautiful, minimalistic design that looks and behaves like your native lock screen, with the ability to simply track your daily steps embedded in your lock screen.
You may track your steps, calories burnt, and overall distance traveled while earning free points.
Examine your previous fitness activity by reviewing your statistics and analytics.
CashWalk in StepCoins rewards you for every step you take. StepCoins may be redeemed for attractive Gift Cards to major businesses like Amazon, Starbucks, Nike, Adidas, and more. Popular items in the rewards catalog include smartphones, computers, and trips to exotic destinations.
Conclusion:
You can effortlessly track how many steps you take each day using the pedometer app Cashwalk rewards. Check out this app to keep track of your steps, and the distance traveled right from your smartphone. Cashwalk, on the other hand, is unique in that you can earn points based on how far you walk. You can get reduced or even free products and services with the points you earn. On the app, you can browse through a full catalog of available rewards.
Cashwalk also has the advantage of being intended to consume as little battery as possible. Unlike other pedometers, Cashwalk will not drain your Android device's battery over time.
Cashwalk can help you stay motivated to walk a sufficient amount of steps each day. The
Thank you for taking the time to read my review of the Cash Walking app. I hope you found it useful! So, what are your thoughts on Cash Walking? Have you tried this app? If that's the case, did you get paid or not? Please share your thoughts in the comments box below.
FAQs
Who is eligible to participate in CashWalk Rewards Promotions?
CashWalk's website does not specify which countries it is available in. So, the simplest approach to find out if it's accessible in your country is to search for it on the Google Play Store. If it shows up in the search results, that means it's available in your area.
How do I earn rewards on CashWalk?
Basic Rewards – To receive rewards, download CashWalk and walk with it.
CashWalk Plays – Playing lucky scratches for a chance to win Step Coins.
Invite Rewards – Earn Starcoins by inviting your friends.
What is the process for receivingthe gift cards?
Within the app, you can exchange your points for gift cards, and your gift code will be placed directly into CashWalk.