Are you a website owner or a social media influencer looking for good affiliate programs? The Target affiliate program might be worth considering for you.
It offers a high commission on some categories when the sales volume increases. And if those categories fit with your content, then you can make a lot of money promoting the products. At the same time, some categories are not worth investing in.
So, if you want to know if this program is suitable for you, keep reading and find out everything you need to make your decision.
It's 2023 and if you want to make $10,000 in month, then check out Referral Offer Bonus Page.
About Target Affiliate Program
Target affiliate program (more commonly known as the partner's program) is an affiliate program launched by Target that allows marketers to earn commissions for products that they promote. 
If you own a website and engage with good traffic, you can sign up with an affiliate program such as the Target affiliate program. Then you have to promote their products with links and banner ads. Whenever someone buys a product by clicking on your ad or link, you'll earn commission on that product by Target.
The target affiliate program offers competitive commissions on some brands and this commission can increase depending on how many sales you are making. Also, check out Kohl's affiliate program to see which one is more suitable for you.
How Does the Target Affiliate Program Work?
The Target affiliate program works like any other. It is free to join everyone. And if you apply, there are good chances that you'll be accepted right away making it an easy program for beginners to get started with.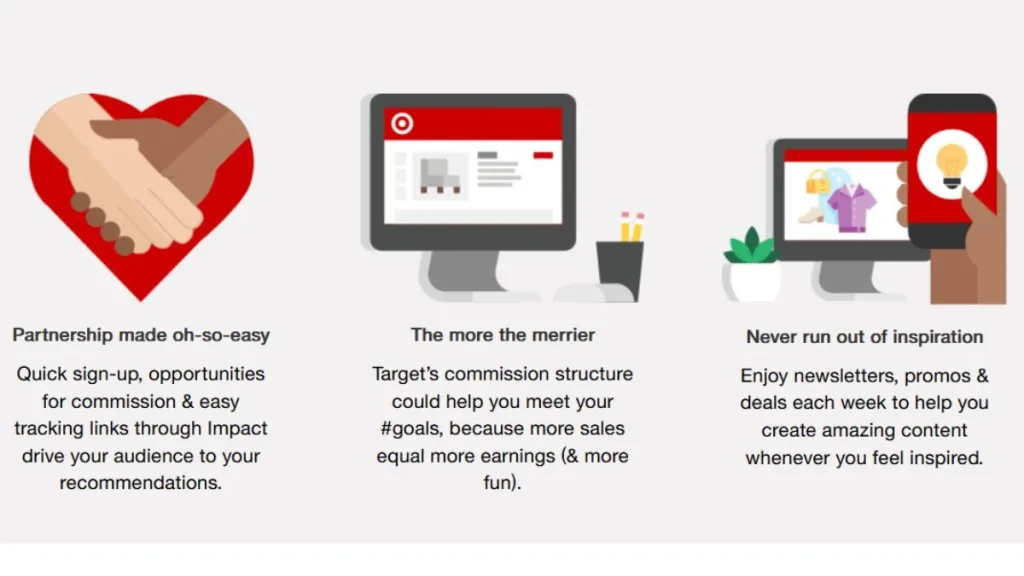 And as soon as you join the program, you can use the unique links on your website to promote the products and bring traffic. 
How does it work for Influencers?
Even if you don't own a website and work as an influencer on social media, you can still join the Target affiliate program. You can use your unique links and banners to direct your followers to Target's page.
It works by generating a cookie that lasts for 7 days. If your follower makes a purchase within these days, you'll get your commission. And even if the follower makes multiple purchases within those 7 days, you'll get your commission for each time.
How Can You Join the Target Affiliate Program?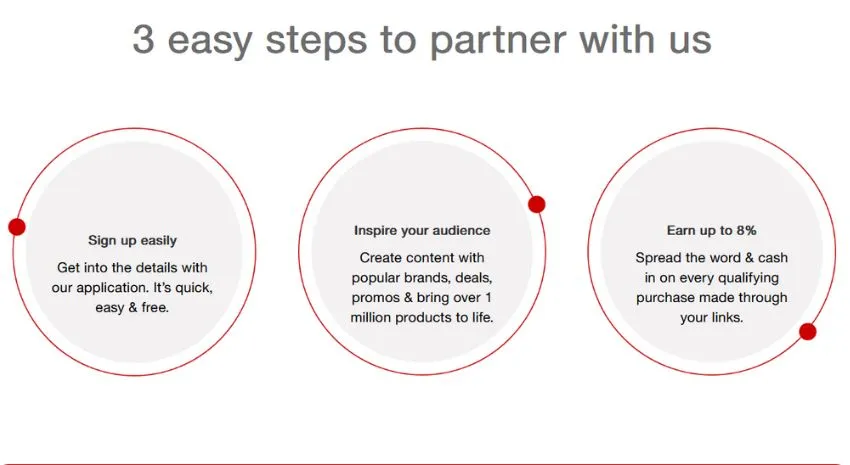 Follow these steps to join the Target affiliate program.
Fill out an application through the Target website (managed by Impact Radius)
Enter personal information
Enter basic information about the business, including marketing channels
It's a quick and simple process and you can complete it under 10 minutes
Eligibility
There are two basic eligibility requirements to join this program.
Your website should be family-friendly. There should be no vulgar or suggestive content, no hate speech or malicious content
A major percentage of traffic should be from the United States
How Long Do You Have to Wait to Get Approved?
Target's affiliate program is pretty easy to get in. Usually, it takes a few business days to get a reply from the team. Most applicants get accepted but even if you don't you can always try again. Make sure to work on the reason that you were rejected.
How Much Can You Make with Target Affiliate Program?
Your earnings depend on a number of factors. Generally, you can earn up to 8% commissions from the Target affiliate program. But it can vary depending on the category of the product and sale volume.
The commissions are structured based on two methods. Let's discuss both one by one.
Commission By Monthly Orders
Like every other affiliate program, the more you sell, the more earnings you get. You start at a low percentage and as the sale volume goes up, your commission will also be increased. And once you start selling more than 10,000 items, you can earn an 8% commission.
Commission By Category
The commission varies with the category. You have the potential to earn a maximum of 8% commission but it's not always true. For example, in the beauty category, your sales don't matter, you earn 1% regardless. 
Categories including groceries and toys give no commission at all. So, make sure to target a category with a high commission that also fits your website.
Who is Target Affiliate Program For?
Here's a list of people that might be able to join the Target affiliate program. If you're one of them, do give it a try.
Website Owners: Website owners can work as affiliate marketers. It is actually the best way to join this program. You can direct your website traffic to Target's website and convince them to make a purchase by giving recommendations.
Social Media Influencers: Influencers with a huge following can promote products and convince their followers to make purchases. They can give honest reviews about the product and make the audience aware of the brand. But make sure, you're honest and don't look like you're forcing them just for the money.
Bloggers: Bloggers can take advantage of their word craft and select a category that fits well with their niche. Then they can review and recommend products to their audience. But again, make sure you are giving honest advice to your audience.
Is Target Affiliate Program Worth Considering?
Yes, here are all the reasons why the Target affiliate program is worth considering:
It is stable compared to Amazon Affiliate Program (and other popular ones)
It has the potential for higher earnings if you maintain good sales volume
It provides interesting opportunities to promote well-known brands (which are usually easier to market)
Longer cookie duration of 7 days (it gives enough time if the user makes a purchase within a week)
It allows consistent conversion rates
Target Affiliate Program: Pros & Cons
Before making a decision about joining a particular affiliate program, it is important to consider all the good and bad things about it. Making a pros and cons list will help you decide whether the Target affiliate program is suitable for you or not.
Pros
High earning commission
Free and easy to join
Includes a wide range of well-known brands
7 days cookie policy
Allows you to register on multiple websites.
Cons
Little or no commission on certain categories
Conclusion
Overall, the Target affiliate program is a good choice to consider when exploring all the options for your business. The platform itself has a good reputation making it trustworthy and easy to promote. But make sure that you majority of the audience is from the US if you want to join this program. Also, keep in mind that your content needs to be family-friendly. 
Besides that, it is important to consider the niche of your content and match it with the category that you can promote. If that category provides high commission, then well and good. But if it doesn't provide high commissions, then you should consider other options such as the Walmart affiliate program.