As a current Swan Bitcoin promotion, new users will get a $10 bitcoin sign-up bonus. Swan Bitcoin is a crypto trading app that automates Bitcoin purchases, acting as a savings account.
Sign up and get started with Swan Bitcoin saving plan as little as $10 and automatically buy bitcoin every week, month or paycheck.
Swan Bitcoin Promotion
As a current May 2022 Swan promotion, new members will get $10 in Bitcoin just for signing up and verifying their email addresses. You can use your Bitcoin for anything from purchasing goods online or even transferring it to your checking account as cash at any time!
In addition, Join the Swan referral program and earn 25% fees on every purchase your friend makes for an entire year.
Swan Bitcoin runs a number of promotions from time to time, and we will keep you updated.
Swan Sign-Up Bonus $10 Bitcoin Rewards
Swan sign-up bonus offers $10 bitcoin rewards to every new user who opens a new Swan saving account.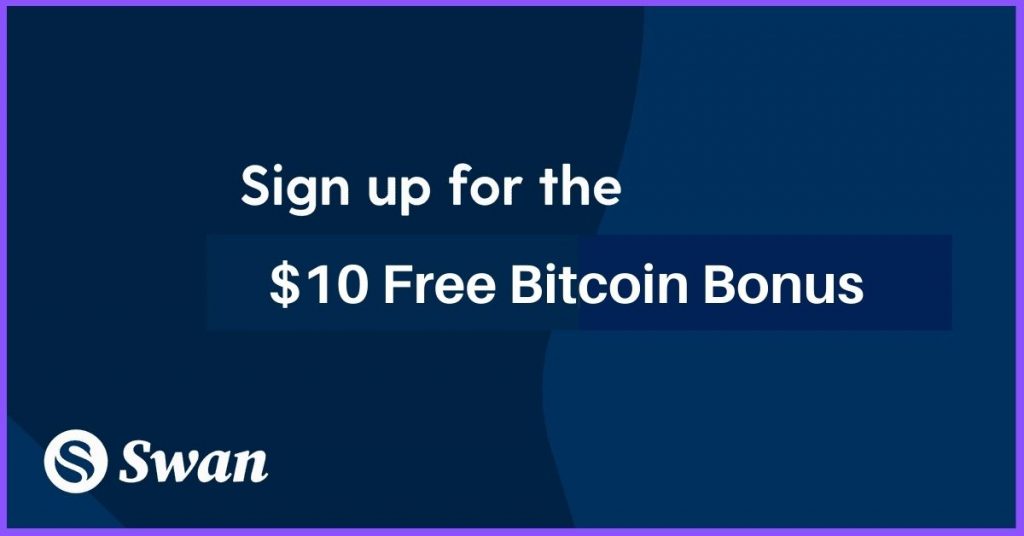 Follow below steps to sign up for Swan Bitcoin:
Visit the Swan app with this $10 referral link and register your email.
After registration, submit your details to open a Swan Bitcoin account and set up Swan Bitcoin saving plans to activate your account.
Buy bitcoin and receive a $10 Swan Bitcoin sign-up bonus.
$10 bonus will be credited to your account after in 3 days after purchase clear on Swan Bitcoin saving plans.
Swan Bitcoin Referral Promotion
Join the Swan Bitcoin referral program, and Each person you refer will get $10 of free Bitcoin. And by referring, you will receive 25% Swan's fees on every purchase your referral makes for an entire year.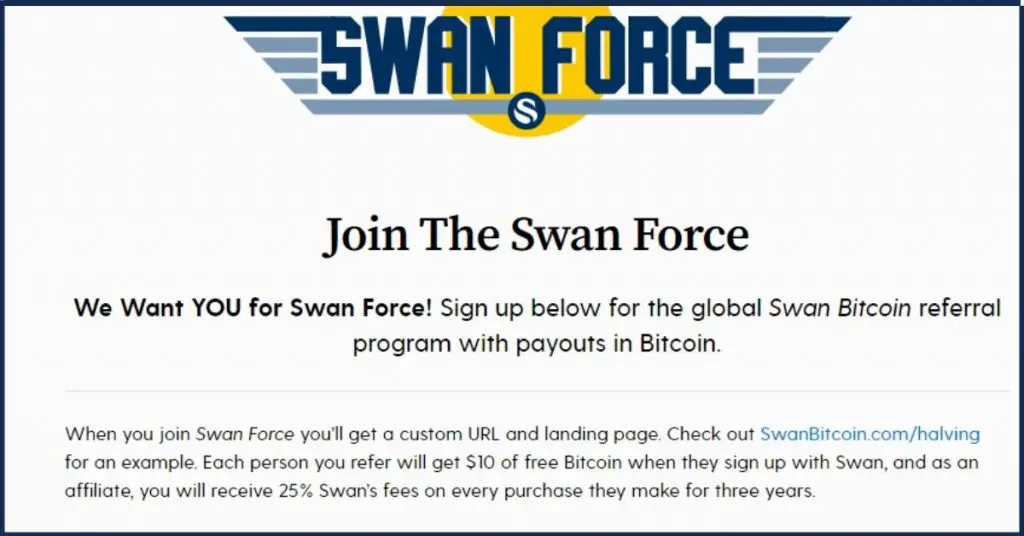 How to Join the Swan Bitcoin referral program
Once you register your Email address, you can join the Swan force referral program.
Share your Swan referral link/code with your friends and invite them to join Swan Bitcoin.
After signing up, they will receive a $10 free Swan Bitcoin bonus, and you get a 25% fees referral bonus.
Referrer payouts are made 30 days after the referred customer makes a purchase or pays an annual fee. You can track your referral payouts in the referral dashboard:
Note: In order to join Swan referral program first, you have to apply for the Swan force referral program. Only USA users can participate.
If you want to make more money with crypto referral program then sign up for these crypto apps coinchange, Mudrex, Makara, and Strike and start referring to friends.
How to Withdraw Crypto from Swan Bitcoin?
Withdrawing crypto from Swan bitcoin is completely easy. Just follow the below steps.
Step1: Setup two-factor authentication to Swan account.
Step2: To create withdrawal go to Swan Dashboard>Withdrawal Section and connect your wallet.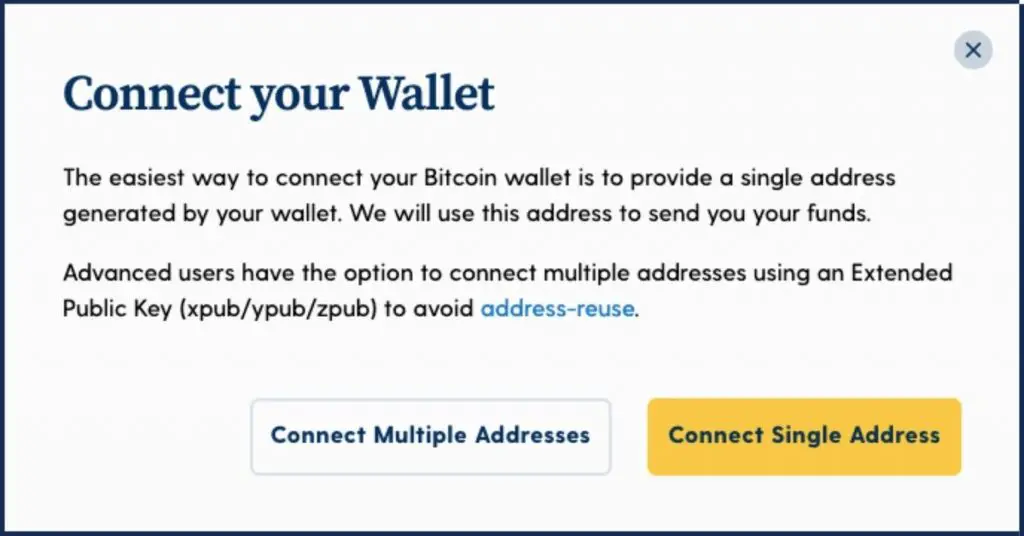 Step3: Click the Withdraw now to complete the process.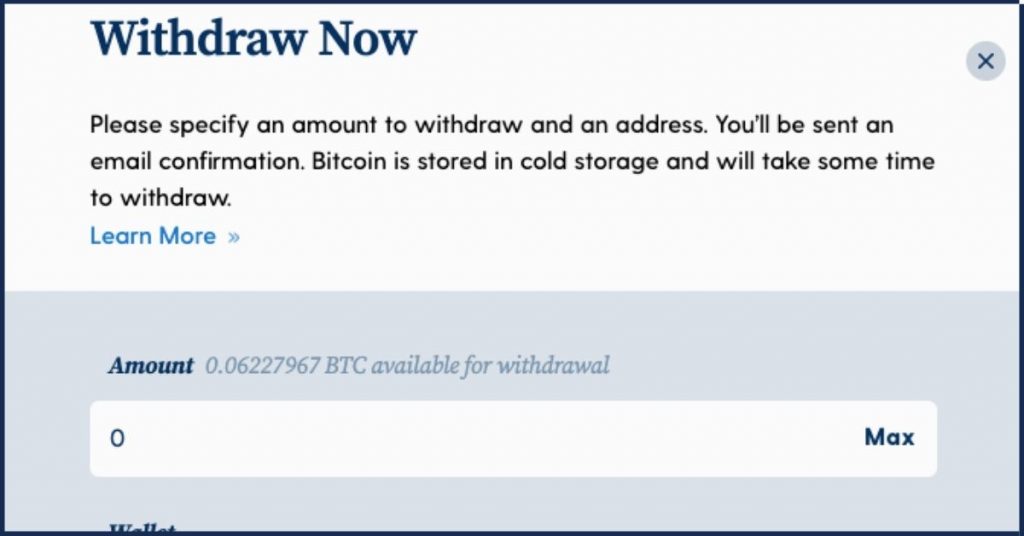 Swan Bitcoin fees & Buying limits
Swan Bitcoin charges the lowest fees in the USA for recurring purchases. Fees are based on the amount purchased. If you purchase $50 or more per week with all fees pre-paid for the year, the cost per transaction is 0.99%.
There are no withdrawal fees on Swan Bitcoin.
Swan Bitcoin features:
Swan has made bitcoin purchases easy and affordable and Swan Bitcoin offers many advanced features to its users.
Automatic Recurring Buys
Auto withdrawal
Referral Program
Conclusion
Swan Bitcoin is a long-term savings program; it offers an interesting way to avoid the fees you would typically incur if you made many small Bitcoin purchases. Swan Bitcoin promotion also offers many rewards and gift cards.