Are you looking for credit cards with no annual fee? The SoFi Credit Card is the ultimate 2% cashback card especially if you are shopping for holiday items and want to stay on budget. It is designed to help users earn, save and invest money. And it comes with many cool features that you can enjoy free of cost. Here's the complete SoFi credit card review.
Plus, you can take advantage of the SoFi credit card bonus. When you first sign up using a referral link, you earn $250 as a welcome bonus. After that, you can get your own unique referral link and invite friends and family. For each person, you can earn a $100 referral bonus. 
SoFi bonus always changes time to time. So check out before signing up to get best deals.
In this article, you will find all the SoFi credit Card promotions and steps to claim SoFi credit card bonus.
SoFi Credit Card Bonus: An Overview
Here's a quick overview of everything of need to know about SoFI Credit Card.
Earn $250 SoFi credit card sign up bonus
Invite friends to earn $100 SoFi referral bonus
There's no annual fee
You can get 2% cash back on all purchases
Full Mastercard World Elite benefits include

Up to $1,000 cell phone insurance

There is no foreign transaction fee
You can also take advantage of the SoFi referral bonus
SoFi Credit Card Sign up Bonus: Earn $250 
If you are a new user, you are eligible for the 5000 points with the SoFi credit card welcome bonus. This bonus can be redeemed for $250 in SoFi products such as checking and savings accounts, loans, or investment products.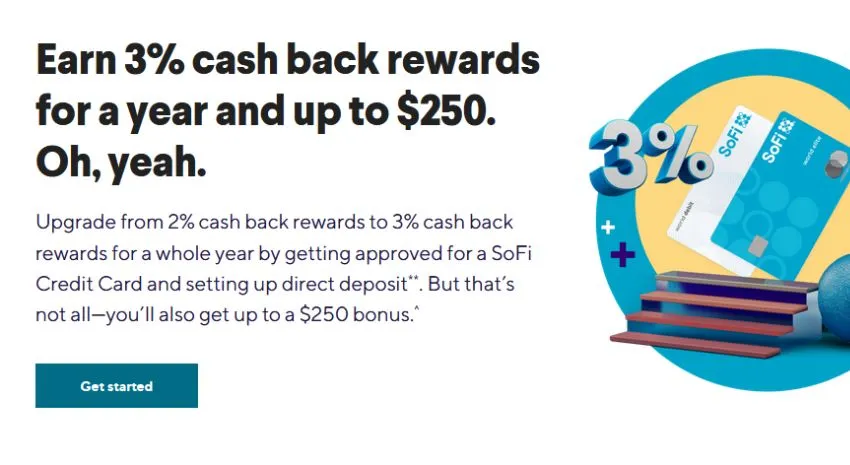 How To Get SoFi Credit Card Sign Up Bonus?
Click on a referral link and go to the SoFi credit card sign-up page
Enter all the required personal information
Now, fill in the financial details
Review and submit the form.
You'll get 5000 points. Now you're free to redeem them as $50.
Check out the $50 sign up bonus apps to make your wallet smile.
SoFi Credit Card Referral Bonus: Invite and Earn $100
After claiming your sign-up bonus, it's time to take advantage of the SoFi credit card referral bonus. You can invite anyone to use a SoFi credit card, and as soon as they use your link to sign up, you get $100.
Steps To Earn SoFi Credit Card Referral Bonus
Get your unique referral link from SoFi.
Share this referral link with your friends and family, someone who might be interested in the SoFi Credit Card.
The recipient must use your unique referral link to open a new SoFi Credit Card Account within 120 days of receipt.
Next, they must meet the terms and conditions.
Once the recipient meets these requirements, you will receive your bonus
Note: The eligible recipient must use the referrer's unique referral link to open a new account within 120 days of receipt.
What is a SoFi credit card?
SoFi is a digital finance platform. One of their popular products includes a SoFi credit card. The company launched its credit with many benefits to the users. First of all, members have the opportunity to earn a SoFI credit card bonus of up to $100.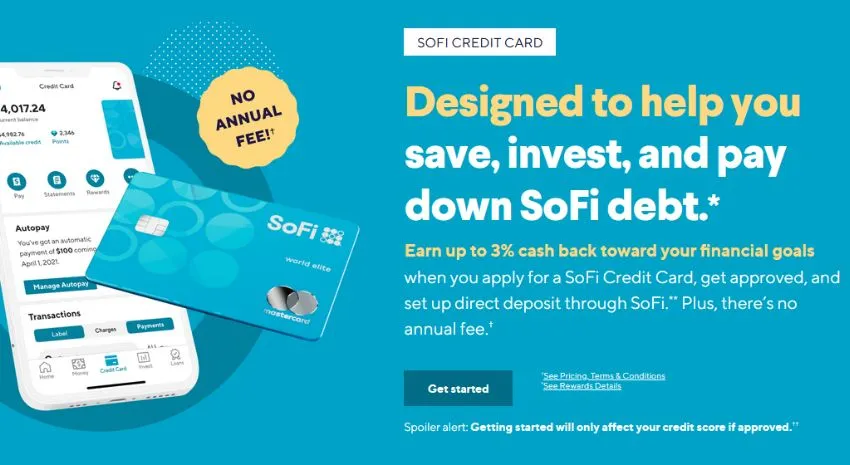 And you also get an opportunity to earn 2% cashback. Users can use it to pay off loans, save or even invest further through the platform. If this sounds exciting, learn how to apply for this credit card.
Also, don't forget to take advantage of the Venmo credit card bonus
How to Apply for SoFi Credit Card?
Applying for SoFi Credit Card is a simple and easy process. Just follow these steps:
Go to their official sign-up page
Enter all the personal information required.
Now, enter your financial information.
Review the application and submit it.
That's it! You have created your account.
Tip: To take advantage of the $50 SoFI credit card bonus, sign up using a referral link.
SoFi Credit Card: Annual Fee
SoFi credit has no annual fee so you don't have to pay anything just to keep the account open. This is a great opportunity because you can enjoy all the opportunities without worrying about heavy fees,
Those of you who rarely use the card can still keep it. In fact, the platform allows you to earn rather than pay. You can make extra cash with the SoFi credit card bonus including their sign-up bonus and referral bonus. All in all, it's a great option if you're looking for free options.
Best SoFi Credit Card Features
Here's what you get with a SoFi credit card:
Receive a 1% APR discount after making 12 on-time payments
No foreign transaction fees
Free cell phone insurance up to $800 per claim and $1,000 per 12-month period when paying with a SoFi card
Access to World Elite Mastercard benefits such as Lyft discounts, concierge services, and ShopRunner membership
ID theft protection
EMV chip technology for secure transactions
Conclusion
SoFi credit card is a great choice for anyone looking for a free option. Plus, with 2% cash back on all purchases, it's a good way to save money while you spend. Other benefits including cell phone insurance, id theft protection, and APR discount make it much more valuable.
Moreover, you can earn free money with SoFi credit card bonuses including a sign-up bonus worth $50 and a referral bonus of $100. So, we would recommend you give it a try!