InstaReM is a money transfer service provider that offers fast, secure and cost-efficient cross-border digital transfers. Using Instarem, you can transfer money to various countries at the best rate. Read this article for a comprehensive Instarem review which includes pros, cons, customer service, cost, and speed. 
Instarem money transfer is a global digital payment solution fastest going service in South Asia, Asia Pacific, Europe, and the United States. Individuals and businesses can transfer funds at a cost-effective rate using the Instarem money transfer service. Also, if you are new to Instarem, you will get a $22 discount on the first transfer use Instarem promo Code "HEPINGDESI"
Why Choose Instarem?
The main reason people choose Instarem is that it's an affordable way of transferring money. We accept transfers funded by bank transfers in over 55 currencies with exchange rates that beat the banks and charge only a small fee per transaction. This makes Instarem significantly cheaper than most money transfer services, especially when you factor in the Instarem feature set.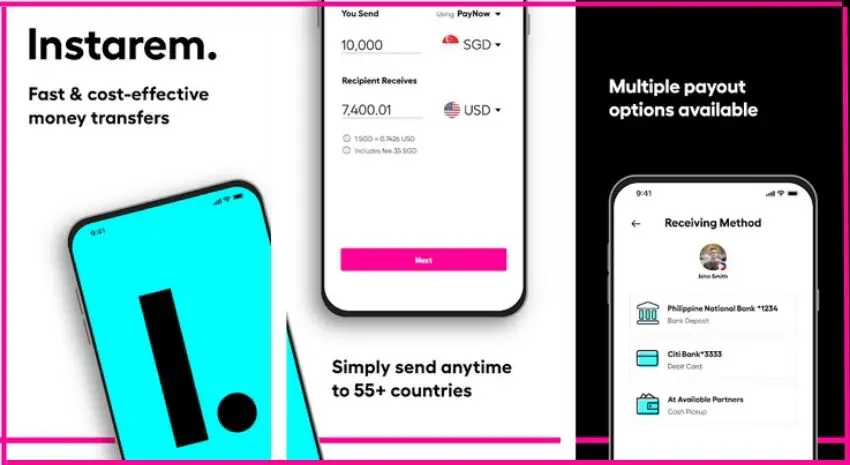 Instarem features
24/7 money transfer to 55+ countries worldwide
Sign up and log in with ease
Great FX rates
Low Transfer Fees
No Hidden Charges
Payment options include cards, banks, and cash.
Transfers can be tracked on the go
Update your payee list, update your payment methods, and view your transaction history
Still looking for alternative of Instarem, try some best global money transfer apps like Revolut, Western Union and wise.
Instarem Pros and Cons:
| | |
| --- | --- |
| PROS✅ | CONS❌ |
| Exact exchange rates | Percentage Based fee |
| Easy to use website and app | Length Process to transfer money |
| Welcome Bonus and Referral Bonus | First transfer limit up to $2500 Australian dollar |
| Send USD and EUR | No Credit Card support as a payment option |
| Low Transfer Fee | |
| 24×7 Customer support | |
| Money Transfer transparency | |
| Instarem reward on every transfer | |
Review of Instarem Promo code: HELPINGDESI 
Instarem recently released the highest bonus promo code for new users, where they will get a $22 sign-up bonus and 400 Instapoints. Below are the steps to follow:
Create an Account using the referral code: 
then select the country where you want to send money
Use Promo Code – HELPINGDESI to claim a $22 Discount on the first transfer.
Once the transaction is successful, then you will get additional 400 Instapoints which have a $10 value. You can redeem these 400 points in the next transfer. Instapoints have a validity of 1 year, so please make sure to use these points before it expires. 
Many instarem coupon codes are available to get discounts on your transaction.
Real Customer Review about Instarem in TrustPilot: 
Instarem is registered on Trustpilot and has a strong customer rating. Over 6 thousand reviews have been written about instarem, and have a 4.5-star rating on Trustpilot.
Most of the reviews are about fast transfer service and transparency. This rating speaks volumes of the quality of service you can expect from Instarem.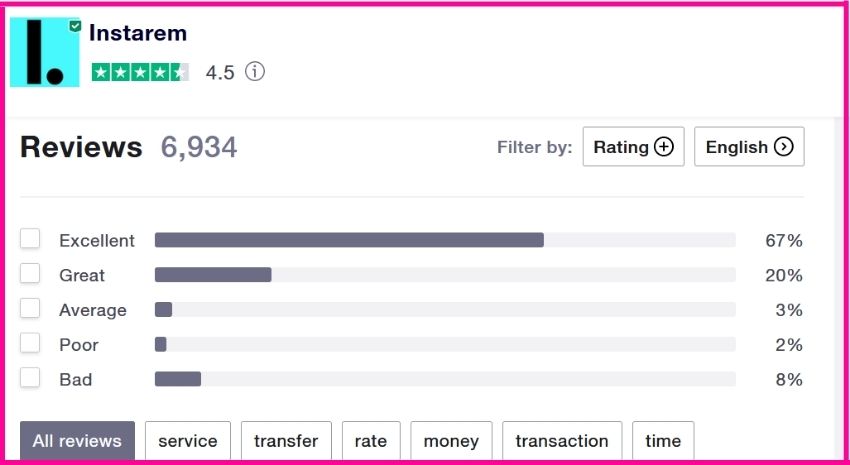 Customers also have some problems like a long verification process and lengthy transfer system, but it means Instarem is entirely focused on their security and secure money transfer.
Instarem Review as per google app:
As per top reviews on the Google play store, Instarem is a really great money transfer platform because of its competitive FX rates.
More than 5k users shared their experience and gave a 5-star rating to Instarem.  Share your Instarem reviews on Play Store.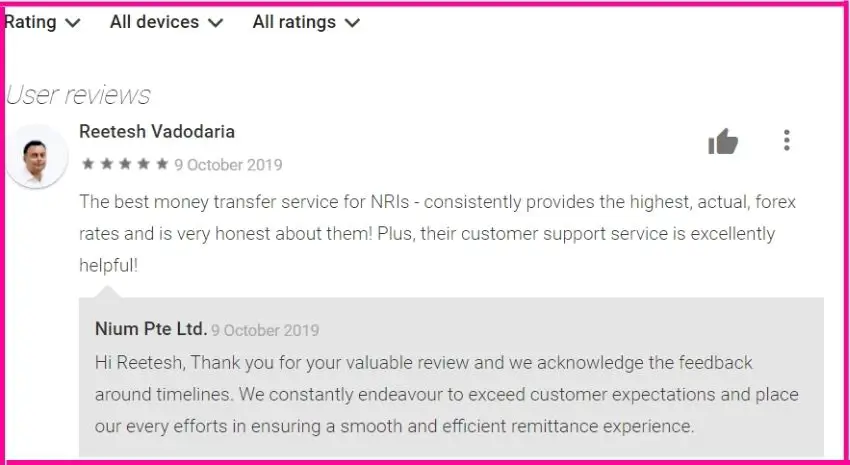 Instarem Review as per Apple app:
According to the Apple app store customer reviews, many customers trust and enjoy using instaReM. The app has a rating of 3.9 out of 5.
Some issues also highlighted by reviews like, Not being able to see exchange rates, Developer response, and some little issues. You can also share your Instarem reviews on the Apple app store.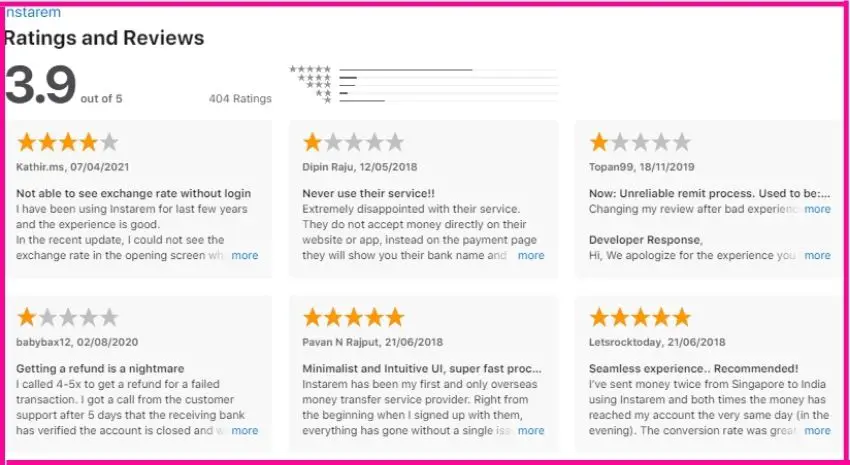 Our Review on Instarem
For those looking to send money abroad, InstaReM would be one of the best solutions in terms of cost and speed. There are instances where a sudden large transaction or adding multiple payees may raise red flags and cause possible transfer delays.
Is Instarem legit and Safe?
Instarem is a global money transfer service regulated in countries like the UK, India, Canada, the USA, Australia, and Canada. 
Instarem is fully registered and legit. You can also read more about Instarem on their official website.
More than 35,000 people already trust InstaReM, so you can say it's a secure place to deposit your money.
How to Contact Instarem?
Instarem customer support is open 24×7, and you can chat in person on their website or contact them through email- support@instarem.com.
Conclusion
Instarem is an excellent option for sending low-cost, fast international payments – and the Instarem account also allows you to send, receive, and spend foreign currency efficiently.
Whether you choose Instarem or any Other money transfer service, you want to save some money and avoid high fee rates.