We believe that crypto investing will evolve away from exchanges and into decentralized finance platforms, enabling investors to earn interest on their crypto assets. Donut Crypto to make those platforms more accessible to everyone and make earning interest on crypto assets easier.
Donut Crypto is a cryptocurrency saving platform that offers 8% APY on your assets. It's easy to use, has good security measures in place, and is highly reputable. Invest directly from your bank and earn 20x more interest with the power of DeFi.
Donut crypto promotion is offering a $10 cash bonus for new members. You'll also get another $10 cash bonus for every person you successfully invite to the platform. This is a very generous promotional offer, and you should take advantage of it quickly if this sounds interesting to you!
Earn more crypto promotion from Swan Bitcoin, Hodlnaut Promotion, Mudrex Promotion, Luno Promotion and Abra Promotion Free Crypto.
Who Is Donut Crypto?
Donut is a crypto-saving app that lets you invest your spare change in Bitcoin and earn interest 24/7. It is a fintech that specializes in cryptocurrency investing. This app enables you to earn high yield interest rates through decentralized finance (DeFi) lending. Donut Crypto Investing has developed an app based on the idea that people should store the majority of their wealth digitally.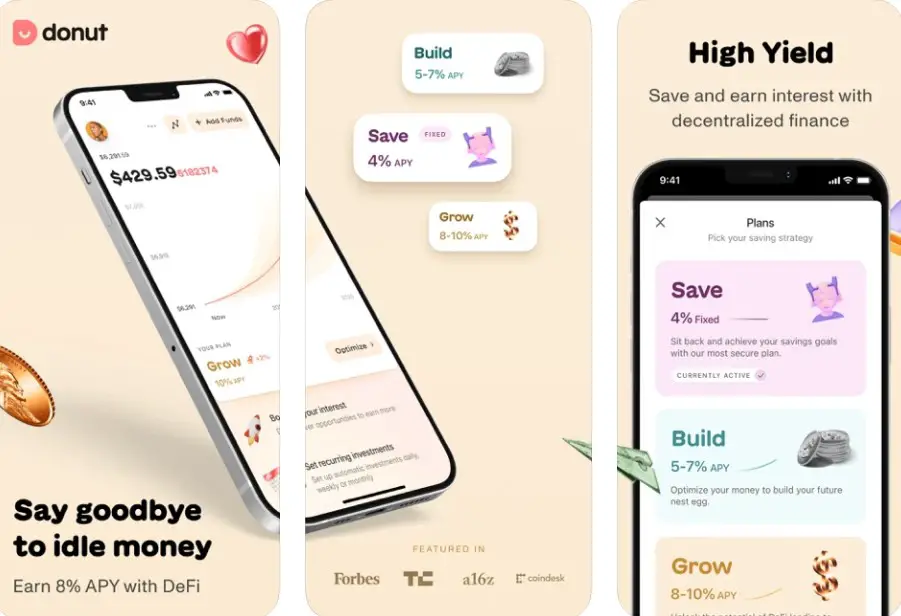 The company believes that investing should be simple, that users should have ultimate control over their investments, and that they should invest with absolute transparency. The founders of the company are Jordan Abderrachid and Neel Popat. They started the company in 2018 and have offices in Berlin and Los Angeles. Donut has raised $3.8 million over two seed rounds, with the latest round closing in June 2021.
Donut is an excellent option for investment that requires very little thought or action to grow your savings. You can automatically convert your round-ups into digital dollars and lend them for interest as frequently as every 15 seconds with Donut.
How does the Donut App work?
Once you download the Donut App (iOS only), you can automate your investing into Bitcoin and Donut Savings. Donut offers high-interest savings accounts that let you earn more than traditional savings accounts. It's similar to how banks use fiat currency (US Dollars) in deposits and lending scenarios. You become a kind of lender when you hold an account, earning higher rates and helping borrowers gain access to funds.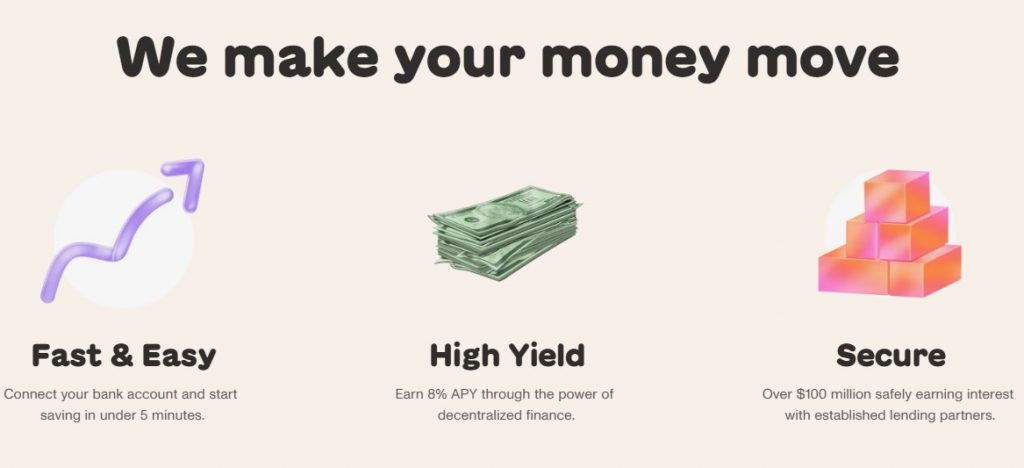 With the Donut App, you can:
You can choose from three different plans to earn 4% fixed or up to 10% variable.
Add and withdraw at your convenience.
Automate your savings and invest your spare change with recurring deposits.
Learn ways to earn more APR for up to 6 months.
To make informed choices, it is important to understand that each investment comes with some risks. It is important to consider the potential dangers of emerging technologies, as the DeFi ecosystem relies on the integrity of partners that are governed and audited by smart contracts. Donut is available throughout the United States, except in New York.
Donut Crypto Promotion
There are two ways to earn from the Donut crypto promotion:
Earn a $10 Donut crypto sign-up bonus.
Earn a $10 referral bonus to invite friends.
Earn 8% APY on your crypto.
Donut Crypto Sign Up Bonus- $10 Offer
Donut Crypto Investing is currently offering a $10 cash bonus for signing up. All you need to do is sign up using a unique referral code. Make sure to Take advantage of this promotion while you can because it is valid only for a limited time.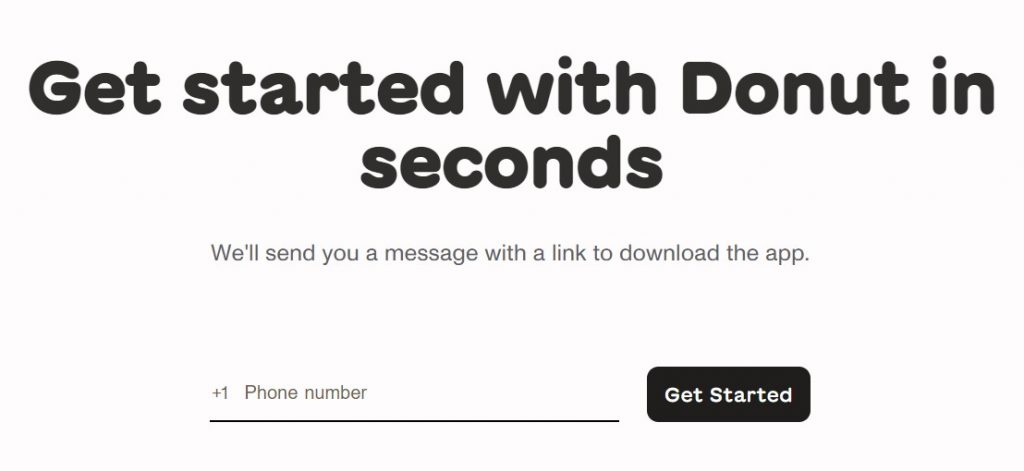 How to get it?
Download the Donut Crypto app (Available on both android and iOS).
Enter a unique referral code.
Verify your identity.
Connect your bank account.
Complete a transfer of at least $10.
 Terms & Conditions: Make at least a single transfer of at least $10 to your new donut account.
Donut Crypto Referral Bonus
To receive a $10 referral bonus, share your unique handle with friends and family. Every Donut user has a personal @handle to use. For every user That uses your unique handle during registration, you "ll earn a $10 cash bonus. Each of your referrals will also get a $10 cash bonus.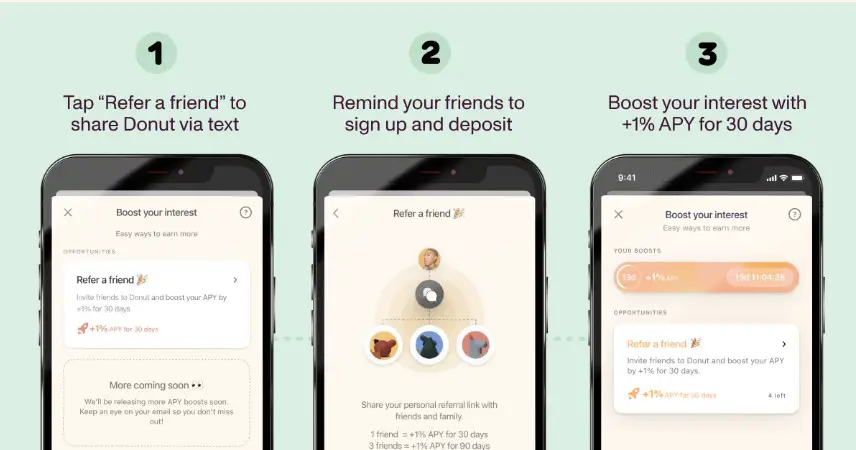 How to Earn Referral from Donut?
Register for an account and complete the sign-up process.
Share your unique Donut app referral code @handle with friends and family.
Make your friends use your @handle when signing up for a Donut account
Please wait until the referral completes the sign-up process and funds their account with at least $10 or more.
Terms & Conditions: The amount you can earn for referring friends to Donut is limited.
Donut Features
Donut lets you invest on your own terms: how, when, and how much –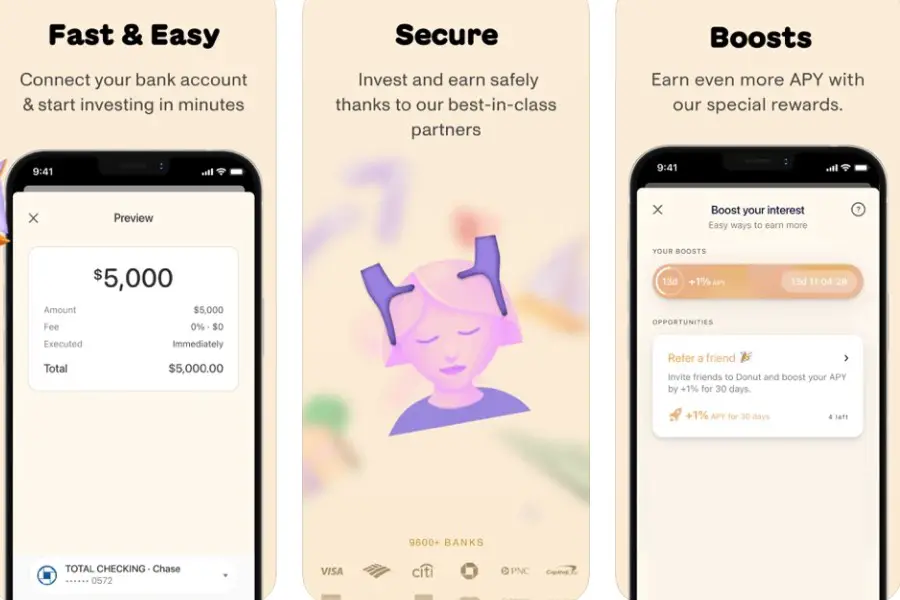 Round-Up.You can invest spare change as many times as you want. With this feature, any purchase you make regularly – coffee, gas, meals, etc. – can be a small savings opportunity.
Schedule. Having recurring investments in any amount on a weekly or monthly basis will help you save even if you don't remember to save. By adjusting your investments whenever you like – birthday money from grandpa, etc. – you'll be able to grow your portfolio quickly. The app allows your savings to grow with Bitcoin. Unlike stocks or ETFs, which invest in a company and grow with its life cycle, digital assets gain value as they mature. And unlike traditional investments, Bitcoin is not influenced by business factors that affect the company's value. 
No surprise fees. Donut charges 2.5% for operations and trading costs. There are no hidden fees or charges.
Safety & security. Donut uses AES-256 standard encryption and only asks for information needed for optimal user experience.
FDIC insurance. You are insured for $250,000 for any fiat currency you hold in your Donut wallet.
Donut fees
Donut does not charge additional fees. However, Donut does charge a 2% backend percentage fee of about 2% for its plans which is fairly significant. The company states when you earn 4% APY; you get exactly 4% APY.
Donut Pros and Cons
| | |
| --- | --- |
| Pros | Cons |
| Easy and user-friendly mobile platform. | Savings are not insured. |
| Earn high yields on your money. | Plans have a backend fee of ~2% |
| Low minimum amount requirement. | |
| | |
What is it best for?
The Donut app is ideal for investors looking to diversify their portfolios and utilize new technology. Intermediate to experienced investors who understand DeFi opportunities may enjoy the Donut app.
Is Donut Safe?
Donut is not a bank, but it works with a bank and another fintech to provide custodian services for deposits (USD). Donut uses Evolve Bank & Trust as its bank. Synapse Financial Technologies, Inc. is the fintech with which Donut uses banking services. 
When you deposit cash with Donut, it is FDIC-insured. However, once your cash is invested into cryptocurrency, it is no longer FDIC-protected. In addition, "digital dollars" within Donut Savings accounts are not FDIC-insured. Donut does not carry additional insurance that protects your cryptocurrencies against hacks, thefts, and breaches like other cryptocurrency exchanges. However, it uses offline or cold storage for large virtual currency deposits.
Conclusion
You can easily invest your spare change in Bitcoin with Donut. Designed to be easy to use and beginner-friendly, Donut makes it easy to invest in cryptocurrency from anywhere. This app makes investing any spare change in Bitcoin and other cryptocurrencies easy. Hope this Donut app review helps you to get the right information about the app. Please share your thoughts on comment section.
FAQs
Is the Donut app legit?
Donut app is a legitimate company. It has a 4.8 out of 5-star rating on the App Store, with primarily positive reviews about the level of service given to users.
How to Contact Donut Customer Support?
You can reach Donut customer service within the in-app chat or email.