Saving up money can be a real challenge for some people. There is often little immediate reward and little reason to funnel extra cash into a savings account. Since interest rates are so low at the moment, saving may not seem like a good idea. Yotta Savings is here to break the trend. 
Yotta is an online bank offering high-yield savings accounts with a 2x interest rate. There's also another twist to Yotta: a chance to win a weekly jackpot.
Yotta sign up bonus announced a new offer of 100 free bonus tickets to new users when they make their first deposit of any given amount.
Plus, Users can participate in the Yotta referral promotion and earn a 100 free ticket bonus for every invite.
That sounds all well and good, but what exactly is Yotta? How does Yotta work? Today, we will take a look at Yotta Savings and answer some important questions. We will cover Yotta promotional offers, features, pros, and cons. 
What is Yotta?
Yotta is a financial technology company committed to helping its customers become more financially secure and providing them with the opportunity to win life-changing rewards worth up to $10 million every week. Using the same psychological principles that motivate Americans to play the lottery, Yotta encourages Americans to save money in the same way.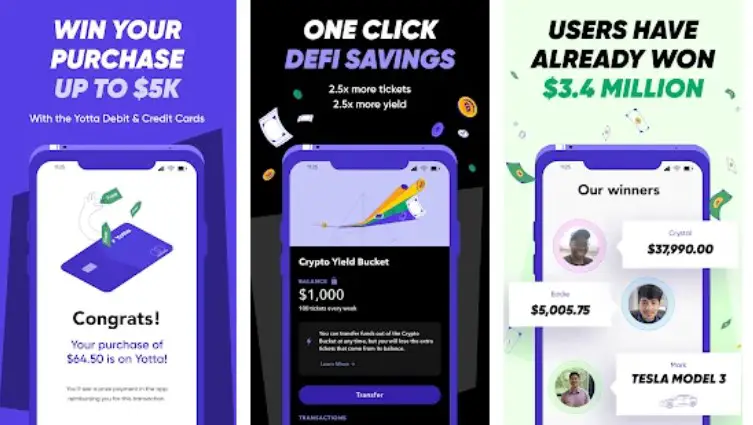 40% of Americans cannot come up with $400 in an emergency, according to the Federal Reserve. The study indicates that almost half of American households are financially vulnerable. Americans spend an average of $640 on the lottery every year, or $80 billion per household, even though 40% of them struggle to save.
By offering better economic value than most savings accounts, Yotta solves this problem by making saving fun and instant. Yotta gives you the chance to win big by saving. In other words, even when you don't win a prize, your money still grows instead of disappearing like it would in the lottery.
In the U.S., the five biggest banks account for 50% of deposits. Among them, Wells Fargo and Chase offer 0.01% interest rates. With Yotta, you are partnered with high-quality banks that pay much better interest rates. Yotta pools together a portion of the interest from high-value banks and offers it in the form of weekly number draws with prizes ranging from 10 cents to $10 million. Additionally, Yotta provides a portion of their interest to their users regardless of the outcome. A win-win for both parties.
How does Yotta Works?
Yotta is a mobile app and a fully-featured bank account that offers customers regular tickets into recurring weekly prizes ranging from 10 cents to $10 million per week for every $25 they have saved in their FDIC-insured Yotta account. Aside from weekly prize drawings, Yotta offers 0.2% APY as a savings bonus.
The Yotta debit card gives users 10% of their purchase amount back as tickets into the following week's sweepstakes.
Yotta users who use their account as the direct deposit/paycheck destination can get paid up to two days earlier. Direct deposit users will also have a chance to win 1 in 150 lucky swipes. Paycheck users will also have the opportunity to earn 5% bonus tickets.
Yotta not only makes it easy to save money, but it is also secure and safe. Even better, it's free!
Fun – Weekly lottery gives you a chance to win up to $10 million.
Easy – The user interface is simple and easy to use so that anyone can get started
Safe – Yotta saving accounts are FDIC insured, earning 0.2% APY as a base rate
Free – You can use the app or open a Yotta account for no cost
Yotta Sign Up Bonus: Free Tickets
Yotta wants to welcome you to their platform with a little something extra. Make your first deposit into a Yotta account today, and Yotta automatically adds 100 free bonus tickets to your account.
Sign-up for Yotta bank with this referral link or use Yotta promo code "ARYA31N" during registration to earn 100 free tickets. 100 free bonus tickets are worth $2,500 in deposits. Plus, you have the chance to win up to $10 million every week!
Yotta sign up bonus is only eligible for its new users. After they "ll sign up using an active member's referral link, they "ll get 100 free bonus tickets + a chance to win up to $10 million.
How to earn sign up bonus
Download the Yotta Savings app for the iOS or Android platform
Register for the app using an active member's Yotta referral code "ARYA31N."
You will receive 100 tickets for next week's contest after making the first deposit.
Yotta Referral Program: 250 Free Ticket
Yotta referral promotion is giving 100 free tickets on your first two referrals. Share your Yotta referral code or invite them using your referral link to join Yotta banking.
How do you earn a Yotta referral bonus?
Create a Yotta savings account and participate in the referral program.
Share your referral link with families and friends to invite them on Yotta.
Whenever a friend or family member opens Yotta savings account using your unique referral code and makes a deposit, you'll both get 100 free tickets for the next weekly lottery.
You can withdraw your money any time from Yotta bank.
Yotta features
Yotta lets you save money in a way that's fun, easy, safe, and free.
Fun. The weekly lottery lets you win up to $10 million.
Easy. The app is super simple and user-friendly.
Safe. Yotta savings accounts are FDIC insured and earn a base rate of 0.20%.
Free. There's no fee to open a Yotta account or to use the app.
Here's how it works. For every $25 you save on Yotta, you'll get a recurring ticket into weekly number draws. For example, if you deposit $50, you'll get two tickets every week without needing to make any new deposits. You'll be able to withdraw your funds at any time, up to six times per month.
Yotta Pros & Cons
Pros
Unique gamification elements. Gamification is Yotta's most unique element. To encourage people to save more money, this feature takes advantage of the quirks of human psychology.
Chance to win millions. Weekly, you have a chance of winning up to $10 million by playing the lottery. Obviously, there is an incredibly small possibility of winning (about 1 in 8 billion), but there is no cost to losing, so there is no downside. Additionally, the more you invest, the greater your chance of winning. 
Excellent savings accounts. Yotta accounts have a base interest rate of 0.20%, so you will likely see healthy growth regardless of what happens. After adding the weekly cash bonuses, most people notice about 3% APY on their accounts.
Referral bonus. When your friend registers and makes an account, you'll both get 100 lottery tickets for free. EIt'sven if it doesn't significantly increase your chances of winning, it's a nice incentive to spread the word.
Cons
Lack of features. Yotta is only a savings account designed to be used for saving. It does not offer traditional banking products, such as checking, CD, or retirement accounts.
Mobile-only design. You cannot do transactions through a desktop browser because Yotta only works with the mobile app. It is a good thing that the mobile app layout seems fairly intuitive, and it works without major hiccups except for a few loading issues
Interest rates may drop in the future. Yotta is relatively new, and its business model is essentially based on lottery rewards subsidized by investors. Interest rates may decrease in the long run. 
Is my money safe with Yotta?
 Yes, the money you keep with Yotta is safe, or at the very least, it is the same as the money you save with any other bank. Yotta accounts are insured by the FDIC for up to $250,000, so no matter what happens, your money is safe (up to $250,000).
In addition, Yotta does not hold your money, so in the event of a bankruptcy, your funds will not be seized by creditors. Yotta encrypts all user data with military-grade 256-bit AES encryption and transmits information via a secure SSL channel. Thus, hackers are more likely to gain access to NORAD before hacking into your Yotta account.
Conclusion
Yotta is the leading online bank, and we pride ourselves on helping our customers to finance their savings. With Yotta's wide range of loan and bank servicing options, Yotta can help you finance your needs, such as home, car, and affordable college loans. Yotta Savings is 100% free to use with no fees, no minimums, and surprises. So start saving money and win prizes every week! Yotta bank stands ready to help you with all your banking needs.