Cryptocurrencies have gained a lot of traction in the market in the past few months. Have you guys thought about earning high interest in your crypto account? Rocketplace crypto Promotion is just what you're looking for! When you make your first deal, Rocketplace is currently offering a $25 BTC Welcome Bonus.
Rocketplace is an easy-to-use cryptocurrency exchange that allows you to purchase and trade over 50+ cryptocurrencies for free. Rocketplace offers commission-free trading and allows crypto traders to generate a profit and trade cryptocurrencies. We'll take a deeper look at Rocketplace crypto Promotion offer in this review.
Rocketplace crypto promotion offers a $25 BTC sign up bonus when you buy $25 worth of any crypto for 30 days of account opening. Rocketplace welcome bonus is valid for new users only. No Rocketplace referral link is required to open an account.
Plus, checkout free crypto promotion apps that offer high APY rates with Sign Up bonuses and referral bonuses. You can enjoy offers from Coinchange $40 sign up, Strike referral, Streetbeat promotion, Gemini promotion, eToro promotion, and Swan bitcoin promotion.
What is Rocketplace?
"Rocketplace is a no-commission cryptocurrency exchange that caters to beginners. The straightforward platform eliminates the guesswork involved in purchasing and selling digital assets."
Rocketplace is a user-friendly cryptocurrency exchange where you can buy, sell, and trade cryptocurrencies without paying a commission, get real-time market data, and securely keep your funds. Rocketplace was created in 2021 and is headquartered in Palo Alto, California.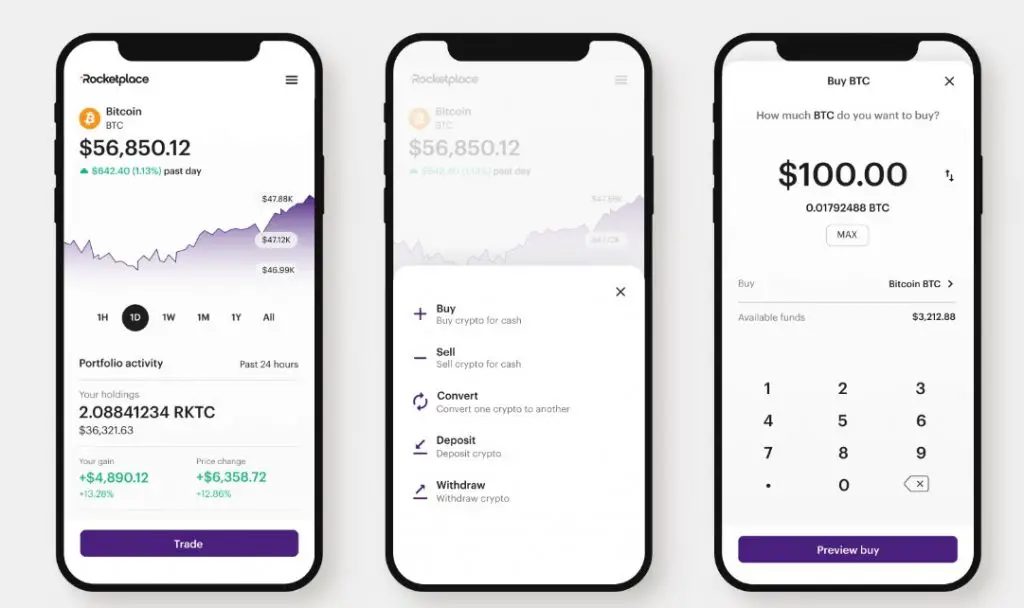 Rocketplace is a commission-free exchange that charges no fees for ACH and Wire deposits, instant deposits on ACH (also no fee), and only a modest 0.01% fee on withdrawals (equaling a 10 cent fee on a $1,000 withdrawal from your account).
Rocketplace offers a 0% commission on all purchases and sales. And free weekly articles on cryptocurrency, NFTs, and the rest of the Web3 to help individuals learn as they earn. Rocketplace is a cryptocurrency exchange that eliminates the risk of purchasing and selling bitcoin. They make trading simple, whether it's your first or thousandth time. Start trading in minutes and on your own terms.
You must live in one of the following states to open a Rocketplace account: Alaska, California, Colorado, Illinois, Indiana, Kansas, Massachusetts, Montana, New Hampshire, North Dakota, Oklahoma, Pennsylvania, South Carolina, Tennessee, Utah, Virginia, Wyoming, or Wyoming.
Rocketplace Crypto Promotions
If you set up a free Rocketplace account and buy $25 of any cryptocurrency with it, you'll earn a $25 Bitcoin Sign Up bonus. Furthermore, each time you buy any cryptocurrency using your Rocketplace account, you can get $50-$4,500 in extra Bitcoin, based on a tiered bonus structure based on how much crypto you buy.
The best part about Rocketplace promotion is that you can earn this $50-$4,500 tiered bonus offer numerous times with each crypto transaction, and it can be coupled with your $25 Bitcoin sign-up bonus, allowing you to stack your bonuses when you buy crypto on Rocketplace.
Check out these Rocketplace cryptocurrency exchange deals to get a $25 Bitcoin bonus when you buy $25 in any cryptocurrency, as well as $50-$4,500 in Bitcoin every time you complete any cryptocurrency purchase with their tiered bonus offer.
Rocketplace Sign Up Promotion: Get a $25 BTC Sign Up Bonus.
Rocketplace welcomes new customers with a bonus of up to $25 in Bitcoin. Sign up for an account, make your first deposit, and you'll have a $25 bonus placed into your account!
The offer's full details can be found below.
You can withdraw any amount from your High Yield account directly into USD using the withdrawal tool. There are no spread costs, deposit fees, or withdrawal fees, as well as no transfer fees or hidden expenses, according to Rocketplace.
How To Claim a $25 Sign Up Bonus?
Button
To get started, sign up for this Rocketplace $25 BTC Promotion.
Now login to your Rocketplace account and buy $25 worth of any cryptocurrency listed.
Within three business days, Rocketplace Promotion will Gift $25 in Bitcoin into your account.
After you've completed your crypto purchase, To keep your account active, you must keep an account balance equal to or greater than your current amount.
If you sell crypto assets within two days of completing your transaction, your Sign Up Bonus will Get Frozen till you make your account active.
If you switch out of your crypto within the promo lock-up time, your bonus will get cancelled.
Rocketplace $50-$5,500 Tiered Crypto Purchase Bonus
You can earn Upto $5000 in Bitcoin through this Rocketplace $50-$5,500 Bitcoin Promotion by purchasing any listed cryptocurrency within the tiers described below. If you're interested in cryptocurrencies, this Rocketplace deal is for you! Rocketplace is currently giving a trading bonus of up to $5000 when you make minimum purchases within the tiers specified.
If you buy a crypto product from Rocketplace, you will get a bonus for your purchase. The bonus will be automatically added to your Rocketplace account within 3 business days.
| | |
| --- | --- |
| BUY CRYPTOCURRENCIES ON ROCKETPLACE | BITCOIN (BTC) PAYOUT |
| $10,000 — $19,999 purchase | $50 Bitcoin bonus |
| $20,000 — $49,999 purchase | $100 Bitcoin bonus |
| $50,000 — $74,999 purchase | $300 Bitcoin bonus |
| $75,000 — $99,999 purchase | $525 Bitcoin bonus |
| $100,000 — $199,999 purchase | $800 Bitcoin bonus |
| $200,000 — $499,999 purchase | $1700 Bitcoin bonus |
| $500,000+ purchase | $4500 Bitcoin bonus |
Is Rocketplace Legit?
Rocketplace is one of the most popular cryptocurrency platforms in the world, allowing users to earn compound interest on their daily-paid bitcoin. The website rocketplace.com is likely legitimate and trustworthy.
Rocketplace is also the first blockchain startup that offers services in over 200 jurisdictions and 40+ fiat currencies. Their objective is to maximize the value and usability of cryptocurrencies, which has resulted in the processing of $30 billion for over 2 million consumers around the world.
Rocketplace is a platform built for crypto traders of all levels that allows you to exchange cryptocurrencies without paying a commission. In the $5000 tiers, you can continue receiving endless Bitcoin incentives on large cryptocurrency purchases.
Conclusion
We hope you enjoyed this Rocketplace crypto promotion article. Please contact Rocketplace at any time if you have any issues or complaints with our withdrawal service, or feel free to share your link and thoughts.
Thank you for taking the time to read; we are always ecstatic anytime one of our articles is able to provide important information on a subject like this!
How to Get Free Bitcoin?
Rocketplace is a new crypto exchange platform designed to make crypto trading easy for everyone. Rocketplace offers Free Crypto to the New users of the platform based on their first trade. You can avail of $25 in free bitcoin by signing Up!
What signup bonus does Rocketplace offer?
Rocketplace signup bonus offer $25 BTC rewards to new users when they purchase $25 worth of any crypto.
Does Rocketplace have referral program?
Yes! Rocketplace have active member referral program for users who want to earn extra crypto bonus. Eamil Rocketplace to learn more about referral program
Is Rocketplace crypto exchange free?
Reocketplace offer complete free crypto trading without ant charge. In compare to other exchanges charge more than 5% to buy and sell crypto. Rocketplace charges 0%.