Yes, GasBuddy is legit because it allows users to find gas at the lowest price in their area through the mobile app. GasBuddy already saved users $3.1 billion dollars at pump.
Users are reporting their fuel prices through the GasBuddy app, then GasBuddy uses the crowdsource concept and aggregates it all into one easy-to-read list. 
When you shop for gas using the GasBuddy app, you can see the lowest local prices for any given day, week, or month based on other people's submissions. The most helpful feature is that it also shows you where to find discounts or promotions in your area to save even more money. You can get another discount by combining Gasbuddy with the getupside app. 
What is GasBuddy?
GasBuddy is a free app that helps you easily find the cheapest gas prices near you and save money on fuel. GasBuddy's mission is to make fuel savings easier and more accessible for everyone. The GasBuddy app shows you over 150,000 gas stations and their current prices in your area.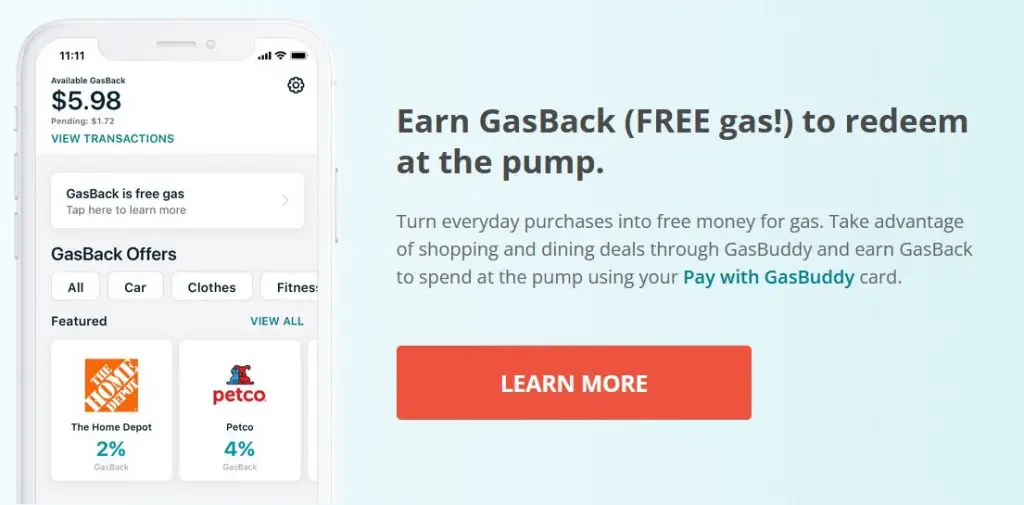 GasBuddy also features:
Fuel Economy Ratings for every vehicle sold in North America in the last 15 years
Price Alerts – Receive a notification when the price at your favorite station changes (for free!)
Find out when gas prices are expected to go up or down in your area
In short, GasBuddy is the world's largest community-based gas price information website, helping millions of drivers save money at the pump since 2000. They have helped North American drivers save more than $3 billion by providing real-time gas prices.
How does GasBuddy work?
GasBuddy is a free app that allows drivers to find the cheapest gas prices in their area. It's easy to use, and it has two main functions: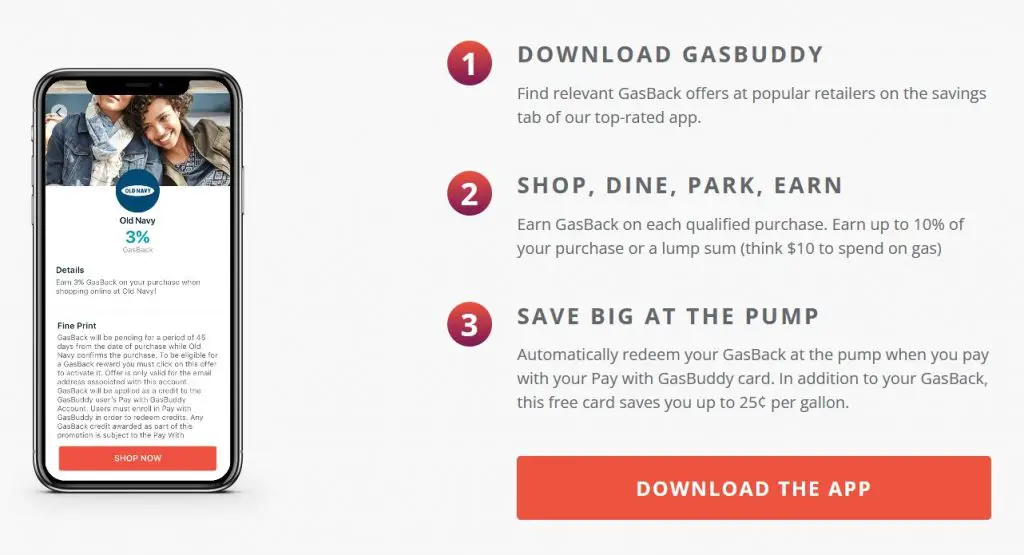 Before heading out on a trip, you can search for gas stations near you and see their current gas prices. This can be useful if you're trying to save money on fuel costs or if you don't have time to drive around looking for cheap gas when driving long distances.
If there aren't any cheap stations nearby, GasBuddy will show you which ones are closest so that you don't have far to go before filling up again (and hopefully saving some money). This can help save time as well as money!
GasBuddy FREE FOREVER gas card:
You can save up to 25¢/gal with our FREE FOREVER gas card. you will get many exclusive deals and below offers with GasBuddy FREE FOREVER gas card: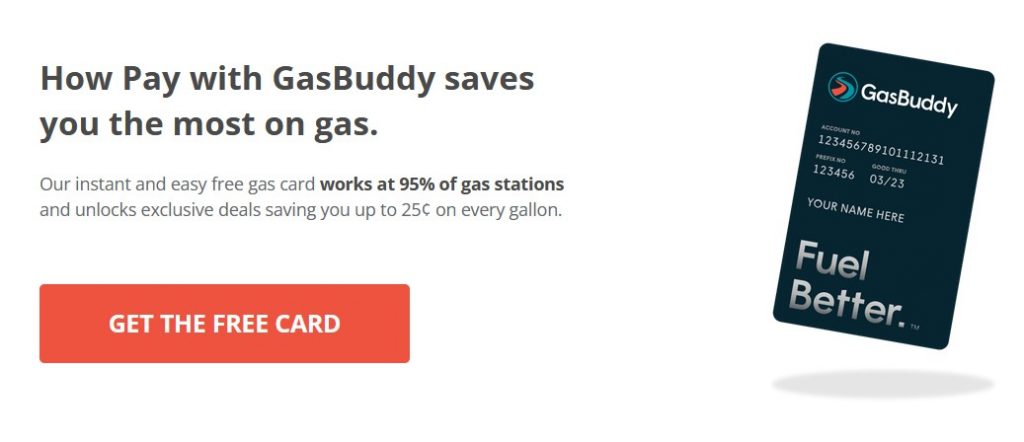 It will save you 5 times more than any debit or gas credit card.
You can link this free forever gas card with your debit card and use it during fill-ups.
Discount automatically applied for every fill-up.
You can Sign up for a FREE forever gas card in minutes. Using this link and also there is No credit check. 
No bills, no hassles, and nothing to fund. Just savings.
How do I use my GasBuddy Card or Pay with the GasBuddy app?
To get started, download the free GasBuddy app (iOS or Android) and create an account. 
You'll need to enter your zip code so it knows where to start searching for prices near you. From there, click on "Find Station." 
Apply filter according to your need. For example, you can choose low-priced stations nearby or cheap stations within a certain distance from your current location. Any discounted stations nearby (usually from a promotion or event) should appear at the top of your list, along with any regular gas stations nearby.
If you are paying for gas at a participating location and would like to use your GasBuddy Card or Pay with GasBuddy app, tell the cashier that you would like to pay using either of these methods before they begin processing your transaction. 
What is a SmartPay Check-Link ID, and how do you find yours?
GasBuddy has two ways of paying at the pump:
SmartPay, which allows you to pay for gas at participating stations with your credit card (and no cash)
Manual entry, where you enter the amount of dollars or cents in the amount field and press "enter" when it's correct.
How do I check my gas prices, and where is the cheapest gas near me?
To find the cheapest gas prices in your area, visit the gasbuddy app or website at: https://www.gasbuddy.com/ and then follow the below steps:
On the homepage, type in your zip code and then click "Find Station". The map will display all nearby stations with their prices.
If you don't see any results from your search, try typing in another zip code or an address that's very close by to get more accurate results.
To view detailed information about each station, such as its location and amenities (if any), click its pin on the map or select it from the drop-down menu above the map. You can also use this drop-down menu to search for a specific gas station based on name or brand if there are too many results available when searching by location alone; just make sure each item starts with an "@" symbol!
Is the GasBuddy App free to download?
Yes, The GasBuddy app is free to download, and there are no fees for using it. You can simply download the free GasBuddy app (for iOS or Android) and create an account. 
The only costs you might incur are those of driving to the gas station.
Why are some of the gas stations missing from search results in Gasbuddy?
You can view the status of a given gas station on the map by clicking on its location pin and then selecting "Status." gas stations can be missing if they are out of fuel or closed for business. or If at least one user has not reported a gas station in the last 90 days, Gas buddy assumes the station is no longer operating and might hide from search results. So in summary, Gas stations may not appear in search results if:
They have not registered with GasBuddy (many independent operators do not)
They are not currently participating in GasBuddy's reporting system.
Conclusion
The GasBuddy app is a great way to find the cheapest gas prices in your area. It's also easy to use, and there are many ways to save money on gas at the pump.
FAQ:
How do I use the GasBuddy app on my phone?
First, you'll need to download the GasBuddy app for either Android or iOS. Once it's downloaded, open the app and tap on My Stations. You can then select your location (or allow the app to find you automatically) and view all nearby gas stations that offer rewards. If you're already near a gas station that offers tips, you'll be able to access them right from your screen!
Once at a participating station, drive up to any pump without any hassle—no cards required—and swipe your phone over top of it as we told you earlier. The location will automatically be updated in real-time within GasBuddy for others using our app so they know if there is an available fill up spot when they arrive! You can also enter your price after login into app
Why does the GasBuddy App only show the last known price for a station instead real-time? 
The GasBuddy app is not real-time. It doesn't update prices in real-time, like some of its competitors do. It provides you with the last known price for any given station, which used to be entered by users like us.
Is Gasbuddy Accurate?
GasBuddy's app isn't as accurate as other gas discounted apps like getupside because it relies on user reports, so if someone reports that a particular gas station has higher prices than usual, others will see it on their maps and until someone updates correctly, it shows the higher price. Due to this, the data available through this platform isn't quite as current, but you can predict the price based on the timing when it was updated. 
Why am I only seeing very few stations on the map when I'm searching for cheap gas prices in my area?
The app shows you the stations that are closest to your location. This can help save time and money. You can also search by name or zip code to find stations that are not on the map.