Have you ever wondered what it would be like if you could get paid by testing products just by sitting at home? Well, good news for you, it is possible! You can test products for money.
Many major brands need common people with a critical mind to test and review their products that are yet to be launched. How cool is that? You just have to sit at home, use the product, give your review on it, and you'll be paid by the Company. This can be in the form of cash, gift cards, or brand merchandise.
Now you can make those extra bucks in your spare time by reviewing the brand's products. And if you like the niche of that brand, it will be like icing on the cake.
So, without wasting any time, let's see what the best ways to get paid by testing products are.
17 Best Ways You Can Get Paid By Testing Products
Here's a list of reputable brands that are looking for people like you to test their products and give honest feedback.
All these platform are legit and you can even get $100 a day to review brands and product from your home. So make sure to checkout and earn money in your free time.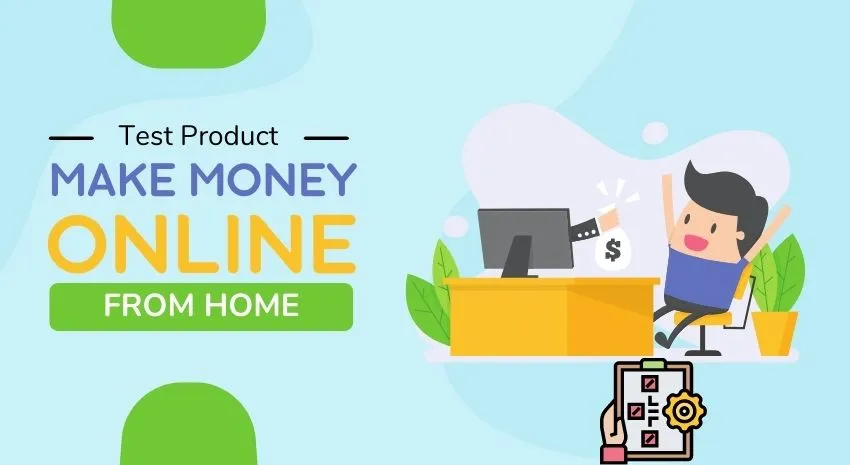 Johnson and Johnson
Johnson & Johnson is known as one of the most popular brands when it comes to baby products. They have a variety of products, from shampoo to lotion. Baby products are sensitive to deal with. So, it's important to make sure all products are near perfection.
Therefore, this Company allows you to become a product reviewer for them. You can sign up at  JJ Friends & Neighbors. Your selection will be based on your survey and experience.
Product Testing the USA
Product Testing USA works in an interesting way. You have to enter your name into the pool. The selection is made randomly. If you win the chance, they'll offer you products from different categories. You can follow their Facebook page to learn about past and upcoming opportunities.
Pinecone Research
Pinecone Research offers products that have not been launched in the markets yet. They pay in the form of points which can later be redeemed in the form of gift cards or cash. It is a reputable company that pays $3 for each survey.
SheSpeaks
SheSpeaks allows you to write reviews on products that you are already using. If you don't have any, it will send you a free product to write a review about.
You can sign up here to get started with SheSpeaks. You can even win gift cards and free products in frequent giveaways held by SheSpeaks.
Prize Rebel
Prize Rebel offers points that can be used as gift cards or cash. One point is equivalent to $0.01. It includes surveys for products that you already have as well as new products. The payment methods include PayPal, Amazon Gift Cards, or iTunes Gift Cards.
Valued Opinions
The surveys offered by Value Opinions are actually fun to complete. People end up completing long surveys (even up to 5 hours long). There is no option to cash out instead, you can redeem points in the form of gift cards.
You can redeem points into gift cards because there is no option to cash out yet.
If your primary language is not English, don't worry. Valued Opinions offers surveys in 15 different languages.
Crownsville
If you are looking for an opportunity to review apps instead of products, Crowdville is your best friend. It is a UK-based company that allows you to get paid by joining and reviewing new apps.
To become a part, you have to apply for a mission which is basically a test. If you succeed, you'll be allowed to start reviewing the apps as a member.
Influenster
Unlike other product-reviewing websites, Influenster doesn't require any reviews on the products. But you get to keep all the products sent by Influenster. To get started, you have to sign up and complete your profile on the app. You'll receive short questions as notifications. You'll have to answer them. This will increase your chance of winning VoxBoxes sent by the Company.
American Consumer Opinion
It offers you the option of reviewing both existing and new products. This, too, works with the system of points. For each survey, you get a certain number of points. Short surveys give you up to 50 points, while longer surveys can give up to 5000 points. One point at American Consumer Option is equal to $0.01 
You have the option to cash out these points or buy a gift card. You can cash out via Paypal.
McCormick & Company, Inc.
This one is for all the food lovers out there. McCormick & Company allows you to test food. Sounds like a dream, right? Apply away if you don't want to miss this chance. This will help you become a panelist there. As soon as you receive an email regarding the study, you should apply for it. 
UserTesting.com
Just like testing apps, you can also test websites to get paid. Sign up here to get started with UserTesting. Let them know about your experience. Once you have gone through all the formalities, you need to make sure you have a good internet connection, a microphone, and downloaded software. 
Afterward, you'll need to explain the good and bad features of the website. You can earn $10 per survey, which you can cash out via PayPal. It'll just take about 20 mins for one review, so that's a great deal, no?
Beta Testing
Beta Testing is another company that focuses on testing apps, websites, and other hardware. It may sound difficult to people with no tech background, but it's not that hard once you get the hang of it. It'll give better opportunities to people who give better feedback, so make sure to deliver high-quality reviews.
BzzAgent
As a BzzAgent, you'll not only have to test the products but also market them. You can do so by sharing the product on social media and spreading awareness by word of mouth. 
The points are called MyPoints which will be awarded on completion of each milestone. These points can be redeemed in the form of products or cash.
NetGalley
Just like apps and websites, there is a company that allows you to review ebooks. You'll receive an advance copy of an ebook that has not been published yet. You have to read it and give honest feedback.
The process works in a way that you request a copy, and if the publisher accepts the request, you get the book. It allows you to share your review on social media or blog. You get paid in the form of a free ebook. However, there is no payment in cash.
Survey Junkie
Unlike other companies, Survey Junkie allows you to become an influencer for a brand. You get paid for your reviews and services. You earn points which can be redeemed in the form of gift cards or cash. It's free to join and definitely worth a shot.
Homeschool.com
As the name suggests, it offers products related to homeschooling. So, for all homeschooling families, this is your chance to earn some free products in your spare time.
Sign up here to become a part of their email list. You'll be notified whenever there is an opportunity to review books, printables, or homeschooling kits. Although you don't get paid in cash, free products are worth a try.
PINCHme
To get started, you need to fill out a form with questions about your household and shopping habits. This will help PINCHme to understand you and create samples customized for your life. You can choose any of these samples.
These samples are not ordinary but from big brands. You have to review them. You don't get paid for this, but you are allowed to keep the products.
Frequently Asked Questions
Following are some of the most common questions asked about the skill of getting paid by testing a product.
How Does Product Testing Work?
It starts with the Company sending the products in an early stage to the testers. The basic purpose is to know about the good and bad features of the products. It helps companies to improve their product and make them more user-friendly.
Better product results in greater revenue. Therefore, the testing phase is considered quite important by the brands, and that's why the people who test the products are paid good money.
How Can I Become a Product Tester?
First of all, you have to fill out a survey which is available on the brand's website. After that, you have to wait for their reply, and they'll let you know if you are eligible for the job or not. Companies receive a lot of such requests and applications, so they need to pick the best among them.
The selection depends on your experience and your affiliation with the particular niche. For instance, a tech company would prefer testers with some prior tech knowledge. Otherwise, the review will not be considered authentic.
If you are eligible, you'll be approved for the job. They'll send you the product, and then you just have to review the product in the required duration.
How Much Do Product Testers Get Paid?
The product testers get paid for each product review individually. It depends on how big the Company is. The payment can vary from as low as $5 to as high as $250. But the most commonly received money lies between $10-$20 for each product.
How Can I Get Paid by Testing Products For Amazon?
Amazon does offer an opportunity to get paid by testing the products; however, you can't apply for this job. Amazon has a Vine program where Amazon will invite you. Once you get the invite, you'll become a part of the program, and you can officially get paid by testing Amazon's products.
This leaves you with the question: how to get that invite by Amazon? You can get invited by writing meaningful reviews on Amazon. You have to buy maximum stuff from Amazon and leave valuable reviews on Amazon that are marked helpful by the other customers. Amazon sends invites to those who have a good reviewer rank and reputation.
Why Companies Pay you to Test Product?
Before actually launching the product, companies tend to invest a lot in the research and development of their products.In fact, the majority of the big brands have an entire team dedicated to this process. Smaller brands need it more because they need to make sure the product turns out to be a success.
Final Thoughts
Now you know everything about getting paid by testing products. If it feels like something you would enjoy doing, feel free to apply and get the chance to earn extra bucks just by sitting in the comfort of your own home.