What if there is an app where you can invest and trade with your friends? Here you go Zingeroo is a social, competitive investing platform that allows users to invest in the market with their friends and Compete for shares. it offers commission-free trading on equity trades and $25 sign up Bonus to start.
Sign up for Zingeroo to get a $25 sign up Bonus when you open a verified Zingroo brokerage account. Zingeroo dosen't require any qualification amount to
Let's learn more about the Zingeroo app and how you can earn a $25 Zingeroo sign up bonus.
What is Zingeroo?
Zingeroo is an all-in-one trading app built for investors and designed by investors. It's the best investing app to unleash your genius, as zingeroo provides you with a highly competitive trading experience against top world investors.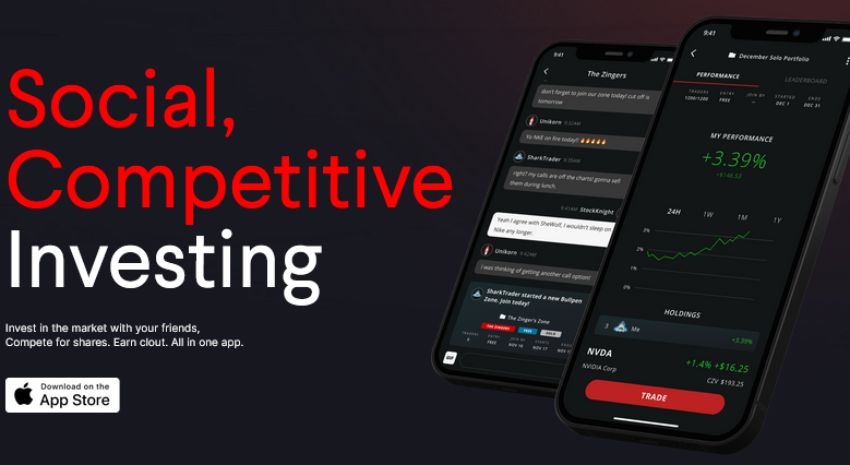 Zingeroo encourages competition and promotes social interaction in the stock market. In addition to free educational tools and real-time equity prices, they also host competitive events. These payments enable them to offer their users these services and events.
INVEST: Invest in stock, ETF, & option positions. You can trade equities commission-free.
COMPETE: See leaderboard positions and track your rank.
LEARN: Connect with friends, chat, and share news insights with Bullpens.
Zingeroo Brokerage sign up Bonus: Get a $25 Credit
Once you have opened a verified Zingeroo Brokerage account, you will get a $25 Zingeroo sign up Bonus when you join through our special referral link, and then you will get a $25 cash bonus deposited into your Zingeroo account within 5 business days of the successful account opening and Z-Squared approval.
Want to make more money? check out best $25 sign up bonus apps that pay real money.
How to Claim $25 Zingeroo Sign up Bonus?
Click on the above button to sign up on Zingeroo.
Download the Zingeroo app and Create your personal, secure Zingeroo account.
You do not need to make any deposits or trades to be eligible for the $25 cash bonus; all you need to do is open and be approved for a new brokerage account.
Start trading and unleash your genius.
Is Zingeroo Legit?
Yes! Zingeroo is completely legit. It is regulated by Z-Squared Securities, which offers stock, ETF, and options trading on more than 5000 tickers, which powers Zingeroo. 
Every stock trade is fee-free, and with a Zingeroo Premium subscription, you can use Quiver Quant to obtain refined insights.
And if you have any problem related to Zingeroo, you will get 24×7 assistance from top-class customer service. Here is Zingeroo's customer service contact: support@zingeroo.com
Zingeroo Features:
In their highly competitive trading leagues, called Zones, it's put up or shut up. Real-time leaderboards monitor the performance of your portfolio. 
Portfolio Zones: Put all your trading assets up against the world and see how you stack up.
Pick 'Em Zones: Trading meets Daily Fantasy Sit down with three positions and compete against everyone else.
Verticals: The following verticals can be tested to see how you rank in the trading market: Tech, Fitness, Energy, and Finance.
Bullpens: If you're looking for a crew-only competition, Bullpen Zones put your skills against people in your Bullpen.
How to cancel or change My Zingeroo trade?
You can cancel only a pending trade.
The app's "My Positions" option
Choose any open positions you want to close.
By selecting Yes, Cancel, choose Cancel Confirm.
If you made a mistake, stop the open deal and then begin a new trade that corrects it. Trades that have been executed cannot be amended or canceled.
Conclusion:
Overall, Zingeroo is one of the best trading platforms, so check out the Zingeroo App from Z-Squared Securities to make investing more competitive, social, and educational along with other traders, plus, get a $25 bonus when your new Zingeroo brokerage account is approved.
Wanna Love trading? Read our Webull promotions and claim your 6 free stocks.
FAQs
How To get $25 Sign Up Bonus free on Zingeroo?
Earn $25 bonus to open an verified Zingeroo brokerage account. You can sign up for the app and use the Zingeroo referral code: "GFJSIS8" and get $25 Zingeroo sign up bonus.
Does Zingeroo have Referral Program?
No! Zingeroo does not have any referral program. New users only get $25 Zingeroo sign up bonus to open trading account.