If you are a beginner in investing and want to build wealth right from the start, then starting with Wealthfront might be good for you. Wealthfront is a Robo-advisor that helps you to build wealth over time and give 3.30% APY on short term cash. Plus, Wealthfront sign up bonus offers you to manage your $5000 for free.
With Wealthfront sign up bonus, you can manage your first $5000 for free. To claim this bonus, sign up with this referral link and fund your account. Plus, you can lower your advisory fee through the wealthfront referral program.
Wealthfront works like M1finance, Betterment, and Stash. Its Ai tools and Robo advisor helps you to build a better portfolio, and automation gives you a better return on time.
In this article, you will find all Wealthfront promotions like Wealthfront sign up bonus, Wealthfront referral bonus, and steps to claim the bonus.
Wealthfront Sign Up Bonus: Manage $5,000 For Free
As a welcome bonus, Wealthfront offers you to manage your first $5000 for free. To avail of this offer, you need to open a Wealthfront investing account via this referral link and deposit your fund.
Find out more about investment apps for beginners like SoFi, Webull, and Moomoo to earn more money.
How To Claim Wealthfront sign up bonus?
In order to claim the bonus follow the below steps.
Visit this link to open an Wealthfront investment account.
Select the account type you want to open.
Follow the guidance to create a verified account.
Once you open and fund your account, you will be eligible for a bonus.
Bonus will be applied towards your investment, and you have to pay no maintenance fees up to $5000.
Wealthfront Referral Bonus: get an additional $5,000 managed for free
Invite your investor friends and family members to join Wealthfront and get an extra $5000 managed for free. Every time you make a successful referral, you both will earn $5000 managed for free.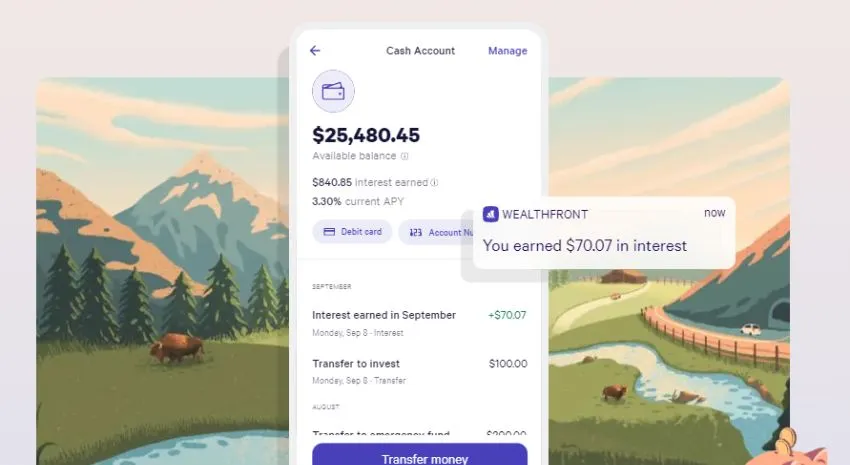 How to Claim Wealthfront Referral Bonus?
Open Wealthfront app or login into browser.
Go to My account> Invite friends and copy your link.
Share your referral link with friends or others.
Once your friends open an account and fund the balance, you both will earn bonus.
You can invite as many as you can, for there is no limit on referrals.
Is Wealthfront It Legit?
Yes, Wealthfront is legit. Wealthfront is a Robo-advisor that helps people invest their money. They offer both taxable and non-taxable accounts, and they have no minimum amount required to open an account. The fees are low, and the service is great. You can read more about Wealthfront features and tools.
Wealthfront Features
Wealthfront is a digital financial advisor that helps you invest your money in low-cost investments. It's the first step to becoming a millionaire.
Savings—Get started with a free trial, and then get $100 deposited into your account after you've built up $1,000.
Investing—Place your money in low-cost index funds, which will help you make more than 2x the performance of the S&P 500.
Taxes—Wealthfront automatically manages your tax burden by ensuring that you aren't paying more than necessary.
Conclusion
Wealthfront's sign up bonus is a great way to get started on your investing journey. It can give you a head start in building your wealth and make investing easier. With its low fees and generous bonus, it's an excellent option for those just starting out. Whether you're a seasoned investor or new to the game, Wealthfront's sign up bonus is an attractive incentive to get started with investing.
You can subscribe to our mail to get notified about the latest Wealthfront offers and promotions.