Shopping with Temu is easy and affordable, but sometimes you may find a reason to return the item. So, you should know how to return items in Temu and what is Temu's return shipping cost.
Temu return shipping cost $7.99 from the second return onwards, but the first return on every order is free. The shipping time takes up to 8-15 days, and you can track it once it is handed over to the courier.
Users can return Temu items within 90 days of arrival. Item must be in good shape and doesn't torn out or damaged. Your first return on Temu is completely free.
In this article, we will talk about Temu return policy and what is Temu return shipping cost.
What is Temu?
Temu is online shopping (e-commerce) platform that offers a variety of fashion and home appliances items at a discount rate. Temu has become the most downloaded app since its launch in the US market in September 2022.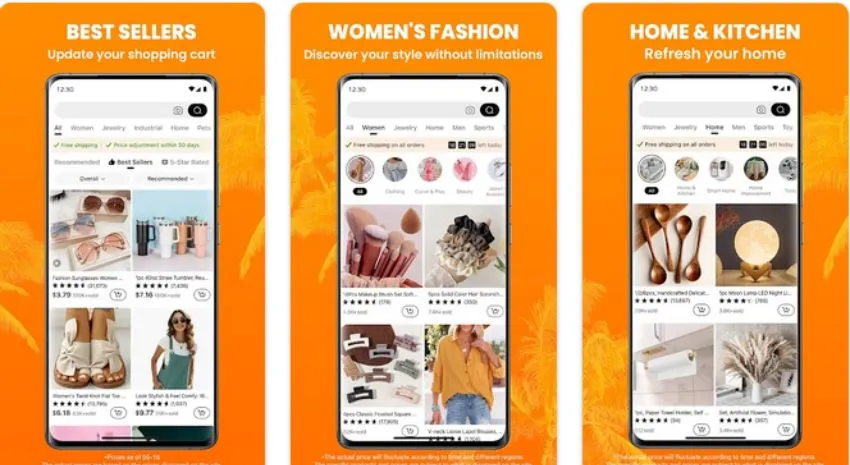 Temu keeps things very simple for users and gives the best shopping experience. Temu also offers a 90-day return policy for customers to build trust. Since its launch, more than 60 million items have been already sold by Temu.
The best thing about Temu is you always save some money while shopping with Temu, and using Temu coupon code will make your shopping more affordable.
How Much Temu Returns Shipping Cost?
Temu Return shipping is free on your first return for EVERY order within 90 days from the date of purchase. If you have already returned items from an order and would like to return additional items from that same order, you can still do it as long as the 90-day window has not expired.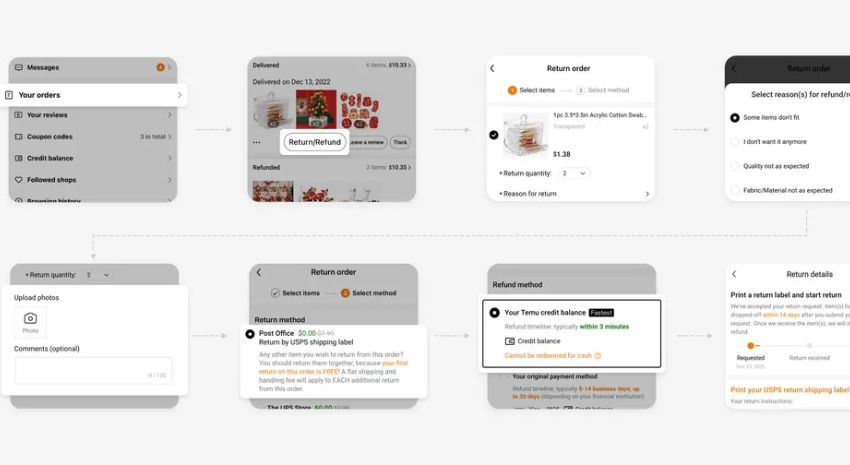 For the second and subsequent refunds from the same order, you can use the return label we provide and pay a US$7.99 shipping fee, which will be deducted from your refund.
For clear and more information, you can visit Temu refund policy page and get detailed answers.
How to Return Temu Items? Complete Process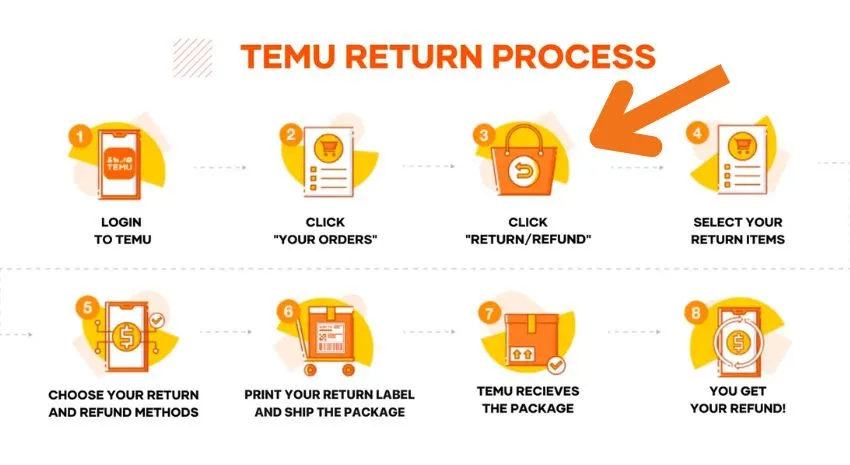 Follow the below process to return Temu items and get a full refund:
Login Temu: Use your user id and password to log in Temu account. (Sign up Temu if you are new to get a $100 Temu to sign up Bonus)
Click on the "Your Orders" button.
Click on the "Return/Refund" tab.
Select your return item.
Now choose your return and refund process.
Print your return label and ship the package.
Temu Receives the package details.
Done! You will get your refund.
After all the process is done, you will get your refund within 5 minutes. Sometimes it takes 5-7 business days because of the financial institution process.
Temu's Free Shipping Policy
If you are returning Temu items, keep these points in mind:
Returns Eligibility: Temu generally accepts returns within 90 days from the date of receipt for most items. However, certain items may have different return requirements due to hygiene or other considerations. Sometimes Temu asks you to keep the item while refunding you full money. 
Return Conditions: If you are not satisfied with the items, then you can return the items with a full refund. 100% refund guaranteed if items are in their original condition, unworn, unwashed, and with all tags attached.
Return Process: If you wish to return an item, you typically need to initiate the return process through Shein's website or app. This usually involves filling out a return form and receiving a return authorization or shipping label.
Return Shipping: The cost of return shipping is generally the responsibility of the customer. It's advisable to use a trackable shipping method to ensure the return is received by Shein.
Refund Options: Shein offers refunds in the original payment method used for the purchase. The refund is typically processed once the returned item is received and inspected.
Store Credit: In some cases, Shein may offer store credit instead of a refund, which can be used for future purchases on their website.
Exchanges: Temu may not offer direct exchanges for returned items. Instead, you may need to return the item for a refund and place a new order for the desired item.
It's important to carefully review Temu's return policy on their website or contact their customer service for specific details, as policies may vary based on factors such as the item type, location, or promotions.
Conclusion
Temu is an online fashion retailer offering a return & refund policy to satisfy customers. It isn't risky because you have 90 days of return policy if you are not happy with the product.
If you have received an item that doesn't match your expectations, simply return the item or take a full refund. You don't have to worry about returning a product if you change your mind about it or if it doesn't work for you, Temu got you a generous return policy.