Sam's Club is a retail warehouse that offers bulk shopping and discounted pricing to its members, and basic membership starts at $45. But few offers are running from Sam's Club and Sam's club partner sites like Discover credit card, and if you apply those, then effectively you will avail free memberships.
Not to mention that they have an excellent line of products for your home! Joining Sam's Club has its perks, so read step-by-step details about how you can save money and get free Sam's Club membership!
Sam's Club Free Membership
Sam's Club 1-Year Membership Join For $45 & Get 12 x $10 Uber Vouchers & $20 E-Gift Card from Sams and another $5 from Dosh app. ($40 from Dosh if you Buy Subscription in Store)
Sam's Club has a good offer now to join for 1-Year for $45 and receive 12 x $10 Uber Vouchers. You can also stack an additional $20 e-Gift card from referral, $5($40 from Dosh in-store). Note, This is for new members only. A great time to sign-up if you've been wanting to try Sam's Club.
Sign Up Process To Join Sam's Club Membership
Note: Chrome browser is recommended on desktop/laptop for signup process
Step 1:
First, link your credit card with the Dosh app to get $40 cash back (If you buy instore) or 15% cash back plus $5 Signup Bonus from Dosh when you buy a Sam's membership (plus 2% back on most purchase). Signup here: as referring code after installing the app to receive your $5 sign on bonus. Check the 'Online Offers' tab to make sure the $40 cash back on Sam's Club Membership offer is displayed). Click on it but don't signup yet. Note: It's recommended to wait 24 hours after linking an Amex for it to register before purchasing anything (Not required for Visa/MC). Add Sam's offer of $25 off $45 from Amex and then add AMEX card if you have one.
Step 2:
Next visit this link. Sams club referral link
and click JOIN NOW, but DON'T Signup Yet. This qualifies you for the $20 E-Gift Card which you can use in Sams or Walmart.
Step 3:
Next open this link to qualify for the 12 x $10 Uber Vouchers https://www.samsclub.com/join/club?couponId=12592 and PROCEED TO SIGNUP. Remember to use same card which you linked in Dosh app.
You will receive $10 x 12 Uber vouchers from Sams, $20 E-Gift Card from Sams and another $5+ from Dosh. If you have AMEX and added AMEX Sam's offer, additional $20 cash back from Amex
Get $45 Sam's Club Gift Card:
As you can see Sam's club advertisement that they are offering $45 Gift card back. You just signup and then visit nearest Sam's club and show them print of Image# 2. Make Sure you join Sam's club by clicking this Sam's club Free membership official Link
Image# 1: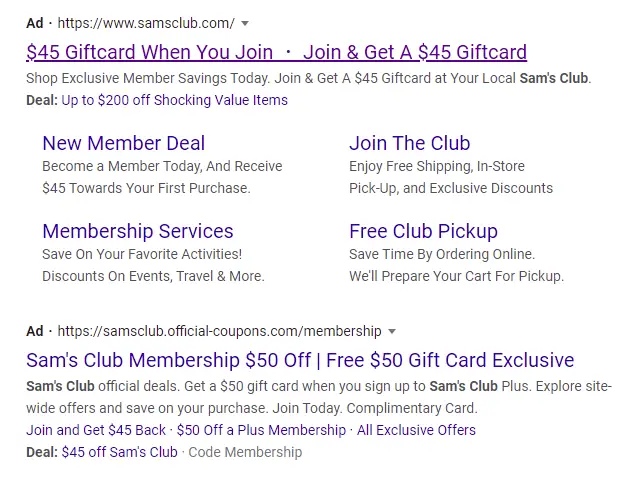 Image# 2: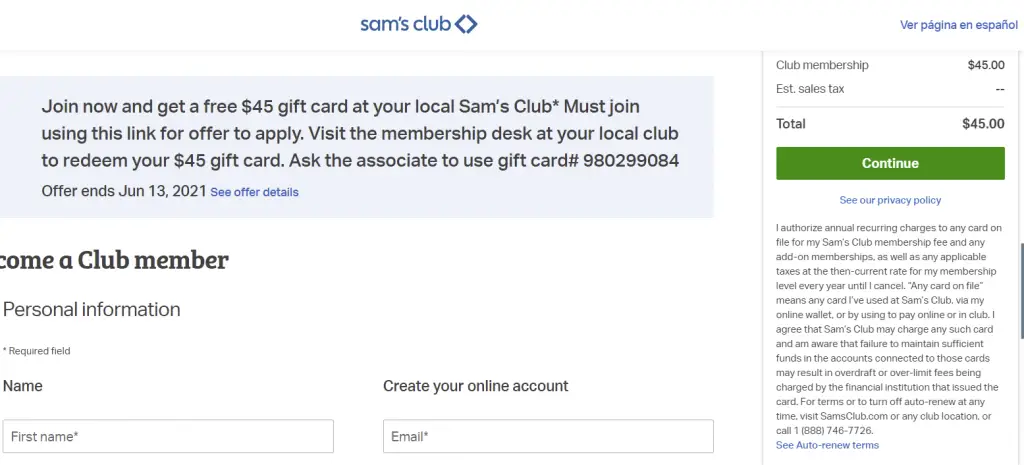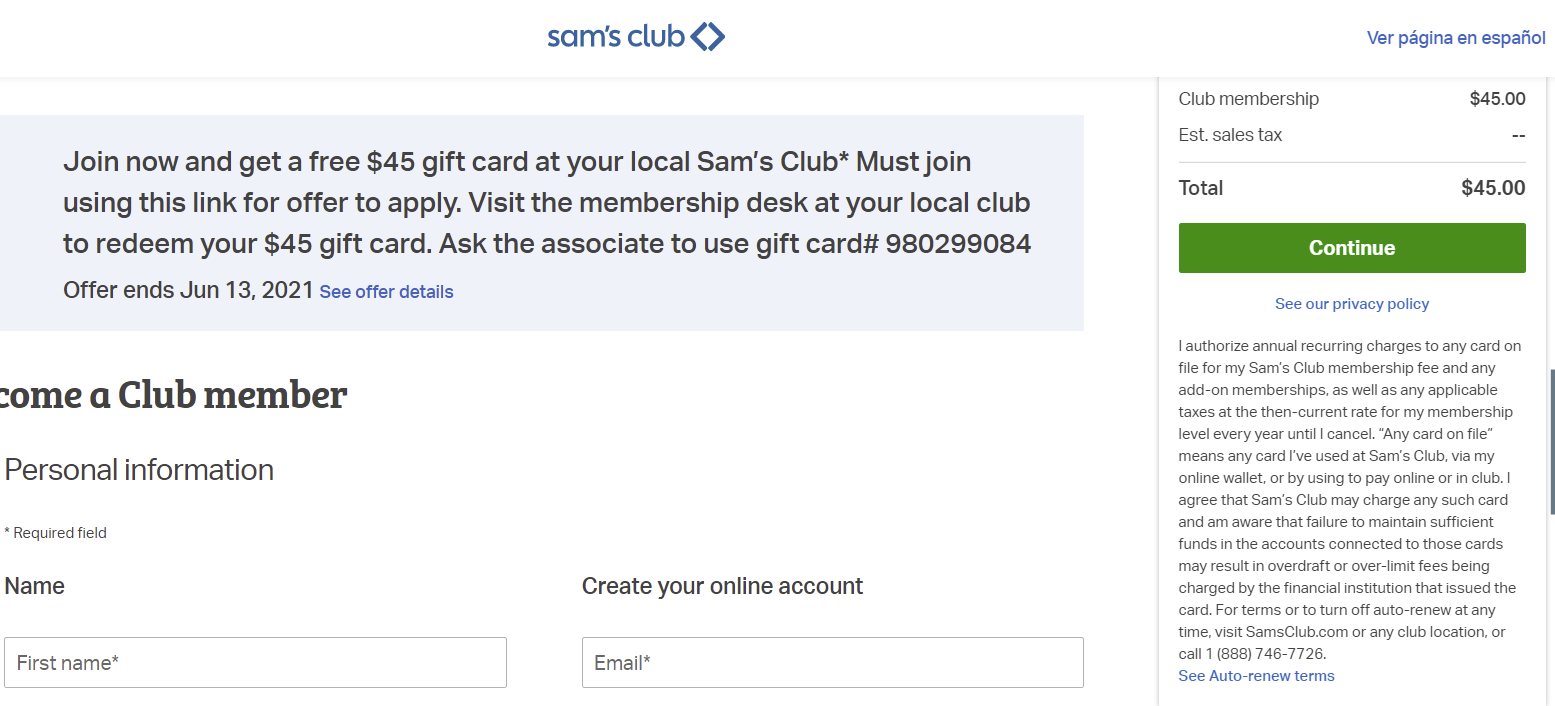 Offer#2 Get $45 back from Discover Credit card:
Discover card has sent targeted email so please check in your email box and see if you had received email. If you are not yet Signed for Discover Credit Card then Subscribe for Discover card Now and receive $50 rewards.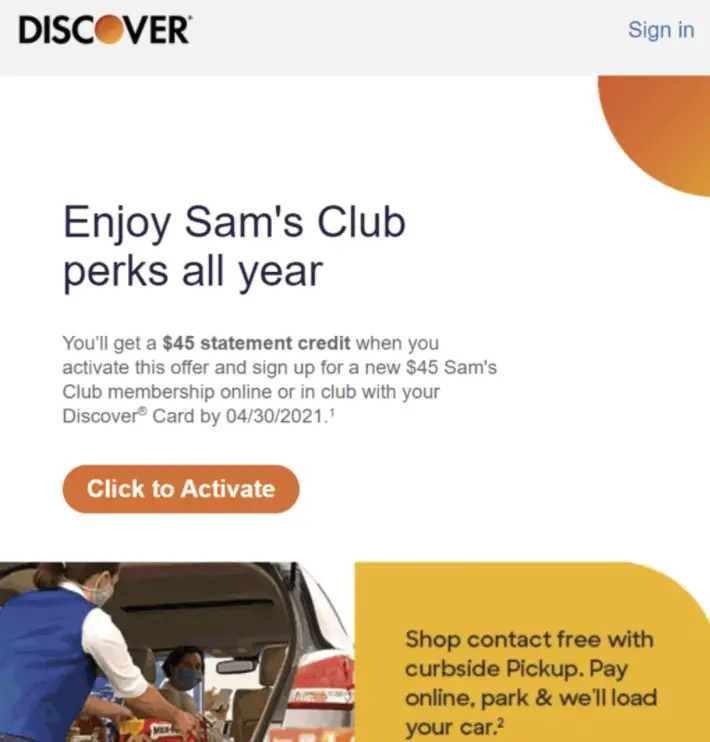 Conclusion:
With Free membership offer, Sam's Club is the perfect place to shop all discounts and deals on groceries, products and more. You can also stack up many other coupons and rewards from cash-back sites.