Do you want a phone that is perfect for people who are always on the go? Do you need a plan that won't break the bank? Look no further than Mint Mobile. This company offers an affordable, all-inclusive monthly service with unlimited talk and text as well as 200MB of data.
Mint Mobile is a new phone service that is meant to be an affordable alternative for people who are on a budget. The company offers one of the lowest priced plans in the industry, with no hidden fees or contracts. In this article, we will explore how Mint Mobile can provide you with excellent cell coverage at an unbeatable price.
Get Mint mobile 3 months plan free when you buy mint mobile 3 month package and $15 extra credit for next recharge.
About Mint Mobile:
Mint Mobile is a new cell phone carrier that has a very attractive pricing model with great coverage and Incredible Service. Their association with Ryan Reynolds, who's part owner of Mint, and their fairly recent rise to fame in this usually cut-and-dry industry makes it worth checking out. We've compiled all you need to know about them into an easy 101 guide on Mint Mobile so there are no surprises when switching over!
"Mint Mobile sounds like they're just another cost effective plan…"  "It seems as though everyone I talk too wants something different from their service provider." No matter what your needs may be for wireless services or how picky you are about contracts – we want every customer happy at the end of day (literally). Which can sometimes take some time and
Mint Mobile Pricing:
The prepaid carrier Mint Mobile sells service in packages of 3, 6 and 12 months. When you buy more month plan at a time, your monthly price will be lower. 
Plans vary: All Plans include unlimited talk and text and 2G data, as well as call to Mexico and Canada. According to your usage, you can choose 4, 10 or 15 gigabytes of data per month. An unlimited plan with 35GB of data and 5GB of mobile hotspot data is also available if you require more than 15GB.
4GB
10GB
15GB
Unlimited
3 months (introductory price)
$15/mo. ($45)
$20/mo. ($60)
$25/mo. ($75)
$30/mo. ($90)
3 months
$25/mo. ($75)
$35/mo. ($105)
$45/mo. ($135)
$40/mo. ($120)
6 months
$20/mo. ($120)
$25/mo. ($150)
$35/mo. ($210)
$35/mo. ($210)
12 months
$15/mo. ($180)
$20/mo. ($240)
$25/mo. ($300)
$30/mo. ($360)
To get the best per month pricing, you are encouraged to buy as long a term as possible. For example, the entry-level 4GB plan costs $75 for three months or $25 per month. If you get 12 months, however, your monthly cost comes down to $15 per month. Luckily Mint Mobile lets you try its service for the first three months at the 12-month price to make sure it works for you.
How To Join Mint Mobile
Join Mintmobile and get $15 extra credit on your first plan.
Enter your login deatils and address information to activate your mint mobile service.
Chosse any given plan according to your conveniences.
Share Mint mobile referral link to your friends and get credit for your next plan
Mint Mobile Referral Program
Mint mobile referral program offer $25 credit for every successful referral. you will get 1 year free if 5 people join through your referral link.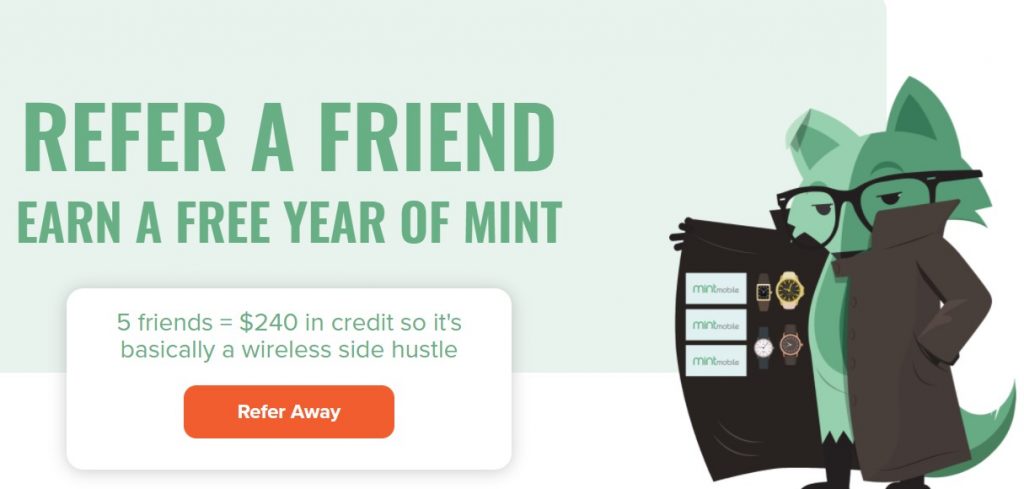 How to Share Mint Mobile Referral
Find your unique referral link
(Tap "Account," then "Refer A Friend" in the app)
Share your link
When someone signs up using your link, you both earn free credit that can be applied to plan renewal
Or…if you have a Share The Love Kit, just giving that to someone also works
Mint Mobile Features:
Which plan to choose:
Our recommendation is to renew for as long a term as possible to get the best pricing per month. Your first payment will be $45, or $15 per month, if you're a new customer choosing the 4GB plan. Choose whether to renew your plan for three, six, or twelve months when you renew for 12 months, you will pay the same monthly rate as the initial three months, but you will need to pay the full $180 upfront
If you are a single: We recommend $30/Month Unlimited Data  Plan:
If you want to go in Group: 
1 Unlimited and 1 $15 per month plan
=12* 30 = $360 + 12*15= 180 = 540$
What if you buy the same with T-Mobile for 2 lines:
$85 per line*2*12 = 1800$ 
Total you saved= 1260
Creating a wireless shopping experience that's intuitive and all online was the focus of Mint Mobile. Stores are not available. A lack of salespeople. You can save a ton on the best nationwide phone plans right now.
What network does Mint Mobile use?
Mint Mobile uses the T-Mobile network but operates independently as its own company. Mint Mobile is what's commonly referred to as an 'MVNO', which is a company that provides cellular service but doesn't actually own the infrastructure itself. Simply put, if you happen to get good T-Mobile coverage then you'll be good-to-go with Mint Mobile (also see Mint Mobile's coverage page All phones compatible with the GSM networks (AT&T, T-Mobile) should be fully compatible with Mint Mobile, granted they're unlocked. If you'd like to see whether your phone is compatible, then you can use this handy page over at the Mint site.
Features
Bring Your Own Phone
If it's unlocked, compatible with our service and makes you happy…we're good with it. Because it'd be weird if we only had 62 blocks wide coverage
Premium Wireless
Here's what makes Mint Mobile the smarter wireless choice.
New Customer Offer
Our New Customer Offer lets you try us out for 3 months at our lowest possible price.
BYOE (Bring your own everything)
Your unlocked device and current phone number are always welcome at Mint.
Unlimited talk & text
Nationwide coverage
Mint Mobile review: 
Pros
Works with almost any GSM phone
Inexpensive
Cheap trial plans
Mobile hotspot included
5G access on every plan
Cons
T-Mobile coverage is getting better, but there are still gaps
Being on an MVNO means your connection is slowed if it gets congested
Mint Mobile: What could be better
The only hangup that comes with Mint Mobile is T-Mobile coverage in your area. As I mentioned, the coverage is great, where I spend most of my days. But when traveling on some highways, I didn't have coverage. The gaps didn't last long, but they were there.
It's also worth keeping in mind that you actually only get 35GB of high-speed data if you're interested in the Unlimited plan. Mobile Hotspot comes with 5GB of data, and video streams are limited to a lower quality, about 480p. This is fairly standard for prepaid unlimited plans but worth noting for very heavy users that stream a lot.
In my experience, it wasn't hard to live with the lower video resolution, but as someone that watches a lot of gaming content on YouTube, losing the 60fps 720p option was a bummer. Still, outside of peak times, 720p 60fps videos and live streams seemed to play with no issue, so your mileage may vary. Just connect to Wi-Fi if you can, and you should be fine.
One thing I didn't experience but to be aware of is that Mint Mobile devices will have lower priority on T-Mobile's network than T-Mobile's own customers will. That's not something you'll need to worry about in most environments. Still, if you go to a concert or another busy event, your data might be slower to respond, but with strong coverage or 5G, you likely won't be cut off completely.
But that's going to be different for everyone. Testing Mint Mobile alongside another phone with a higher priority T-Mobile connection more often than not returned nearly identical results. Ping times were also within the margin of error, usually ranging anywhere from 30 to 60 milliseconds. This won't be good enough for fast-paced gaming, but it felt fine for general network responsiveness. 
FAQ:
Does Mint Mobile support international service?
Calls and texts to Mexico and Canada are free on all plans. If you want to call other countries you'll need to add money to your Mint Mobile account and pay per minute or text.
Mint Mobile's international roaming support is as simple as it gets with a flat rate of $0.05 per text, $0.25 per minute, and $0.20 per MB for most countries. Service in Mexico and Canada is reduced to $0.02 per text, S0.06 per minute, and $0.06 per MB.
Which Mint Mobile plan should you buy?
When it comes to how much time you should buy between three, six, and 12 months, it makes the most sense to start with just three. If you are new to Mint Mobile, you can have the first three months of service for the same monthly cost as 12 months. Not only that, this will help you dial in how much data you'll need before committing long term.
Starting with three months, you can renew with 12 months and lock in the introductory rate. This will be the best course of action if you find that Mint Mobile works well for you. If it's not working for you, you can simply let it run out without renewing.
Looking for a family plan? Mint Mobile has a feature called Mint Family that allows one person to manage up to five plans under one account. Mint Family isn't a family plan so don't expect to get any additional savings by joining one. This feature simply allows one person to manage and pay for all of the plans. Each line can have its own plan so you can make sure each member has what they need without overbuying. 
Conclusion:
Mint Mobile is premium wireless, without all the B.S, for just $15 bucks a month. All our plans come with everything you need and nothing you don't: unlimited