We all need a smart financial app that keeps track of our spending and guides us to save our money. Digit is an all-in-one smart budgeting, saving, and investing app that aims to get better with money. It helps you set up your monthly saving goal and spend money wisely.
New members on Digit will get a $5 Digit sign up bonus to link bank accounts. Additionally, you can earn an unlimited $5 cash bonus by joining Digit referral program.
Let's take a look at Digit app and how it will manage money, and you can earn a $5 Digit sign up bonus.
What is Digit App?
Digit is a great way to save without thinking about it. Digit works with your bank account, so it knows when money comes in and when bills are due. It uses a simple algorithm that learns how much you can afford each month and then saves the rest of your money for you every day.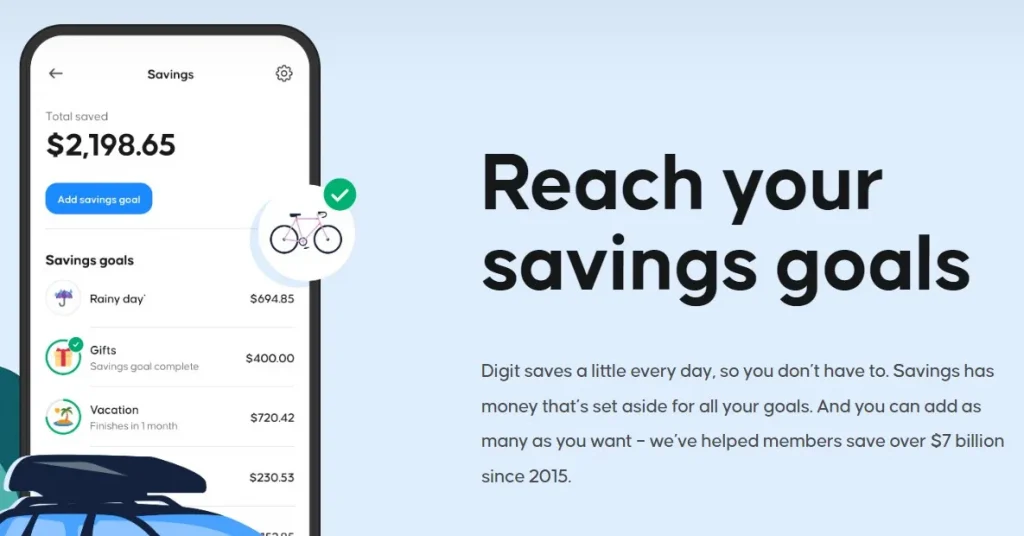 Digit has helped around 1 million people save over $250 million since launching back in 2015. That's because Digit makes saving super simple: just set up an account and tell Digit what kinds of things you want to save for—think retirement, vacations, houses, or even kid's college funds—and let the app do the rest!
Digit Sign Up Bonus: $5 Reward
You can get a $5 sign up bonus when you add a savings account to Digit. Use this Digit app referral link to sign up and complete autosave to claim your Digit sign up reward.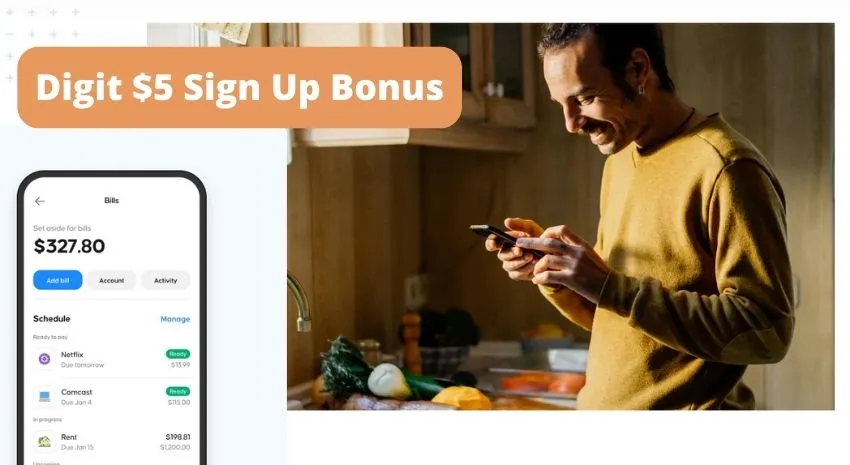 How to earn Digit sign up bonus?
Click the above button to download Digit App.
Enter your name and email to register for an account
Link your saving account with Digit to track your spending
Complete Automatic save for an account.
Your account is ready to go
$5 Digit sign up bonus will be added to your account within 1-2 days after verification.
Digit Referral Program: $5 Referral Bonus
If you refer friends to Digit and they sign up using your referral link, you'll receive a $5 Digit referral bonus for each person who does so. The more people you refer, the more bonuses you'll earn!
Invited person on Digit will also earn a $5 Bonus, and there is no limit on how much you can earn through the Digit referral program.
Want to earn more with referrals? Check out latest referral promotion apps:
How to invite friends on Digit App?
Login into your personal Digit account
Go to the My Account menu on the top
Click on Give$5, Get $5 banner
You will get your personalized Digit referral link starting with Digit.co/r/……
Digit App Features 
Digit smart bank feature will help you to manage your money, set a monthly goal to how much to spend, and will automatically save money for your future planning.
Track spending and budgeting across multiple accounts
Set up recurring payments, so you don't forget to pay bills
Automatically save money for future expenses
Invest automatically when you have extra cash
See how much you're saving each month
Easily manage multiple bank accounts
Create goals and track progress towards achieving them
Find ways to earn extra income
Stay organized with reminders and notifications
Use Digit to get started today.
Is Digit.co Legit?
Yes! Digit is legit. Digit is a free service that takes care of your money. You don't need to worry about hidden fees or overdraft charges since the money in your Digit account is FDIC insured.
How does Digit Help you most?
Digit will help you save money and make sure your bills are always paid on time. Once you're set-up, Digit automatically analyzes your spending and starts budgeting for you. You can also use Digit to invest in ETFs (Exchange-Traded Funds), which track the performance of global markets.
Conclusion
Digit is the stress-free way to save. It's an easy way for you to save money without thinking about it. Each week, Digit transfers small amounts of money from your checking account into a FDIC-insured Digit account.
With Digit sign up bonus it is more rewarding to open an account and keep record of your saving and spending.