Banks, saving, investing, and cash advances most personal finance apps focus on one or two of these features. But the Albert app aims to be a one-stop-shop for all those financial services and more!
If you're looking for an app that could help make things more convenient for you when it comes to your financial situation, then Albert might be worth a try. Albert promotion offers a $150 Albert Sign Up Bonus + $150 Albert Referral Bonus.
Read the rest of our review to learn more about how this app can help better manage your assets in a straightforward and simplified way!
What is Albert?
Albert is a financial budgeting and cash management tool that helps users manage their money. You have the option of managing your account yourself for free or hiring Albert Genius to do it for you. Albert's goal is to create a world in which no one, regardless of income or net worth, has to be concerned about making a bad financial decision.
Albert looks at your income and expense trends to figure out how much money you should put aside for savings. You can also start investing, receive a cash advance on your next income, and possibly renegotiate expenses.
Albert is offering new users a $150 Albert Sign Up Bonus to entice them to use their free Albert Cash account.
Albert Sign Up Bonus: $150 New Members Bonus
Albert is a cash management and financial budgeting tool that has a $150 sign up bonus for new users. You must open a free Albert Cash account using a referral link, make a direct deposit of $200 or more every 30 days for 90 days, and spend $100 with your Albert debit card every 30 days for 90 days to receive your Albert referral incentive.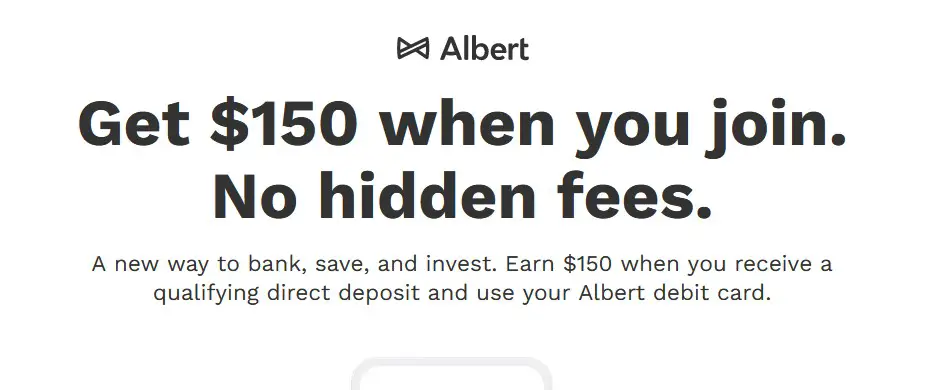 How to Claim a $150 Sign up bonus?
Button
To get started, click the icon above.
To have the app texted to you, select "Get the App," enter your phone number, then click the button.
You don't have to use the text link to get the Albert app for iOS or Android.
Use the same phone number that you used in the previous step to register for Albert.
Fill out the form to sign up for Albert's free service.
Sign up for a mobile banking account with Albert Cash.
For 90 days, receive a qualifying direct deposit of $200 or more every 30 days. Your employer, payroll provider, or benefits payer must make a qualifying direct deposit via ACH deposit.
Albert Referral bonus: $150 Referral Bonus
For each person you refer, you'll receive a $150 Albert Referral bonus in your Albert Savings account. They must use your referral link to sign up for Albert Genius for 90 days. In addition, for becoming a new member, each of your recommendations will receive a $150 cash prize.
How to Claim a $150 Referral Bonus?
You must already be a member of Albert.
Use your unique referral link to refer to a friend or family member.
Make sure the person you referred completes at least a $200 direct within 30 days.
Also, make sure your friend spends $100 or more using their Cash card on goods or services.
After your buddy gets a qualifying direct deposit throughout the 30-day period, the bonus will appear in each Albert Cash account.
Albert App
With the Albert app, you'll be able to spend and save more wisely. This runs in the background, automating your money and alerting you to any unusual changes. It also aids in the discovery of additional savings and the identification of costs that can be reduced. This software will send you smart alerts so that any financial adjustments a month later don't catch you off guard.
Here are a few things to look forward to from Albert:
Albert Savings is a company that specializes in saving money. This is where Albert comes in whether you want to pay off debt or take a vacation. It assists you in achieving your goals through automatic savings. It will identify little amounts of money that you don't use over the week and set aside for emergencies.
Albert Payday Loans In fewer than 10 minutes, you may get a $100 cash advance from your next paycheck only if you meet the criteria. There's no need to be concerned about a credit check or interest fees.
Albert Investments is a company that specializes in real estate. This benefit will allow you to invest your money in commission-free investments even if you have no prior experience with investing.
What is Albert Genius?
Albert Genius is a paid app, even if the Albert app is free. However, you will only be required to pay for what you believe is necessary. You'll be able to pick between paying $0, $4, $8, and so on per month. You'll also be able to cancel this financial service at any time.
You'll get a $10 cash bonus if you pay for your Albert Genius subscription annually rather than monthly. You may ask their financial experts anything, from how to pay off the debt to how to find a low-cost moving service. The best part of Albert Genius is that you get to interact with real people who work with you on a daily basis.
Albert Genius is free for the first month, and you can cancel at any moment. The charge for Albert Genius is determined by what you believe is reasonable, so you pay exactly what you wish. They suggest that you pay at least $4 per month to break even, but you can pay more, less, or even nothing.
Conclusion:
You may link your accounts with Albert and track your net worth, account balances, and more! This financial savings app is a fantastic choice for folks who have financial questions and would rather get personalized responses from a financial planner than read a text message.
Albert referral bonus is comparable to the Ahead Money Banking bonus. If you haven't already, I will do both for a total of $250 ($150 for this Albert offer and $100 for the Chime offer). I did Chime a few years ago, and I recently finished Albert when a reader texted me about it.
Keep in mind that Albert is very particular about the direct deposit requirement. Unlike most other bank offers that provide other direct deposit alternatives, Albert considers the following to be an eligible direct deposit: