If you are looking for a checking account with no minimum fee and no minimum balances then SunWest credit union is a perfect fit for you. SunWest offers low loan rates and free checking accounts with a $200 sign up bonus.
Get a $200 SunWest Credit Union sign up bonus when you open a checking account (Worry-Free account) using promo code "Grab 200" and receive a direct deposit of $1000 in a month.
This SunWest credit union promotion will end on 31/3/2023. So make sure you join fast.
See more offers from banks with immediate sign up bonuses and earn up to $1000 in a day. 
In this article, you will find all SunWest Credit Union Promotion, promo codes, and steps to claim SunWest credit union sign up bonus
What is SunWest Credit Union?
SunWest Credit Union is one of the oldest credit union banks that offer low loan rates, free checking accounts, and high APY rates. It also offers a mobile banking feature to keep users updated with their accounts.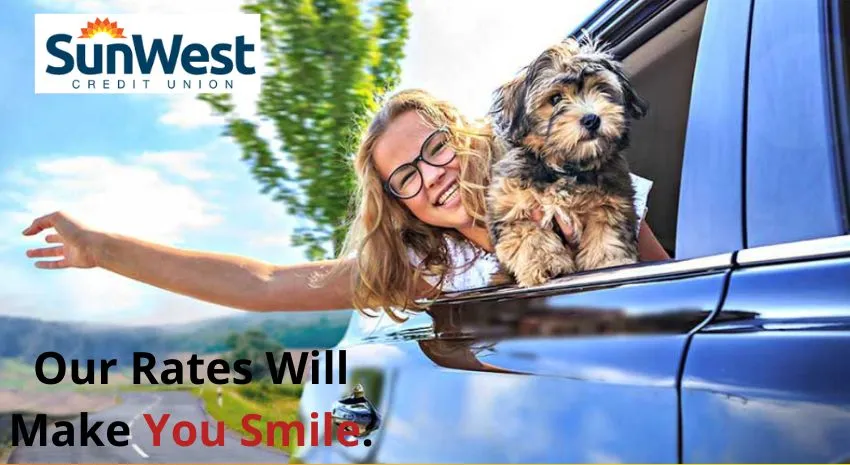 SunWest, a credit union based in Pueblo, Colorado, is the 22nd largest in the state and the 1,261st largest in the country. Since its establishment in 1935, it has grown to 35 employees and 11,123 members across 3 locations as of June 2021.
SunWest offers similar features as other mobile banking apps; Oxygen bank, Cheese mobile banking, and Go2Bank. 
SunWest Credit Union Promotions: $200 Checking Bonus
As per the Current SunWest union promotion, New users will get a $200 sign up bonus to open a new Checking account using the promo code – "Grab 200″ before 31/03/2023.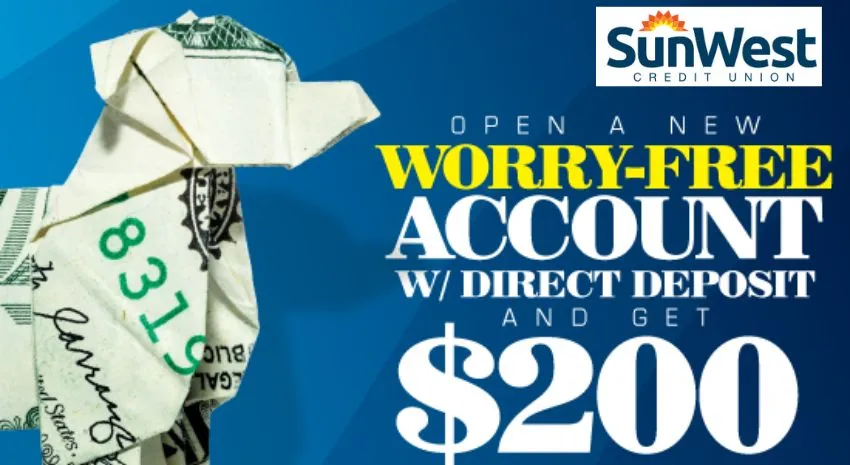 Bonus Amount: $200
Account Type: Checking Account
Availability: Colorado (Use Bank Locator to find the nearest branch)
Direct Deposit Requirement: Yes, but no minimum amount is specified. (Check to see what qualifies as direct deposit)
Credit Card Funding: Up to $750
Monthly Fee: Not listed
Early Account Termination Fee: $20 if an account is closed within 90 days
Household Limit: None
How To Claim SunWest $200 Sign Up Bonus?
Visit this link to open a new SunWest Checking account.
Enter your name, email, and other details to register.
Use SunWest Credit Union referral code – Grab 200 while opening an account.
Make a single direct deposit of $1000 and maintain it for 60 days.
A $200 SunWest welcome bonus will be added to your account within30 days.
Requirements to Earn a $200 Checking Account Bonus
Here are the key points to note regarding the SunWest Credit Union promotion :
Open a new checking account between Jan 1, 2023, and March 31, 2023
Qualifying direct deposit of at least $1,000 per month required
Direct deposit must be received within 60 days to qualify
A $200 bonus will be deposited within 30 days of the direct deposit receipt
Maximum of one bonus per member
$25 minimum opening balance required for checking accounts
Checking accounts do not earn interest/dividends
New members need to donate $5 to SunWest Foundation and deposit $5 for a membership share
All accounts subject to approval
SunWest Credit Union Features
SunWest Credit Union: Make a Payment
SunWest Credit Union aims to make loan repayment simple and hassle-free for its customers. In the fast-paced world of today, paying bills and keeping track of payments can be a daunting task, but SunWest claims to make the process as smooth as possible.
TransferNow: Easy Loan Payment from External Accounts
TransferNow allows SunWest customers to transfer funds from external financial institutions to their SunWest accounts, making loan payments a breeze. Simply log into your online banking account to add an outside account and schedule an external transfer to make your payment.
Bill Pay: Convenient Payment Scheduling
With Bill Pay, you can add SunWest as a payee and schedule payments according to the due dates of your loans. Once you have added SunWest as a Payee, you can schedule payments that suit your payment schedule.
Pay Over the Phone with SunWest
If you prefer to pay over the phone, you can give SunWest a call at the provided number. A $10 convenience fee will be applied to the payment.
Phone number: 833-886-6104
Loan Payment from External Accounts
You may need to pay their loans with funds from another institution. SunWest Credit Union offers several options to make it possible for you to make payments from external accounts. You can choose the payment method that suits you best and take the stress out of bill payments.
Conclusion
SunWest Credit Union's promotion offers a $200 bonus and it is definitely worth considering. But don't forget that the bonus will be reported on IRS Form 1099-INT. 
While SunWest Credit Union offers attractive bonuses, their savings rates may not be the best in the market. Therefore, if you're looking for competitive rates, you may want to explore more options.