Pennsylvania State Employees Credit Union (PSECU) offers some of the best promotions, bonuses, and offers in the state. From 3/1/2022 to 12/31/2022, PSECU is running a $250 PSECU sign up bonus if a member is signing up PSECU using a promotional code or this PSECU official referral link and complete the qualifying steps.
PSECU Sign Up Bonus Offer
Open an PSECU checking account and deposit minimum amount of $5 and maintain the amount for next 45 days to receive $250 PSECU sign up bonus.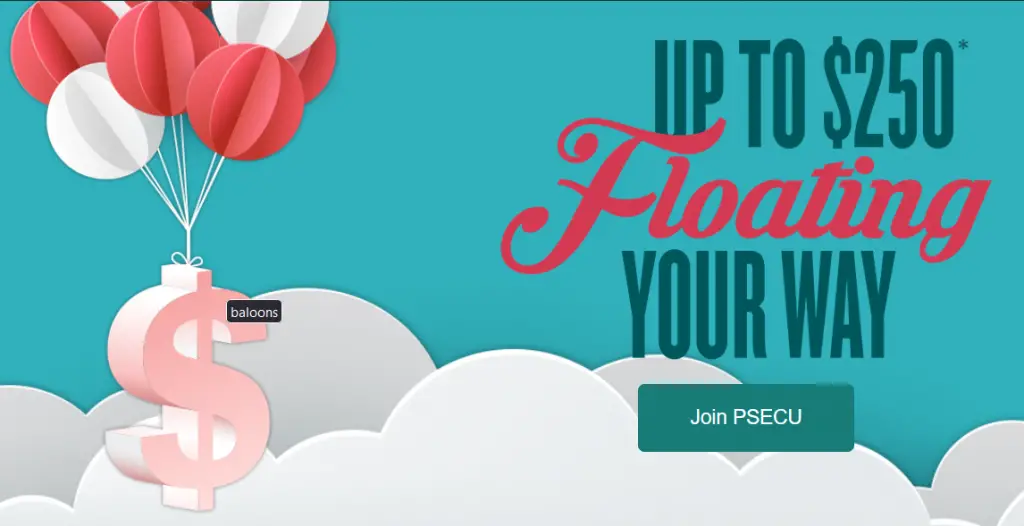 Steps to Claim $250 PSECU sign up bonus
To receive a $250 PSECU sign up bonus, you must follow the below qualifying steps:
Join PSECU before 12/31/2022 with a promotional code: UPTO250PROMO.
Add a free checking account with a debit card + digital banking for a $100 bonus, and Then Establish qualifying direct deposit(s) for an additional $150 bonus. This will add a total of $250 PSECU sign up bonus.
Once you signup and are approved for checking, debit card, and digital banking (online or mobile), then you will bve qualified. Also, set up one or more qualifying payroll direct deposits totaling $200 per calendar month, recurring monthly, within 90 days of joining.
Once all the requirements are met, PSECU will deposit $250 into the Regular share within 45 days.
 To get Additional $200 click below
Offer as Printed in site
Total bonus: $250
Availability: PA only, nationwide if you become Pennsylvania Recreation and Park Society (PRPS) for $20.
Direct deposit required: Yes, $200+ per month for at least six months
Additional requirements: See below
Hard/soft pull: Hard pull
Monthly fees: None
Early account termination fee: Bonus forfeit, 12 months
Household limit: None
Expiration date: March 1, 2022, December 31, 2021
To open and maintain a Regular share account, you must deposit $5. In addition to the $5 share deposit, the member must be in good standing, as defined by PSECU's bylaws, in order to receive the $250. PSECU reserves the right to recall the $250 direct deposit bonus if the direct payroll deposit(s) is/are not active for six consecutive months or if the member account is closed within the first year of establishing membership.
What is PSECU?
PSECU is the largest credit union in Pennsylvania. More than a bank, PSECU offers the financial opportunities to help you live better because they are 100% member-focused. PSECU's mission is to provide our members with the best products and services at competitive rates while making them feel like they are part of something special.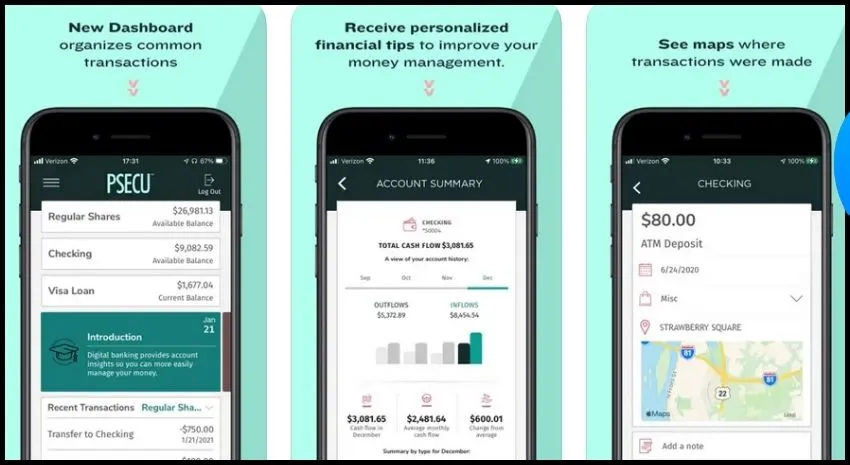 PSECU offers many different types of accounts and loan options that can help you save money, pay off debt faster and get ahead financially.
PSECU Referral bonus Earn Up to $500
PSECU referral program is offering $50 referral bonus to invte new members on bank make them open a new checking account. Share your PSECU referral link to invite friends and recive $50 PSECU referral bonus as soon as they deposit minimum $50 in their account.
Read the full PSECU referral program terms and condition for more information.

Why join PSECU
 We're the largest credit union in Pennsylvania, offering our members a wide range of financial products and services to help them live better. Unlike a bank, we put our members first. We're 100% member-focused, and we're proud of it. Below are some reasons to consider PSECU:
It's a breeze to grab some extra cash for $250 when you join PSECU and meet promo requirements.
If you choose PSECU, you get a full suite of financial services at a competitive price.
No hidden fees or surprises. PSECU believes that the best way to serve our members is by being completely transparent about the costs of our products and services so that you can make informed decisions about what's best for your needs.
Whether you're looking for a competitive interest rate on your savings account or need help planning for your retirement years, PSECU has the tools available to make sure you have all the information necessary to make smart decisions now—and down the road.
Rewards and discounts on items, travel, and entertainment. Redeem your points for these perks through the website or by calling 1-800-555-5555. Members can also use their points toward discounts on car rentals and hotels.
Free bill pay when you set up an account with us (up to $10,000 per month). You can also enjoy free electronic statements, cashier's checks, money orders, and more at any of our branches or ATMs nationwide—including 24/7 access with your debit card!
Conclusion
Overall, the Psecu cash management program is a great way to get started on your financial journey. It offers various services that are tailored to your needs and will help you reach your goals. Whether it's saving for retirement or making sure that you have enough money available in emergencies, this program covers it all. Also, No monthly maintenance fees! That means no extra charges just for having an account with us.
No minimum balances are required either; simply maintain a balance equal to the amount of your prepaid debit card purchase fee each month! So Join PSECU before it's too late and earn a $250 PSECU sign up bonus.