In recent years, ZEE5, formerly known as OZEE, has become one of the most popular video-on-demand streaming services. More than 100,000 hours of content are available in 12 Indian languages, with a mix of Premium and free programming. ZEE5 offers a range of unique content, but you will need to subscribe to the service if you wish to view all of it.
Cricket fans from USA are struggling if How To Watch T20 World Cup 2022 Live than click the link and get streaming details.
If you are a US resident, then you may be facing difficulty watching ZEE5, or you maybe searching when will zee5 be available in usa so we are here to help you. We will briefly describe How To Subscribe ZEE5 In USA? To continue reading our ZEE5 review to know which subscription plan is better for you.
What is ZEE5?
Zee5 is an Indian over-the-top subscription video streaming service now available in the United States, owned by Zee Entertainment Enterprises. ZEE5 is the place to go if you're seeking interesting entertainment in your own language.
Zee5 is a streaming service targeted primarily at Indian citizens. Launched in 2018, the platform can be accessed on web browsers, TVs with smart speakers, Android and iOS devices and other devices.
Zee5 is available in over 12 languages. It was the first streaming service to offer a Tamil web series called America Mapppillai, which is now available all over the world.
ZEE5, India's own digital entertainment network, is one of the most popular over-the-top (OTT) platforms for watching shows and movies nowadays. Everything from Bollywood to regional movies is available in one place. ZEE5 firmly believe that in order for entertainment to be truly engaging, you must be able to feel it.
ZEE5 gives you the benefit of speaking your preferred language! With Zee5, you can watch your favorite content spanning Zee5 Originals, lifestyle shows, Catch up TV, Live TV, Zee5 Exclusives short series, Kids entertainment programming, and celebrated plays in one of 12 navigational and featured content languages. as ZEE5 is now available in USA so let's see how to watch zee5 in usa without vpn? and also How To Subscribe ZEE5 In USA?
How Much ZEE5 Subscription Plans in USA?
The price of a Zee5 Premium, annual subscription plan has been lowered by half as part of a special anniversary deal. Users who are interested can purchase a Zee5 Premium Monthly package for $6.99. And The pricing of the Zee5 Premium annual plan is $49.99 
ZEE5 $49.99 Yearly Plan
Currently, the company only offers the annual ZEE5 Premium subscription plan. Previously, a one-year subscription to the pack cost $49.99. The subscription includes access to over 2800 movies, 150 web series, and more at no extra charge. With a ZEE5 Premium membership, users can now view live TV stations. Users can also watch on three devices at once, according to the company.
This subscription allows you to access ZEE5 originals, live TV, blockbuster Bollywood and Hollywood movies, documentaries, music, and hundreds of TV shows for free. so Now you may be able to understand which subscription will best for you so let's checkout How To Subscribe ZEE5 In USA?
How to Subscribe ZEE5 in USA?
To watch ZEE5 in the United States, you must first register on the app or on the official ZEE5 website. You can subscribe to ZEE5 in the United States by making an account. On ZEE5, you can enjoy limitless streaming services with an annual or monthly subscription package.
To watch ZEE5 USA, simply follow these simple steps:
Step1: Create a ZEE5 account using the button above.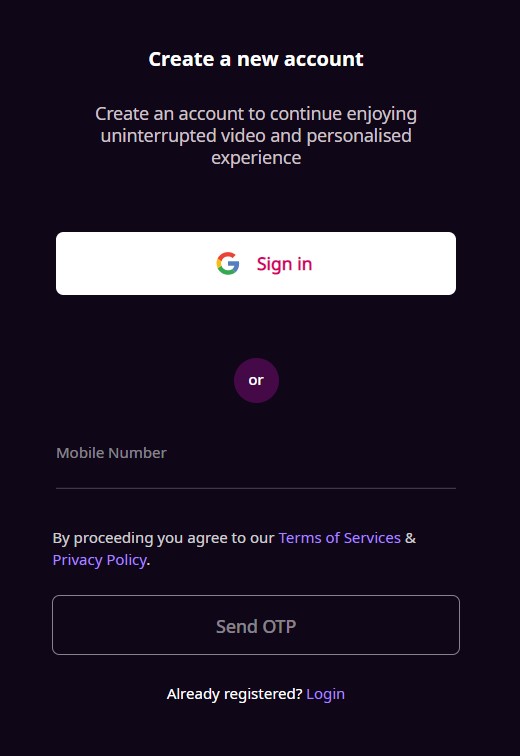 Step2: Now Fill in your Basic details like Email and phone number and verify them.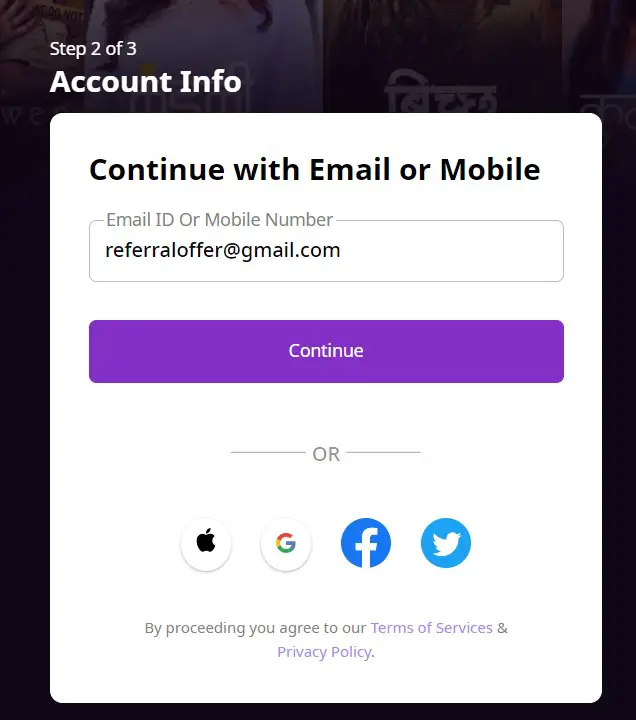 Step3: Now Choose the Plan that suits you better.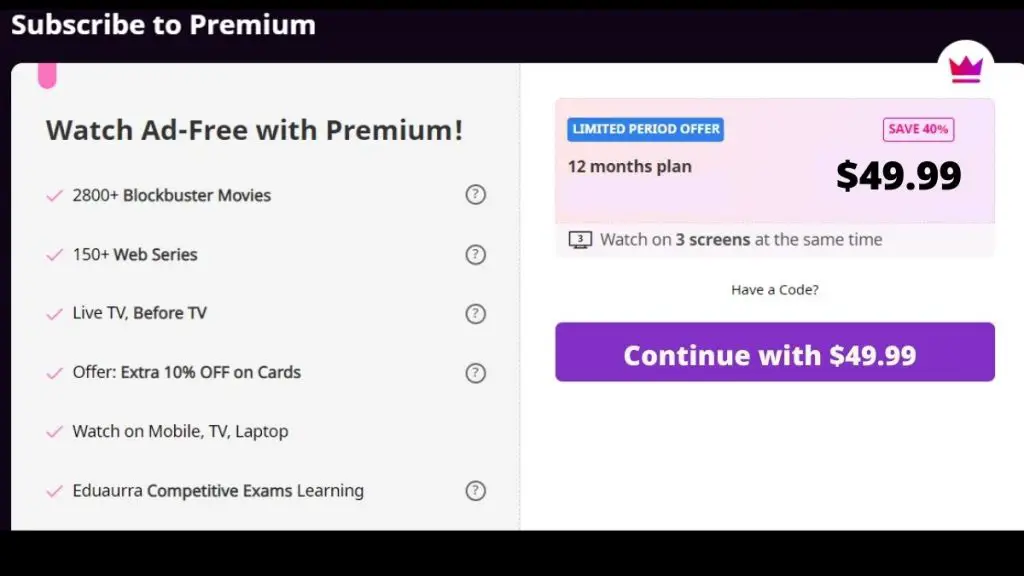 Step4: Pay using your credit card to start your subscription.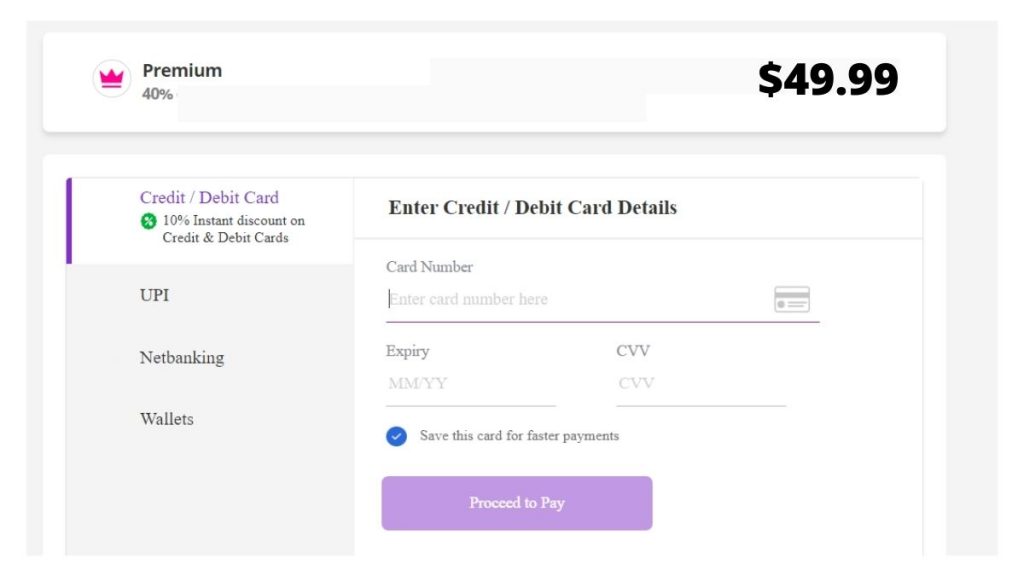 Now you may know How To Subscribe ZEE5 In USA? so go and enjoy watching ZEE5 in the USA whenever you want!
ZEE5 Subscription Features
You can enjoy an unlimited, uninterrupted, and ad-free streaming experience with a ZEE5 premium subscription. ZEE5 offers a number of advantages, including free downloads and access to more than two devices per subscription. 
For those who are unfamiliar, Zee5 has only one subscription option: Premium, which costs $49.9 per year or $6.99 per month. The subscription includes ad-free access to 2,800+ blockbuster movies, 150+ web series, the most recent TV shows, AltBalaji's content, and support for up to three screens.
It's limitless entertainment in your preferred language that sounds familiar.
With more than 90 live TV stations and more than 1.25 million hours of viewing across languages, ZEE5 is a one-stop-shop for movie buffs.
With advanced video streaming technology, incredible speed, and crystal clear sound, we provide a comfortable and friendly user experience. Language navigation, seamless video playback, intelligent content search and suggestion, the ability to adjust video quality, and much more combine to provide an unparalleled video experience. All you need is a connected device that is compatible. Now is the time to tune in to ZEE5 in your native tongue!
The following is a list of specific features:
| | | |
| --- | --- | --- |
| Plan | Validity | Benefits |
| $49.99 Plan | 12 Months | RRR Rental for 7 days, 2800+ movies, 150+ web series, watch before TV, live TV and add-free entertainment |
| $6.99 Plan | 1 Month | 2800+ movies, 150+ web series, watch before TV, live TV and add-free entertainment |
You will be able to view ZEE5 Originals, Hollywood blockbusters, a variety of regional material, and the trendiest TV programmes broadcast from across the world if you subscribe to the ZEE5 premium service.
What's cool is that you can view a lot of popular movies and TV shows in regional languages. Overall, the ZEE5 Premium offers an enormous amount of entertainment. 
Recently, ZEE5 launched a new section called Club Pack, where you can view Zee TV series before they air on television, as well as Best of Club Originals, Best of Club Shows, and other interesting content.
Benefits:
Users can watch all of ZEE5's original episodes in their entirety.
Streaming in full HD is also available.
Customers can download ZEE5 episodes and view them whenever and wherever they choose.
Customers can watch ZEE5 on a variety of devices.
The good news is that ZEE5 continues to offer new shows and content every month.
Customers can download all of the content, both old and new, and watch it offline.
In comparison to other OTT platforms like Fubo TV, Shemaroo, ESPN, or Amazon Prime Video ZEE5 offers 130,000 hours of content from India, Pakistan, and Bangladesh, as well as original music, Bollywood films, as well as news and health content.
Conclusion
I hope you now know How To Subscribe ZEE5 In USA? . All of these measures can be followed by customers who want to watch live streaming on ZEE5. You can watch IPL matches, new movies, and ZEE5 originals, among other things. 
Users can download original content in high quality and watch it offline on the complete streaming platform for South Asian content. With all of the free subscription alternatives listed above, you may start binge-watching your favorite series on ZEE5.