FuboTV free trial offers you 7 days free and was provided without much Spend to watch live sports, movies, and TV shows. Here's our guide on how to sign up for the fuboTV free trial for 7 days.
It's a good alternative to cable if you don't want cable but still want to watch your favorite channels live. Depending on your subscription, you can access TV channels, live sports, and free cloud storage for recording TV shows. What's even better? FuboTV is completely free for one week. Here's everything you need to know about signing up.
With some of the biggest names, most successful managers, and most popular stadiums in soccer, the English Premier League (EPL) is the most watched and most supported soccer league in the world. FuboTV will have exclusive rights to broadcast the Premier League in Canada starting in the 2022-2023 season. DAZN will broadcast Champions League and Europa League matches until 2028.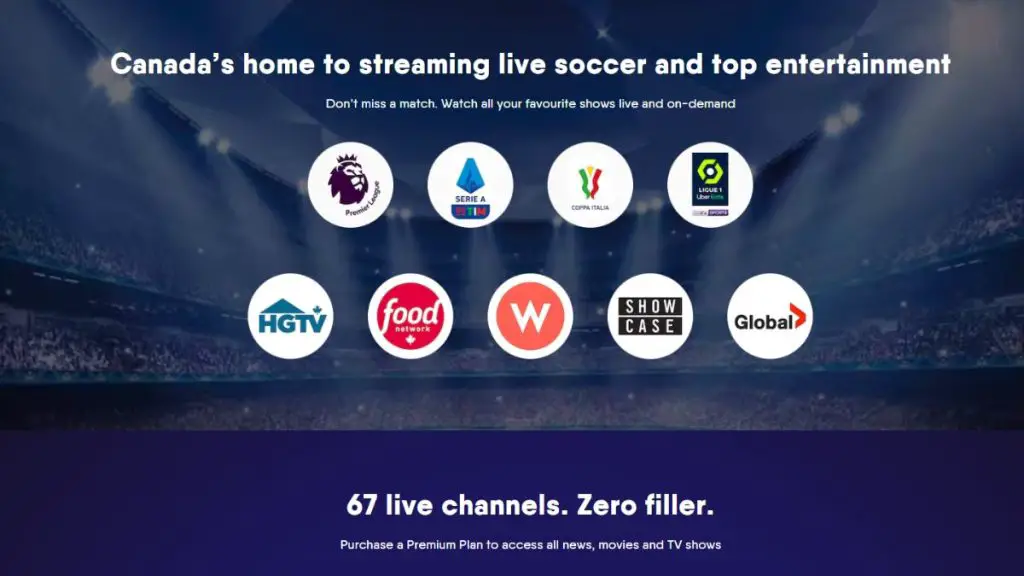 FuboTV free trial Subscription
New subscribers can try FuboTV for seven days for free. Sign up is all you need to do. After completing the process, you will be up and running in minutes. Here are the steps:

Click the Try free for 7 Days button on the official fuboTV website.
Sign up for a free account. You will need to provide your email address and a strong password. If your ZIP code isn't detected automatically, enter it. You can also sign up with Google, Facebook, or Apple.
Choose your subscription plan on the next screen. A popular plan is the Family plan, which offers 100+ TV channels, 500 hours of cloud DVD storage, and the ability to stream content on three devices simultaneously.
As soon as you select a plan, you'll be able to view all its features and add-ons, such as family sharing or sports extras. Click "Continue" if you are satisfied.
Please provide your payment information. Check the box indicating that you have read and accepted the platform's terms.
The "Start watching fuboTV" button will appear.
You can install fuboTV on any device you like. After setting up your account, you'll be able to watch fuboTV on a variety of devices, including smartphones, Chromecast, Roku, Xbox One, Apple TV, and Samsung smart TVs.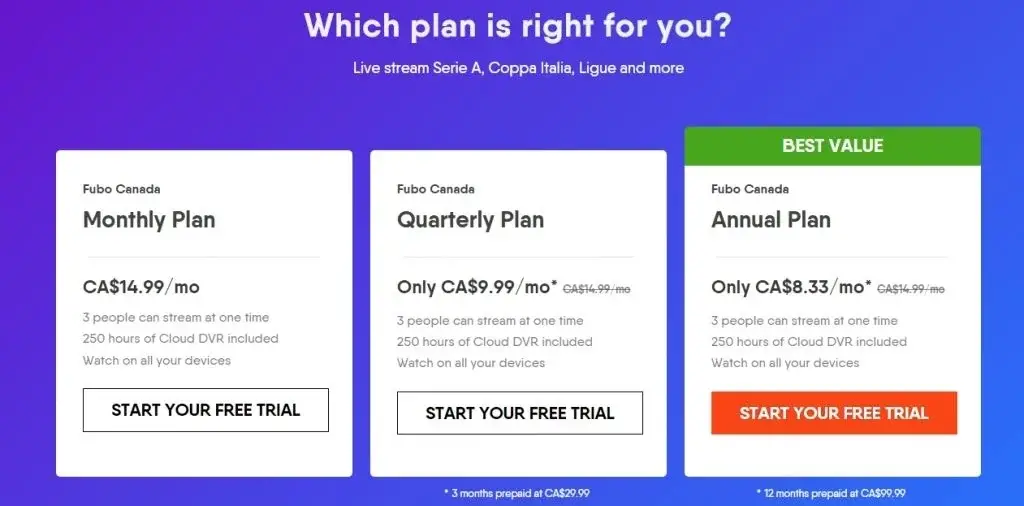 FuboTV Canada Plans
FuboTV currently offers three plans in Canada at the prices listed below:
| | |
| --- | --- |
| Plan | Price |
| Canada Monthly | $14.99 CAD/month |
| Canada Quarterly | $29.99 CAD/quarter |
| Canada Annual | $99.99 CAD/year |
All fuboTV Canada plans listed above, 250-hour DVR, and Family Share.
How does fuboTV work?
Over-the-top streaming service FuboTV lets users watch live TV channels. When it was founded in 2015, it offered only soccer content but grew to become a more comprehensive streaming service over time. As an alternative to traditional cable in the US, it added entertainment to the mix. Initially, only sports channels were available in Canada, but GameTV and Paramount Network have since been added.
A selection of sports and entertainment channels can be streamed live for a monthly, quarterly, or annual fee. You'll watch regular TV over the Internet, just like you do with regular TV. Recorded events can also be viewed later – this way, if you miss a game, you can catch up as soon as your schedule allows. Despite the limit to the amount of content you can record since your subscription includes a certain amount of cloud storage, you can solve this problem by purchasing an add-on.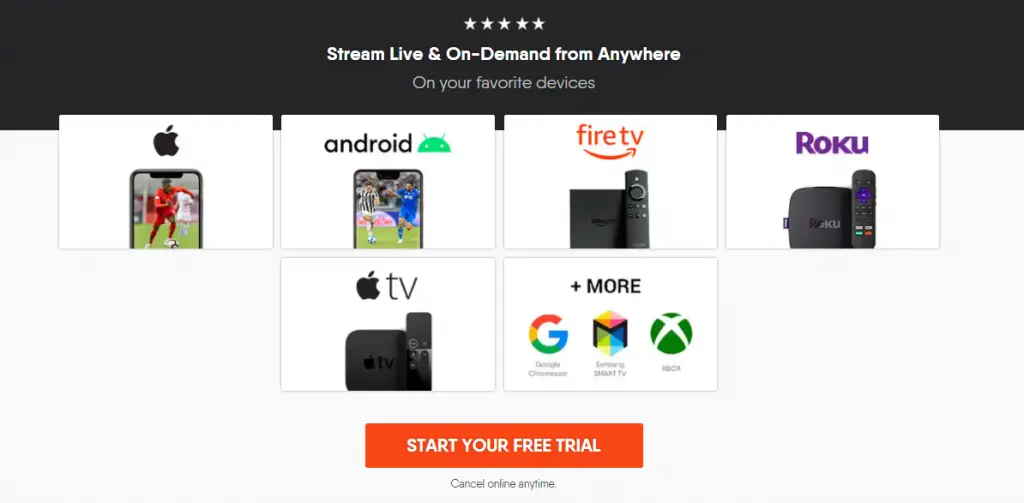 FuboTV Live Telecast Sports in Canada
FuboTV is the exclusive provider of the EPL in Canada. In 2015, fuboTV launched in the US, Canada, and Spain. You can subscribe for $14.99 per month or $99.99 per year.
FuboTV also streams soccer content from beIN SPORTS, One Soccer Canada, Fubo Sports Network, ESPN, FS1, and more. Take part in Serie A Italian soccer, CONCACAF competitions, the Canadian Premier League, and AFCON matches.
By subscribing to fuboTV, you'll have access to other leagues (such as Copa Libertadores, Ligue 1, and Turkish Super Lig). You can subscribe directly to beIN SPORTS Canada for $14.95 per month or $99.95 per year.
FuboTV is available on most devices, including Android, iOS, PCs, Roku, Apple TV, Chromecast, Samsung Smart TVs, Xbox Ones, and Amazon Fire TVs.
Click the Link and Get the current match schedule
FAQ on FuboTV Free trial in Canada
Does fuboTV have a free trial in Canada?
FuboTV is completely free for one week. Here's everything you need to know about signing up. Watch live sports on your mobile, computer, and smart TV with fuboTV's 7-day free trial.
Does FuboTV have a 30-day free trial?
No, As a Condition You will automatically receive a free 30-day trial of fuboTV Pro when you add an eligible product to your cart. A redemption link and activation instructions will be emailed to you after checkout.
How much is fuboTV Canada?
Package Regular Price After the free trial of fuboTV, the Canada Monthly plan is $19.99, Quarterly, $49.99, and Annually $99.99.
How to watch EPL (English Premier League) in Canada
In Canada, Premier League matches are available on fuboTV, the nation's leading streaming service for soccer, including OneSoccer and beIN Sports: Premier League (England) Serie A & Coppa Italia (Italy).
What channel is EPL on in Canada?
Beginning with the 2022-23 season, FuboTV will be the exclusive home of the English Premier League in Canada, making it a must-have subscription for soccer fans.