If you're looking to monetize your website or blog, affiliate marketing is an excellent option. And when it comes to affiliate networks, CJ Affiliate is a name you're likely to come across. It is one of the well-established and biggest affiliate marketing platforms.
As a Publisher, you can promote more than 2000+ big brands available on CJ and get paid out within 20 days after you earn a $50 minimum. Users can join multiple programs and track all their progress in a single account.
You may also consider joining some big fashion affiliate programs like; Shein Affiliate program and the Temu affiliate program.
In this article, we'll discuss a detailed review of CJ Affiliate, how to join it, and whether or not it is suitable for you.
What is CJ Affiliate?
CJ Affiliate was founded more than 20 years ago in Santa Barbara, California. It's one of the oldest and largest affiliate networks in the world, and it specializes in pay-for-performance programs. What that means is that you get paid when your readers or followers click on an affiliate link and make a purchase.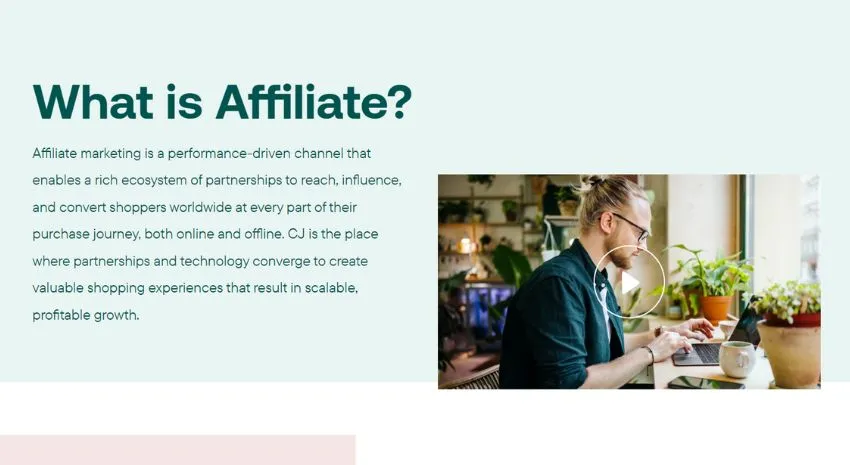 CJ Affiliate is part of a Fortune 500 company called Alliance Data Systems. Since its inception in 1998, CJ Affiliate has built an impressive track record, and today, it has over 3,000 merchants and 15 offices worldwide.
Working with CJ Affiliate means you have the opportunity to partner with some of the biggest names in retail, including J.Crew, Barnes & Noble, and GoPro. So if you're looking to take your affiliate marketing game to the next level, CJ Affiliate might just be the partner you need.
CJ Affiliate Program: Eligibility Requirement
Here are all the requirements that you need to complete before stepping into CJ Affiliate Program.
Merchants must be at least 18 years old and own a website to sign up.
Multiple websites can be added to one account by going to Account > Websites > Add Website.
Publishers must be aware that if their website has little traffic and fails to generate results within the first 6 months, they may be deactivated.
 If you meet all these requirements, the Commission Junction affiliate program is free to join.
How Does CJ Affiliate Work?
CJ Affiliate works as a bridge between advertisers and publishers. Advertisers use CJ to promote their products or services, and publishers sign up on CJ to find and join affiliate programs to earn a commission. CJ keeps track of the sales or leads generated by the publisher and pays them according to the terms of the affiliate program. 
This arrangement benefits both parties since advertisers can increase their sales and publishers can make money. To make things even easier, CJ handles payments and other technical issues so that both sides can focus on their work. 
If you're interested in signing up and starting to earn money with CJ, keep reading to learn more.
How to Sign Up with CJ Affiliate Program?
To sign up with the CJ Affiliate Program, follow these steps:
Go to cj.com and sign up as a publisher.
Fill in your personal information, such as your name, email address, and preferred language, and click Next.
Look for the confirmation email in your inbox and click the green button "Create my CJ Publisher Account."
Fill in your details in the Publisher Sign Up Form and click "Accept Terms" to complete registration.
After sign up, you'll be immediately directed to your CJ Account Manager dashboard.
Click Account > Network Profile and complete the 3 sections: Website description, Promotion methods, and Documents to showcase your value to advertisers.
Click Account > Administrative Settings to edit your payment and tax information.
Edit Payment Information and select how you want to receive payment.
Edit your Tax Information and submit the required tax forms for payout.
Remember to submit a new tax certification if you change your country or business type to receive continued payment.
What Brands Can You Promote with CJ Affiliate?
CJ Affiliate has a wide range of big brand names that you can promote as an affiliate marketer. Some of these brands include Zappos, Verizon, Barnes & Noble, and IHG. 
While not all of the 2,869 advertisers on CJ Affiliate are equally impressive, the network's selection of well-known and reputable brands attracts many affiliate marketers and advertisers.
CJ Affiliate Program: Payment Method
Let's talk about how CJ Affiliate pays its affiliates. 
When do Affiliates Get Paid?
Affiliate commissions are paid on a net 30 basis, so you'll receive payment for your referrals approximately 30 days after the purchase has been made.
When Will You Receive Payment?
Payments for locked commissions earned are scheduled for the 20th of each month, and it usually takes no more than 7 days to receive your check or direct deposit.
What are the Payment Methods?
CJ Affiliate offers two payment methods: check and direct deposit. Additionally, you can opt to receive payments through a Payoneer account via 'CJ International Payments.' However, there is no PayPal option available.
What is the Payment Threshold?
Affiliates must generate at least $50 in commissions before they can receive a payment.
What Sets CJ Affiliate Program Apart from Competitors?
Here's why CJ Affiliate stands out from other affiliate network programs such as Amazon Associates, ClickBank, ShareASale, and eBay Partner Network. 
Real-Time Reporting
CJ Affiliate is known for its always up-to-date analytics, which allows you to monitor your affiliate activity in real time without having to constantly refresh the page. While it may take some time to get used to the dashboard, once you become familiar with it, you'll find it incredibly helpful. 
With these insights, you can identify which affiliate products work best on your blog and create content that resonates with your readers.
Selectivity 
Unlike many other display advertising networks, CJ Affiliate allows you to choose exactly which advertisers' individual products you want to display and where. This gives you more control over your advertising strategy and allows you to customize it to suit your audience's interests and preferences.
Content Certified Program
If you have a blog with over 10,000 monthly page views and produce high-quality content, you may be eligible for CJ Affiliate's Content Certified program. As a Content Certified publisher, you gain access to over 600 premium brands and enjoy pre-approved rates while still maintaining control over your content.
These unique features make CJ Affiliate a top choice for affiliate marketers looking to maximize their earnings and connect with premium brands.
CJ Affiliate Program: Pros and Cons
Lastly, here's a list of all the pros and cons observed in this review.
| | |
| --- | --- |
| Pros: | Cons: |
| Trusted by large brands for affiliate marketing. | The onboarding process can be lengthy. |
| Has a robust reporting infrastructure. | The platform is better suited for experienced affiliate marketers. |
| Access to reliable fraud detection software. | Historically built for B2C brands, not ideal for B2B companies. |
Conclusion
So, if you're new to the blogging game and only getting a few hits a day, CJ Affiliate Program might not be the best fit for you just yet. But if you've already built up a solid following, or you're running a website with lots of high-quality traffic, then you definitely want to check it out. With their top-notch reporting features and access to some of the biggest brands out there, CJ Affiliate is a network you don't want to miss.